h2g2 Post 30.10.2000
Created | Updated Jun 22, 2003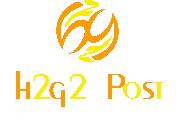 Posted: 30th October 2000

Welcome to this edition of the Post. We have many goodies for you this week including an exclusive preview of the new smileys and proposed changes to h2g2, courtesy of Mark Moxon
Our very own Deputy Community Editor, Abi is unwell and in hospital. Please pop along and wish her a speedy recovery at This page
John the Gardener has written a thought-provoking article on Ngawang Sangdrol for you. At the risk of repeating myself, please do find time to read the Petition, and the associated article Torture, and consider the information contained therein.
Wowbagger expresses a common problem we all experience from time to time. To find out what it is visit h2g2life.
There are plenty of other goodies for you, too many to mention this week, so I will say farewell and let you dive in!
Any copy, articles, suggestions should be sent to The Editor. Please use this same address if you are interested in volunteering to become a regular contributor.
Smileys




A Sneak Preview of the New Smileys.

Just For Fun




Fun and Games From Greebo T Cat.

Why don't you have a look and join in!

h2g2 Life




The cartoon series with style!

Do you ever get this feeling?