h2g2 Post 02.10.2000
Created | Updated Jun 22, 2003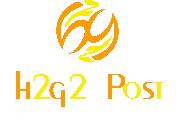 Posted: 2nd October 2000

Welcome to this edition of the Post. I realise that you would like to hear all about the Dutch Meet which took place last weekend, but the editor would prefer to give you details in a bumper article with pictures! So... you will all just have to wait! In the meantime, why not find about a German Meet planned by visiting The Announcements
The new Virtual Prez of h2g2 is busy setting up his Alabaster House from which to serve his term of office. He has also already appointed some lucky researchers to his cabinet. You can find out who and also see a genuine, exclusive photograph of the VP and his VP by reading The Cabinet
Wowbagger appears to have found the best way to attend a meet! Found out how in this week's h2g2Life.
Redbeard sends his apologies to all his readers, but there is no Roving Reporter article again this week. He is still tied up in a Real Life Production of his own. We do, however, have an excellent article from Marie-Rae called Wildfire which is well worth having a look at
There are two poems on offer this week. Positive Feedback is back, and MDS also features
The Editor is now going to try and catch up on some sleep!
Any copy, articles, suggestions should be sent to The Editor. Please use this same address if you are interested in volunteering to become a regular contributor.
The Cabinet!




A Chance to see Peregrin and Bluebottle and

find out who is in their Government.

Did we really vote for These Two?!


View From The Queue




This week: The report on the queue of entries is uncertain.

If Fragilis is confused, then so are we all!

Wildfire.




The Destruction that Forest Fires can Cause.

h2g2 Life




The cartoon series with style!

How to attend a Meet without the Expense!

Just For Fun




Fun and Games From Greebo T Cat.

Why don't you have a look and join in!

Poetry 2



Something that the Editor Found and Liked!


h2g2 Fiction


This Week: 'Myth of the Mountain-Tree' by G Roberto Deidzoeb.