The Post's 42-Word Story Competition
Created | Updated Nov 6, 2008
What a talented lot you are!

Thank you very much for all your submissions for the 42-Word Story competition. We had so many, in fact, that it would have been impossible for us to have found a winner had we allowed you to vote on all the submissions.

We have therefore come up with a shortlist in conjunction with Psycorp, whose idea started off this competition. These are the six from which you may vote for a winner. All the competition entrants appear on this page; please do not vote for any that are not on the shortlist. Your vote will not be counted, and you may still be charged.
The Shortlist
A Heavenly Nature by Flapdoodle
Last Sunday morning, I heard singing of the most heavenly nature.
I looked up and saw a beautiful angel, soaring serenely, floating fantastically, swooping sublimely. Then she crapped on my car and pissed off!
I'd only just waxed it. Happens every time...
War and Peace? By Pinniped

Nicholas went off to fight Napoleon. Sonya waited years for him, until he married someone richer to save his useless family from ruin.
He got away with it because the silly cow was distracted by another thousand pages of Russian aristocratic nonsense.

It's Halloween and thusly the dead will rise again.
They'll roam around, and moan a bit and try to eat your head.
You'll run around and try to hide in a huge department store,
Until you realise they're kids outside your door.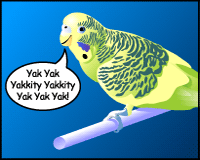 Sophie screams at the boys to stop fighting, thrusts a hand between them, snatches it back, bleeding.
They'll kill each other. Must do something!
Desperate! Sees a box, grabs, swings it down over the rival budgies.
Trapped in the dark they'll sleep.

In the steamy room, behind closed curtains, pulses were racing. Rhythmic movements, liquids beginning to seethe.
She swooned - a delicious perfume pervading her senses. His anticipation excited her as her efforts reached culmination. And when she was spent, she screamed:
'Dinner's ready!'





A young man's adventure - excited friends, colours, and horses!


Quickly exchanged for mud, machines and noise.


Now lonely, sleep is short and in the cold and wet,
all that is true is the taste of bile.


Today, these memories are red flowers.
Other Entrants
Thanks very much to all of your for your entries into our competition. These are the rest of the submissions. Please remember that these stories are not on the shortlist, and votes for them will not be counted.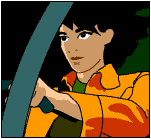 There was a man named Chris and a woman named Cathy.

They both were married to each other and had two children. One was named Margaret and the other was named Mark.

They were in the car one day and it exploded.
Bringing Home the Bacon by Myriad


Every day this dog would go shopping and bring home some bacon for its master.

Once it was attacked by other dogs. It fought hard but they won.

Seeing how things were, it intervened and ate the bacon.

Was the dog loyal?
Star Wars (abridged) by Beatrice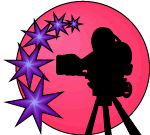 Precocious pod-racer falls for beautiful princess before evil forces seduce him.

She separates their twins, who become a rebellious but oddly coiffured princess, and a poor farmer.

Aided by a growling fur ball, a squeaking hoover, and Harrison Ford, they save the universe!

Sudden light and cold. What is this?

Life.

Still trying to get the hang of It.

They say it does not go on forever, so one day I must work out what it is all about before it all comes to an...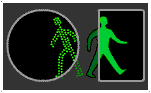 Credit crunch appearing from nowhere; Banks crashing all around; shares dropping and stock plummeting.

Only one option left, but there was no beer in the fridge and no peanuts in the cupboard. How on earth could I possibly hitchhike out of here?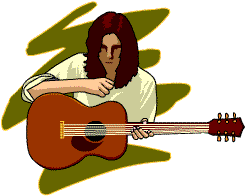 With wood and strings create. In shop; swoon.


Own ten years. Practice... Leave on bus - in rush!


Find new home. Ornament - retuned aplenty by many.

Child swoons - timely gift!


Small hands retune. Ten years practice...


Wise ornament patiently awaits a new home.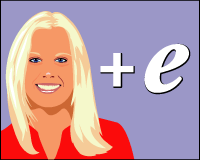 When you're in love with a beautiful woman - you look for lies. – Dr Hook.

I crashed my hobie, distracted by unbelievable beauty.

Four years on? Heartaches, but the chance to explore Madras – love – and unreal life.

Lies? Yes - but memory is kind.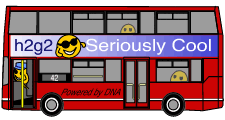 Up! Ready in no time. Coffee made, drunk and cat fed. All going well.

Bright day, warm. Another cup? Rushed, spilt, changed shirt... Ah! Well.

Shoes on, laces broke... Double blast!

Late now, missed the 18 - have to wait for the 42.

It really must be Thursday, as I'm feeling rather strange.

I can't remember what I'm doing, not sure I know my name.

Yet I sit here writing a story just for you.

I hope it makes you happy whenever you are blue.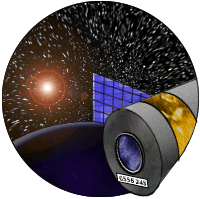 Big Bang began the universe. Exploding into space,
coalescing slowly into galaxies and such.

Then some amino acids evolve to fill one place.

Complexity is maximized until we're me and you.

'What is it all about?' We ask,

The answer is 42.

Once upon a time, Douglas Noel Adams created characters so lifelike that they were able to walk off the radio and enter real life.

Strange how they seemed to alter in appearance from radio, to television, to stage, to the big screen.
Competitions and Quizzes Archive