Roving Reporter: The Church of Weekendism
Created | Updated Jun 21, 2003
Each week, The Roving Reporter profiles one of the many delightful meeting places that thrive in our community, from pubs and cafés, to churches and parks, or on occasion, presents a series of Quick Picks, pointing out some of the little gems and unique out-of-the-way locations.

If you have questions, comments, or suggestions for the Roving Reporter, leave them here.
The Church of Weekendism
This week we visit the The Church of Weekendism, under the Holy Triad - The Three Priests of Weekendism: Big Evil Dan1.
Note to self: Roving Reporter feature due in a couple of days. Nothing started. No time. Too much work. Cancel? Wait. Church of Weekendism -- they're against work! I'll visit them. Maybe they can help. No, that would be work. But I could do the feature on them! Slap something together, lift a few things from their page. And it would be appropriate! They won't mind. Good, and then I can still go out and have a drink. Remember to erase this note before I go to press with this thing.


Now here's a place where you can go and worship the Weekend, and all it stands for. It's not just about a couple of days of the week that start with the letter 'S', but rather an entire system of belief, that revolves around the fact that the Weekend stands for a cessation of work. Once you accept the wisdom of the tenets of Weekendism, you'll find yourself applying it to all aspects of your life.

The Truly Enlightened Weekendist will come to see that all days of the week are holidays as they relate to the preparation for the Weekend itself. The front page of The Church of Weekendism also details how the other days of the week become religious observances of the Weekend as well.

The Two Commandments of Weekendism
Avoid work at all costs.

If you must do work, put as little effort as possible into it.
Activities of the Church of Weekendism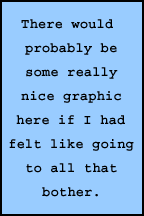 There really are not a lot of organized activities at the Church of Weekendism. Who's going to organize them? Who's going to even think about who's going to organize them. Way too much work. The last thing you want at a Church of Weekendism is a lot of people running around doing things.


The Church often functions as a form of confessional, but in a slightly different way than in other churches. Members or visitors come in and confess that they have been working too much and not following the teachings of Weekendism. They detail the amount of work they've done. The other members provide absolution and pity, while gaining happiness from the realization that at least they're not in that person's shoes.


Once in a while, a heathen or misguided individual will come to the Church and declare that they like work. This can cause some consternation for a few moments within the ranks of the faithful, but never for long. Since thinking about such concepts is way too much work, they have trained themselves to quickly forget about them.


It should be noted that being a member of The Church of Weekendism does not prevent you from being a member of another religion. Members find that the Church of the True Brownie, for example, is somewhat compatible.

History of the Church of Weekendism

The Church opened on 1 April 2000 and has been celebrating Weekendism for 21 Weekends. Not much else has happened, except they added a nifty drop down box in a startling display of work, and discovered some Enemies of Weekendism.

Is it the weekend?


I'd better go then. I've got better things to do than work.



If you want to know more, go visit the Church yourself!



*quickly drops off copy at the Post and leaves*

1Don't ask me. I just copied it off their page.