H2G2 Astronomy Society Home Page
Created | Updated Apr 10, 2012
Welcome , to the

H2G2 Astronomy Society
Charting the uncharted backwaters of the Universe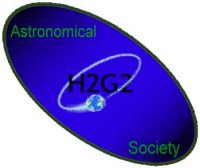 Established 10th August 2000
Welcome!
Founded in August 2000, the H2G2 Astronomy Society is for any H2G2 researcher with an interest in space and astronomy. Our aim is to provide a forum to discuss the latest news and information about astronomy, space and planetary science. It is also a place to discuss any space related topic that interests you and possibly test theories of your own on the community.
In the past A/S members have participated in meteor shower watching, a Messier Marathon and even the recently completed Constellations Project had its origins here. We would also like to encourage Researchers to write astronomy, space or history articles suitable for submission to Peer Review and ultimately to be included in the Edited Guide
Whatever your interest in astronomy matters, and whatever depth that interest takes, we would like to invite you to cast an eye over the societies pages. We hope you will stay around and make use of this society. You don't have to join up, but if you would like to do so, let me know on the members page. We can add your name and interest to the member's roll and you can grab a badge for your own Personal Space.
Subscribe to this page and it will link to your home page so that you should see any new conversations that start up. Also if there is anything you would like to contribute or suggest then contact me below. If you don't feel like joining we would still like to see your contributions, questions and observations in the forums.
Here's wishing you Clear Skies

Deke





So What Grabs You in the Astronomy World?
Here's just a couple of suggestions to other H2 A/S pages that centre on specific topics.
Heads Up
For general news and views of all things astronomical the Heads Up page is mainly centred around the coming month's attractions in the night sky. Also for any other semi-topical item Deke can dream up. If there's anything else that you'd like to mention, and especially from the point of view of the Southern half of this world, I'd be glad to hear of it.
Messier Marathon
Some of the most easily accessible deep sky objects were listed by French comet hunter extraordinaire, Charles Messier. Perversely, his list was one of objects to be avoided, but they are some of the most interesting objects in the night sky. In march each year many amateur astronomers try to view all 110 objects in one night. Here at H2 we're not quite so full on, so we have out own version which spans the year.
Moonwatching
To some it just gets in the way for a couple of weeks. To Deke it's the highlight of the astronomical month. After all where else is such a view of the history of the forces that shaped the Solar System so readily available? So if you're into Moonwatching like Deke, then join him on the Lunartic's page and share your views
Members
If you'd like to join up to the A/S, and get a shiny badge for your Personal Space, then the Members Page is the place for you. Just open a new conversation there to let me know and I'll pick it up as I pass through.
Coming soon; The Planets.