h2g2 Post 17.07.2000
Created | Updated Jun 21, 2003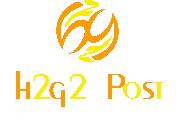 Posted: 17th July 2000

A big 'Thank You' to all the researchers who came forward after last week's impassioned plea! We now have some new reporters who will, hopefully, be as committed to the POST as the basic core of us are. As with any 'newbie', a lot of our volunteers will need nurturing and guiding, which is partly why the POST is a little late this week. I am sure that, when we have them all trained up, you will start to appreciate just how brave they really are.
This doesn't mean that we now have a glut, however, so any of you who would like the chance to help are still more then welcome. We are still anxious to find a cartoonist, and also for more researchers skilled in the use of GuideML. Please do contact us if you can spare the odd couple of hours a week.
We are aware that the Frontpage is somewhat tatty at the moment. We are working flat out to sort out new formatting and gifs, not to mention trying to make it easier for you all to navigate but, to quote whomsoever... Rome wasn't built in a day... so please bear with us as we attempt to upgrade it.

With this in mind, please note that the POST will always be published on a Monday evening ( European Time) rather then on a Sunday.

This edition is huge, so I won't delay you any longer!
shazzPRME
1-2-1


This week we interview The Big C.

Cambodia



This week: Angkar Thom and The Bayon.