Specialist Shops
Created | Updated Mar 5, 2006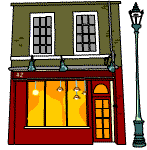 Supermarkets are great for, say, run-of-the-mill cheese, or bog-standard wines, but eventually even the vast quantity of goods on offer just doesn't quite satisfy.
If you're looking for something a bit more interesting or just fancy a change from your usual grocery tour of duty, there's always a little place down a back street you can rely on for something out of the ordinary that you can't get anywhere else. An independent coffee shop, for example, complete with a strong blast of richness as soon as you open the door, or a trip to a fish-mongers, the only stockist for miles to supply squid ink. Places such as these somehow pleases the hunter-gatherer in us all.
It's not just food shops that can be the object of a quest. We seek out those shops which feed your passions whether it's comics, antiquarian books or green tea in brown paper packets tied up with string. And you know that you'll find beyond the darkened doorways which invariably front specialist shops, not simply vellum for your calligraphy classes, or veneer for a cabinet-making project, but a fellow enthusiast behind the counter on hand to offer advice and share a story or two.
If, like the American author Bill Bryson1 you're dismayed to see another local butchers shut its doors, the owner sadly turning the 'closed' sign for the last time, and are upset by the demise of the local high street, and its parades of independent, family-run stores, you might well want to have a wee look at the following list of specialist shops from around the world.
Tea
Pickwicks of Tewkesbury is a marvellous little tea shop. Go through the shop part and into the tea house at the back, where you are presented with a list of around 60 teas and coffees to try. The proprietor is charming and he really knows about tea.
One of the blends they sell is called Caravan China. It was originally blended by Mr Whittard of Whittard's tea shops, and Whittards used to sell it. However, as they expanded they stopped providing it for the general public - they only made it for places like Pickwicks, and then they phased it out altogether. The proprietor of Pickwicks asked one of the tasters at Whittards if he could have the blend, and was given it, because the taster was pleased at the idea of one of Mr Whittard's original blends still being sold. Pickwicks is the only place you can get this and it's a blend of Rosepetal, Gunpowder, Jasmine, Ceylon, Lapsang and Oomjong. It tastes sort of smokey.
Pickwicks Tea & Coffee House and Merchants
82 Church Street
Tewkesbury
UK
As well as letting you try their teas, they also let you buy them. They sell an amazing array of teapots, too.
Coffee
The Algerian Coffee Shop in Soho, London rocks. It also inspires Researchers to post things in forums at odd hours in the morning. Try it and you'll never order a Grande Triple-Shot Semi Skinny De-Caff Viennese Latte Macchiato No Whip With Wings and Ice'n'a Slice and a dusting of Nutmeg Powder from Starbucks ever again.
Also, try Costa Coffee in Victoria, London - Vauxhall Bridge Road end - for wonderful Italian-style coffee and the finest Mortadella sandwich known to man - it makes a visit to that tourist hell-hole actually worth it.
Wines
King & Godfree on the corner of Lygon Street, Carlton, Melbourne is just another stock-all-the-usual bottle shops when you walk in. There's all the mass-released wines of Australia. Look for a white-haired guy in his seventies wearing an apron and ask him for 'something special'. He'll take you to a locked iron gate towards the back of the shop and down the cellar... and into wine-lover's heaven. He'll take you around and explain about a couple of bottles that were produced by a wine maker of international reputation that decided to make a wine just for himself, produced about ten cases, kept five and the other five are here. The cellar is musty, cobwebbed and lined with rows of wooden crates.
I walked in four years ago looking for a bottle of Penfolds 1990 Grange Hermitage for a birthday present. 'I'm sorry, sir. We have every other vintage apart from that particular one over there, on that rack. Perhaps you'd be interested in a Penfolds Bin 90A. It's not widely known but the Penfolds people only produce that one every ten or fifteen years, when conditions are impeccable.'
I bought it for A$100 and gave it to my old man. I wish I'd bought a case. It's currently about A$470 a bottle and not due to mature for another five years.
Whisky
The Whisky Shop in Lincoln is an absolute fantasy world of whisky. If a whisky still exists, they have it. And the people who run it are an amiable couple who know their Shakespeare.
When my mum popped in there to look for my 21st Birthday present (aren't I the luckiest ), she asked if they had anything 21 years old called 'Duncan' [the Researcher's name]. Quick as a flash the reply came: 'No, but we have a MacDuff'.
The Whisky Shop
The Bailgate
Lincoln
Lincolnshire
UK
Stores in the USA
There are quite a few speciality shops in Minneapolis, ranging from 'mom and pop' hardware stores that sharpen ice skates for free for repeat customers (Rex Hardware on Lyndale) to highly specialized loose leaf tea shops where tea blends are customized to each customer based on the answers to a brief questionnaire (Societé Du Thé, also on Lyndale).
Add to that coffee shops that cater to Ducatti/Motoguzzi (and sometimes Vespa) riders (Bob's Java Hut), holistic tattoo parlours (Tatus by Kore), and a little store that specializes in doll house furniture. And this is just from one neighbourhood... these great little places are absolutely everywhere!
A great favourite is a tea shop in Harvard Square, Cambridge, called Tealux. They sell only tea and tea accessories and you can get just about any kind of tea made. If they don't have it they will special order it for you. Beadworks is also in Cambridge, on Brattle Street, and they have all kinds of beads, stones, string, rope - everything to make your own necklaces, earings, or rings. Cafe Pamplona is a cool Indian coffee shop in Cambridge - it's a little hard to find as it's down a side street in the basement of another building.
Bakers
Martin the Bakers in Grand Drive, Lower Morden, Surrey, UK, bakes the very best white bread fresh on the premises. It's well worth making a detour to buy some. Buy it hot in the morning - they've usually sold out by midday.
They also do a large round bun, called a bun round, that has eight portions. It's iced and has jam in the middle. Yummy...
At Easter they just cook hot cross buns. And they're totally delicious, nicely spiced...
Butchers and Delis
Enzo Tartarelli
On Sidmouth Parade, London NW6, UK, there is an Italian butcher called Enzo Tartarelli. He sells the best Italian cured meats, Gorgonzola, Parmesan and dolce latte, buffalo milk mozarella, home made ravioli with fresh cheese and apricot stuffing. He also sells panetoni and the best fresh meats in the area. If you ask him nicely, he'll let you sample some food before you buy.
The shop has a traditional red and gold frontage - no neon here. The inside is über-modern as Enzo himself exudes enough Italian culture to fill the whole road - plus the place is cram-packed with goodies.
You'll spend at least an hour in there - 30 minutes choosing and 30 minutes chatting to Enzo.
Jeffries
Jeffries the butcher, on the Kingston Road, in Kingston, Surrey, UK, just down from Kingston Station, does wonderful free range pork and Scottish beef. A really good proper butcher. Say hi to Peter the butcher. The pork is particularly good, because since it hasn't been wrapped up in plastic it doesn't go all soggy, so it makes really excellent crackling.
In the same parade of shops you'll find Jarvis the fishmonger, they provide excellent fresh fish to the local Japanese community, so they've some really unusual types. They also sell game, rabbits, pheasant and so on...
Batchelors the Butchers
Batchelors is a small family-run butchers and delicatessen. The main shop can be found on the Square at Riverhead, near Sevenoaks in Kent, UK. There is another branch in the village of Hildenborough. The third shop is called Medhurst's and can be found at the top of St John's Hill in Sevenoaks itself.
It sells high quality products and offers a friendly personal service, most of the customers have been going there for years. The shops have been awarded prizes for quality and customer service. Batchelors are the only butchers in the Sevenoaks area to hold a Clean Food award from Sevenoaks District Council. They were also awarded a Gold Standard Award for Outstanding Quality & Service by the BBC.
All beef is grass fed Aberdeen Angus delivered weekly from Scotland. All other meat is locally reared. Sausages are handmade on the premises. Poke your head round the corner and you will generally find one of the staff at the sausage making machine! The speciality of the shop is a spicy sausage from South Africa called Boerewors. This is very highly rated by South African ex pats to the extent that they were once recommended to the London-based South Africans at a barbecue in Cape Town. What the South Africans didn't know is the girl on the edge of the conversation was the owner's stepdaughter! Barbecue items are very popular. This year, the author recommends the duck and orange kebabs and the black pepper and lemon lamb kebabs.
In the deli, you will find organic dry goods, fresh olives and a cheese to selection to die for. The olives come from the same supplier that stocks top London eateries such as Langan's, Quaglino's and the Oxo Tower. Cheese is another speciality of the proprietor, the shop being supplied by the same cheese merchant as posh London cheese shop Paxton and Whitfield. You can select from unusual prize-winning British cheeses such as Lords of the Hundred, Waterloo and creations from the Neal's Yard Dairy. Lords of the Hundred is a cheese made from the milk of sheep grazed on the Sussex downs and is very hard in texture. It is, however, very low in saturated fat and so is a healthier choice if you are a cheese lover with high cholesterol.
Or you might wish to try some of the more unusual European cheeses such as Vacherin Mont D'Or which is made on the the French Swiss borders. The cheese is only made from October to March when the cows the cows are fed on a specific type of clover.
The owner has graced the front of the Norwegian version of the Financial Times because of the range of Norwegian cheeses he stocks. Cream comes from the Channel Islands and is untreated, so it is rich, golden in colour and very, very thick. Other little gems to add into your shopping basket include fresh pesto sauce, hand made desserts and organic biscuits.
Batchelors (Riverhead branch2)
4 The Square
Riverhead
Kent TN13 3AA
UK
Batchelors (Hildenborough Branch)
178 Tonbridge Road
Hildenborough
Kent TN11 9HP
Medbursts
40 Dartford Road
Sevenoaks
TN13 3TQ
The proprietor of all three stores is Graham Batchelor.
Bruno's Deli
Bruno, oddly enough, runs Bruno's Deli and he stocks a particularly delicious Mozzarella with basil. It's a quaint little shop, in a nook of quaint little shops, that specialises in gourmet deli foods, including bread and cheeses. It is in an 19th Century house (as are all buildings on Elm Street are), and beckons you with handpainted windows and fresh displays.
Elm Street
Manchester
Vermont
USA
Euro-Latino Grocery
In the Washington DC area, in Arlington, VA, there is an excellent little grocery store called the Euro-Latino Grocery. It has European cheeses, Portuguese bread, a fabulous plethora of chilies and spices, and it's reasonably priced. They also have an amazingly wide variety of meats, including rabbit and squid! And the variety of oil-cured olives alone is worth the drive.
2701 North Pershing Drive
Arlington
VA
USA
Open till 8pm every evening except Sundays, until 1pm.
Indian Foods
As well as being a honest-to-goodness basic vegetarian Indian takeaway, complete with formica tables and a countertop that looks through to the kitchen beyond, Milan Vegetarian Restaurant in south London sells an assortment of Indian sweets from neat, sugary piles on trays and snacks from perspex tubs. It's as if a ton of Bombay Mix has been separated out into its component parts - salted peanuts, bright-green peas, sludgey lentils, wheaty-looking cylinders, and unidentifiable spirals.
The couple who run the shop are as gentle, friendly, and welcoming as you could meet anywhere. If you decide not to take away, be warned, service is slow, but after a mug of strong tea arrives, somehow that doesn't matter. The sit-down restaurant experience is best enjoyed with some favourite friends, the good company will keep you going until the food arrives.
If you're just stopping for a quick snack, ask for aubergine bhajis, warmed through, but do go early as they often sell out. Sometimes there's nothing better than the simple things in life and, for some, taking bites from a hot, cumin-scented aubergine bhaji while walking past the exotic-smelling ethnic grocers and vibrant sari shops of Upper Tooting Road, is one of them.
Milan can be found on the road between Tooting Broadway and Tooting Bec Underground Stations.
Milan Vegetarian Restaurant
158 Upper Tooting Road
London SW17 7ER
UK
Plants and Gardens
In California, it seems that smaller nurseries are being taken over by huge hardware stores and garden centres.
The Morningsun Herb Farm in Vacaville, California is different. All plants are started on the premises, so there's no guessing about whether or not they will grow when they are taken home. They have almost every herb available (that will grow in North California, of course) and vegetable plants, gardening implements, and crafts, too. It's possible to browse around for hours where you can make wonderful little discoveries, such as the vast array of different types of sage. They offer classes and special events. They even send out a newsletter called the Mint Edition. Aside from the greenhouse and small building housing garden implements and crafts, everything is outdoors - even the cash registers.
I first came across them at our local Farmer's Market here in Vacaville. After reading a newsletter, I just had to visit. One family and a few friendly helpers run the entire operation. Unlike most garden centers, Morningsun's staff really knows its plants. The owners are Rose Loveall-Sales and Dan Sales. Rose has a Masters Degree in environmental horticulture. The family has owned the land for years (it started out as an English walnut grove). The herb farm dog, Lula, will also make you feel welcome. Don't mind if she barks a bit... she's really friendly.
6137 Pleasants Valley Road
Vacaville
CA
95688
USA
Tel - 707-451-9406
DIY
DIY Centre
In Pontarddulais, Wales, UK there's an old-fashioned shop officially known as the DIY Centre but usually known as Ralph's DIY.
It's one of those places that's bigger inside than it is outside. Although he has succumbed to market forces and now stocks pre-packed items of nuts, bolts, etc, there are still hundreds of cardboard boxes behind the counter containing an assortment of items. It's one of those shops where you can ask for 'A grommet3 about this big' and they just might find exactly what you want.
However, the real magic is not available to the general public - there are a couple of upstairs areas which are filled with literally tons of odds and ends; boxes of old tiles, ceramics, obsolete pipe fittings, and most wonderful of all, pieces of timber that are up to 300 years old!
One of the greatest honours that can happen is for Ralph to say to you 'I might have something upstairs - lets go and have a look'.
DIY Centre
81 - 82 Saint Teilo Street
Pontarddulais
Swansea
Wales
UK
NP Harding Electrical
NP Harding Electrical is an Aladins cave for electronic components and surplus equipment. It has, depending on supply, computers and video cameras - just about everything an amateur or professional hobbyist could wish for. Run by Norman and his son Stephen, it's probably only a few of these cosy little shops left in the country. You can pop in for a chat, even a coffee before buying another bargain. Should be renamed the Olde Electrical Curiosity Shop.
NP Harding Electrical
333 High Street Cheltenham
Gloucestershire
UK
Also, they will cut glass to the exact shape and size that you want it.
Camping
Magic Mountain is the factory outlet store for Mountain Equipment - suppliers to goodness know how many Everest expeditions by now - RonHill (good running gear) and duofold outdoor and sports gear. You can pick up bargain seconds, unreleased samples and clearance lines. You can get some very good bargains here, and it's well worth a visit if you're in the area.
Magic Mountain
Howard Town Mills
Glossop
Derbyshire
UK
Calculators
MCM is located on Bourke St, in the central business district of Melbourne, Australia. It sells calculators. Just calculators. And every type of calculator. The guy that runs it looks like an ex-cleaner (in the CIA sense of 'cleaning') so it's wise to have some sort of idea about what kind of calculator you want before you go in. If you just go in and ask for 'a calculator, please', he'll get angry. And you'll get scared and may buy the most expensive one just to appease him.
He has calculators that draw graphs, do calculus, work with hex, gradians or cubits, solar and hand-wound and all of them are just calculators that calculate things. If you want a personal organiser, go to Tandy.
If you wear a pocket protector, go to MCM.
Books
Previously a hotel, the building that is the Northshire Bookstore has been around as long as the town, some 200-300 years. The interior still has its original flooring and rugs, with only slight additions made (counters would be all, really). The operation, which is really the hub of a commercial town (filled with Gaps, Levi-Straus', J-Crews, J Petermans, Osh Kosh Begoshes, Mikasas, Liz Claibornes, Godivas, Nauticas, Dexters, Tommy Hilfigers, Baccarats, Armanis, etc, etc), retains a friendly atmosphere; one that invites you to come inside and enjoy many hours there. Still retaining the feel of a home, the store has numerous seats that invite you to sit down and browse through books, and not feel crowded nor pressured into buying. The shelves are built mostly into pre-existing walls and counters, leaving a lot of open air, yet not giving the 'warehouse' feel of some of the other bookstores (names need not be mentioned).
Here you can buy many books that other stores would not carry, due to the eclectic desires of the town's inhabitants. On hand are thousands of books of every variety, from spirituality, to comical, to mystery, to best-sellers, to reference, and, rather extensively, children's. In fact, the children's section includes more than books, including stuffed animals, dolls, stocking stuffers (little toys to go about and play with), musical instruments, board games, puzzles, and baby toys. Most of the toys are educational, and none are run-of-the-mill; you will find unique, hearty items that will enrich the minds of your children. Also, throughout the store, you will find an extensive collection of jazz, reggae, classical, pop, rock, folk, and alternative music, mostly CDs, and rare box collections; tarot cards, and other mystical apparatus are over in the religion/spirituality/sexuality section; local postcards, greeting cards, all of which are unique, and certainly not of the variety housed in your local Hallmark. Overall, this store is fantastic, and well worth a visit.
The Northshire Bookstore
Mainstreet
Manchester
Vermont
USA
Sci-fi Bookstores
One of the best Sci-fi bookshops is one called Andromeda Bookstores. They stock just about every science fiction author you can name, with some excellent second hand stuff. They also have a range of t-shirts, and they stock the Clarecraft Discworld models. Various authors do regular signing sessions there.
However, if your preferences lie with comics, you could pop round the corner to 'Nostalgia and Comics', on Smallbrook Queensway. They stock all the comics - Marvel, and Dc, for example, as well as a fairly comprehensive range of merchandise.
Andromeda Books
2 - 5 Suffolk Street
Birmingham B1 1LT
UK
The Forbidden Planet, on New Oxford Street in London (nearest tube Tottenham Court Road) sells comics, books, merchandising and hosts regular signings. They have a good selection of US prints of books too. There are several Forbidden Planet stores around the UK.
Toys and Novelties
Village Games
Village Games is a shop that sells games like chess, draughts, backgammon, go, carrom, and mind bender puzzles as well as an assortment of books - puzzle books, game theory books, maths books, and so on.
Village Games
65 West Yard
Camden Lock
London
UK
This really is a one-of-a-kind shop that deserves to be in a list of specialist shops.
Uncle Fun's Toys and Novelties
Uncle Fun's Toys and Novelties is a little hole-in-the-wall store that has the most amazing collection of fun junk novelties and toys. You can barely walk through the narrow aisles in the store, lined with shelves, dressers, boxes, and bins, full of wind-up toys, buttons, gag gifts, strange items from as far back as the 1950's. Glow in the dark nuns, mini statues, dolls, beads, rubber ears... you open drawers to see collections of odd items for one dollar, 50 cents, or even 25 cents each... one drawer is full of one-inch-long plastic babies. The helpful staff will bring you a basket to hold the strange treasures you find, and despite the thousands of items manage to ring up your purchases without looking at any price lists. Great place for odd stocking stuffers or gag gifts.
Uncle Fun
1338 West Belmont
Chicago
Illinois
USA
Tel - (773) 477 8223
The Old Game Store
Another Manchester (USA) store. This place has all the best and newest games. They have some verynice chess sets and old games too. There is a good selection of jigsaws and other types of puzzles, along with some neat toys. It is a little expensive, but a great place to browse, and some things are just worth paying for. The owner is a very pleasant and helpful woman, who will play any game with you to demonstrate - very cool.
The Old Game Store
RTES 11 & 30
Manchester
VT
USA
Buttons
There is a shop in Islington, London, called Celestial Buttons, It is run by Toby and Julia and sells the most fabulous buttons, ribbons, feathers and stuff. Toby is the button bore of the century and will entertain and browbeat you on the respective merits of mother-of-pearl and injection moulded resin, and Julia gets the stuff others can only dream about. If you need to renovate that jacket you love like a brother (or sister), a new set of gold passementerie buttons and braided eppaulettes will have the Duchess of York running for her tailor screaming 'I want one too'. You can visit their website where you can see some of the buttons for yourself, but you really need to visit the shop to appreciate its value.
54 Cross Street
London N1 1DA
UK
1Bill Bryson is an American travel writer who lived in the UK for years. Among other things, in his book Notes from a Small Island he describes how many British towns and cities seem to contain an inventory of exactly the same chain shops.
2There has been a butchers shop on this site for well over 100 years.
3A grommet is a reinforced eyelet through which a fastener may be passed.