Venerable Researchers: Marvthegrate
Created | Updated May 12, 2013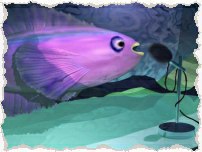 This week, I'll be interviewing marvthegrate, whom I'd known before my first h2g2 birthday, and whom I almost got to go visit a few years back1.
When did you join h2g2?
April 1999 I believe, on about the 2nd day of official operations.
How did you hear of/find h2g2?
I owned the video game Starship Titanic. I received an email from TDV (The Digital Village) about this new site that was coming up based on the Hitchhiker's Guide to the Galaxy. Intrigued, I went to h2g2.com and signed up.
Why did you join h2g2?
HHGttG was always a favorite series for me. I was fascinated by the idea of this small device in your hands that gave access to all of the information in the universe. When I think about my smart phone or tablet today, I can't help but feel that these technologies are heavily informed by the idea that DNA had over 30 years ago.
Did you jump right in, or did you lurk awhile first?
I was very quiet for a while. I lurked a lot to get to know the place. Then I found some early conversations that forced my hand to comment.

Have you written an Edited Entry?
I have.
How many?
I've written or collaborated on 6 official Edited Entries.
What was your first Entry?
I contributed to The Ultimate Cocktail List. My first solo effort was an entry aboutMoab, Utah.
What is your favorite Entry (of the ones you've written, if any)?
How to Drink in Utah. Dispelling the myth that Utah is a dry state.
What is your favorite Entry by someone else?
There are several that come to mind. I think that Amy the Ant's entries on Lego Mindstorms might be the ones I would choose.
Unfortunately, it appears that she removed them. The closest I could find was Children's Programming Languages.
Do you belong to/have you started any clubs/societies/what-have-you on h2g2?
Far too many to list. The highlights are the Rambling Misfits softball club, The Church of the True Brownie (which I started), and then there's the Atelier. Less of a club but more of a state of being.
Is that/are those club(s)/society(ies)/what-have-you(s) still active?
I lurk in the Atelier.
Have you held any volunteer positions in the past?
Are you a current volunteer?
No.
Which elvised researcher do you miss most?
If I understand the question correctly, it's a researcher who has left. In that case it would have to be Loonytunes.
Have you been an elvised researcher?
One might consider my lack of activity to be the above, but really I am still around just very very quiet.
Have you been known by other names on h2g2 (not necessarily other accounts)?
Mostly some form of Marv Marv the Grate, MTG etc.
Is there anything from h2g2's past that you miss?
I miss the early days. I miss the original fish smilies. I miss the fun of the adventures. I miss having enough time to participate.
I miss you having time, too.
Is there anything from h2g2's past that you wish you hadn't witnessed?
There have been some ugly episodes with abusive researchers. I also deeply feel the loss of DNA. It never felt the same under the auspices of the Beeb.
What aspect of current h2g2 do you wish had been extant when you joined?
Stability and not having large threads annihilate the memory in a browser. We had to take to starting new conversations every few hundred posts or cause web browsers to crash.
Have you been to any meets, of any size, whether "official" or not (meet=over a dozen, minimeet=6-12, micromeet=less than a half dozen)?
I have been to several meets of varying size. The SW US group met up in Denver, Colorado. There was a Salon Minimeet in Lincoln, NM. I have had many one on one meets with people while traveling.
How many?
I am unsure what the count is.
Was my self portrait there?
I believe your portrait was present at the SW US group.
How many copies?
Surely one.
If you've been to multiple meets, what's the farthest you've traveled to one?
I flew from Raleigh NC to Joplin MO to meet up with Hypatia then to drive to Lincoln NM for the Salon meet.
Am I asking too many questions?
Why does the McLaren MP4-12C outperform the Ferrari 458 Italia so handily when they are so similar on paper?
*blink*
Is this getting annoying
Who wants to buy me tickets to the premier of the film Rush in September?

How about now?
Kernal Panic.
O-Kayyyyyy...
If I were to give you a mufflewhump, what would it turn into, keeping in mind that they can't turn into anything sapient nor anything that can act against the giver's (ie, my) interest, and that they only work on h2g2?
The term always brings to mind a pillow for me. Not sure why.
Had you even heard of mufflewhumps before the previous question?
Of course.
Have I given you one before?
Chances are likely.
Did you know me before this interview?
Indeed.
Do you have a question for me (fair's fair, after all)?
What do you get when you multiply six by nine?
Depends on which base you use.
Thank you, marv, for your time.
Next week, I will be interviewing Woodpigeon.
The Venerable Researchers Archive