University Project - John Creasey (Author)
Created | Updated Jan 15, 2004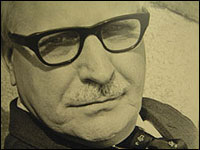 This University Project covers John Creasey, one of the world's most prolific authors and the 'World's Most Rejected Author' before his first acceptance.
The material has been provided by Richard Creasey - son of the author and one of the Founding Fathers of h2g2.
Ashley will be the Sub-editor.
The entries are:
Note from Richard Creasey

Click here for the most comprehensive catalogue of my father's work.