The BFG's
Created | Updated Dec 13, 2002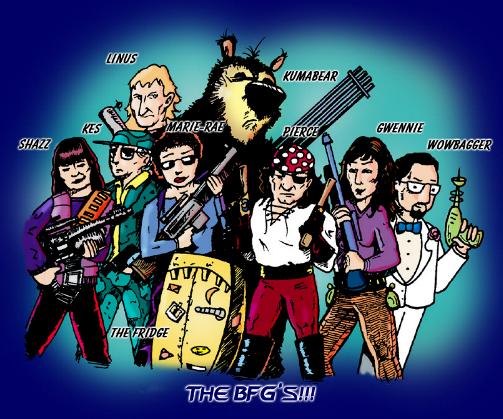 A Tale of The BFG's
The intrepid explorers continue their adventures on the planet Deimos, home of The Pleasure Domes and strange alien beings.
A Short History
The BFG's started innocently enough at an excellent party hosted by Vegiman way back in the mists of time. The party migrated underground, overground (How did the Wombles get in here?) and finally took to the skies. Our spaceship was crippled in a battle and the Planet Deimos looked inviting! What started of as a good-time venue soon became the scene for pitched battles as the team ran out of currency and resorted to piracy.
The battle continues to this day as the BFG's find more and more places to explore, only to be confronted by new and strange opponents!
The Home of the BFG's
The Team

* = Missing presumed sidetracked