Announcements
Created | Updated Jun 22, 2003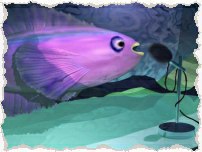 Expecting!
The Post is delighted to announce that Jane Muse of Bad Girls is pregnant! Her good friend Bob wants us all to join in wishing her and her husband Vince all the best for the future happy event!
The h2g2 Film
What do YOU think about the latest suggestions for casting the h2g2 Film? Here at The Post we are now in the process of setting up a major poll to take your nominations and votes. If you have any ideas as to who would be ideal in the role of Zaphod, Arthur or any of the other characters, please email your suggestions to Pastey at The Post, marking the subject 'h2g2 Film' so that we can add your suggestions to the poll.
Meets
You used to be able to find information about most of the planned meets at the Future Events forum. Sadly the page needs a serious overhaul, but you can still see what some of the researchers were up to while h2g2 was away! Let's hope that some new meets are in the pipeline!
Hermes Messenger Service
The recent downtime meant that we all missed the opportunity to send Valentines to other h2g2 users. The chance to have your views delivered to others still remains, however, so pop along to the Hermes Messenger Service. All requests will be considered and forwarded to user pages within h2g2.
The Musehome
The 'Musehome' is back up and running! Why not drop over and see what they are up to!
The Astronomy Society
If you have an interest in things celestial, then the h2g2 Astronomy Society is just the place to go!
Why not drop in and browse around.
The h2g2 Soapbox

Are you confused/upset/delighted with the changes at h2g2 since its return under the auspices of the BBC? Do you want to make a point? If so, pop along to the Community Soapbox and make your views known! This is THE place to go to discuss the state of the h2g2 community.
All entries to this feature should be mailed to shazzPRME. Please mark the subject 'Announcements'.