Talking Point: Coping with Depression
Created | Updated Nov 28, 2008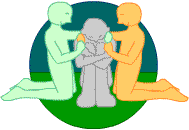 Have you, or has someone close to you, ever suffered from depression? The 'enforced' joviality of the festive season can actually make depression worse for sufferers. It isn't fun just because it should be, is it?
Tell us how you coped, or perhaps still are, coping with depression. This is one subject where talking about it might possibly help to make it slightly better.
Symptoms
Symptoms can include one, or more, of the following:
Apathy
Lack of energy
Loss of appetite
Loss of sex drive
Trouble sleeping
Difficulty concentrating
Low self-esteem
What sort of people become depressed?
Depressive illness can happen to anyone, irrespective of age or gender. It could happen to you, or to any member of your family.
Why?
Depression can might be due to one, or a few of the following:
Bereavement
Starting a new school, college or job
A relationship break-up
Suffering a major illness or seeing a loved one go through it
Pregnancy or post-natal depression
Seasonal affective disorder1 (SAD)
Any major life change
An undefined reason
Coping with Depression
Do you have any advice for helping people to deal with depression? This might include:
Advice on who to contact if someone thinks that they might be suffering from depression
General advice on how to cope
Advice on contacting a doctor for medical treatment
Alternative or herbal therapies
Exercise or sport as therapy
Counselling: types, effectiveness and availability
Support organisations
Share your Experiences and Knowledge!
Please tell us about your experiences. An open and frank conversation about your experience could really help someone else through a difficult period of their life. It's surprising how many of us it's happened to, when we talk about it...
1Seasonal Affective Disorder (SAD) is a type of winter depression, due to lack of sunlight during the winter months.