h2g2 Post 20.11.2000
Created | Updated Jun 22, 2003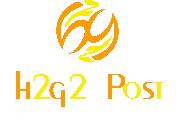 Posted: 20th November 2000

Hopefully this will be the last time that the Post appears in this format. From our anniversary edition, due out on the 3rd December, you should find a new, improved layout and the re-introduction of the opportunity to browse through back issues.
Thank you to all past contributors for their prompt reply to my call-to-arms! I anticipate a bumper crop for our celebratory issue... remember that there will be NO Post next week!
Back to this edition now. Ormondroyd is back with his popular Notes. The problems experienced in a certain election were just too tempting for him to ignore! Fragilis begins her new-style column View From h2g2, a new name but the standard remains as high as ever.
A new site exciting some interest appears to be the BOF Inn. I guessed what it stood for... can you?
The plans for the Denver Meet are well underway. Do take a look if you think that you may be able to attend.
Greebo reports that no-one has chanced their arm at the Poetry Competition yet. Come on folks... I know a lot of artistic and talented folks are out there.
Returning to the subject of meets, the Post has tried to make some sense of the arrangements for the Christmas Community Social. Pastey spent some considerable time fighting his way, virtually of course, around the maze of the London Underground system and has come up with the Essential Guide to the Christmas Meet... he didn't call it that, but it certainly covers any FAQ's you may have. If you are planning on attending you better take a look... we'd hate to miss you!
May I wish all our USA friends a very happy Thanksgiving Day.
Any copy, articles, suggestions should be sent to The Editor. Please use this same address if you are interested in volunteering to become a regular contributor.
h2g2 Life




The cartoon series with style!

This week: Home Alone!