The Post Christmas Poetry Competition
Created | Updated Jun 22, 2003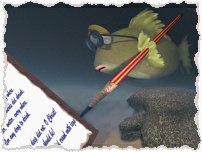 We at the POST are getting ready for the festive season, and we have thought of a great way to get into the swing of things.

This week, we are proudly announcing a brand new competition, open to all researchers in H2G2. All we would like is for you to send in a poem based on Christmas.

The poems should be your own work, and you should supply your researcher name and your reseacher number when sending in a poem.

The winner will be annouced in the Christmas Issue of the POST, and the winner will also recieve a rather nice little award for them to place on their homepage.



THE RULES


The last day of entry for the competition is SUNDAY 10th DECEMBER 2000
Poems MUST be your own work
Voting will start on Tuesday 12th December and finish on Sunday 17th December 2000
Only one vote per researcher will be accepted, and you cannot vote for your own work.
If there is a tied vote, then the POST will cast the deciding vote.
All entries will be displayed in the POST during the forthcoming weeks.


E-Mail your poems to Greebo T. Cat.

Please write POST POEM in the subject line...



Happy creating folks!!!


Greebs