h2g2 Post 13.11.2000
Created | Updated Jun 22, 2003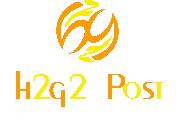 Posted: 13th November 2000

Welcome once more to the Post.
We are all working frantically to prepare for the First Birthday of this paper and to be able to present you with a new look at the same time. With this in mind, may I ask all past writers, Post Researchers, occasional contributors... or anyone else who may be interested... to think about producing another item just for old times sake!

With the special edition and revamped Post due on the 3rd December, and also the fact that the editor and webthing will be indulging in yet another h2g2 get-together, there will be NO Post on the 27th November... unless anyone out there would like to try their hand at editing of course!

This week we have plenty to keep you busy, some fun and some serious, so I won't detain you any longer.
Any copy, articles, suggestions should be sent to The Editor. Please use this same address if you are interested in volunteering to become a regular contributor.
h2g2 Life




The cartoon series with style!

Is this why the servers were slow?