h2g2 Post 24.10.2000
Created | Updated Jun 22, 2003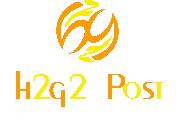 Posted: 24th October 2000

The Post is back. I hope that you enjoy this edition.
Our Virtual Prez has a very important message for you all, which I totally endorse. If you haven't yet visited the Petition, then I urge you to, at the very least, go and read the associated article Torture and consider the information contained therein.
There are a whole bundle of new Announcements, including yet another h2g2 engagement, this time between Fashion Cat and Demon Drawer, and Classified Advertisements this week... please do check them out.
Wowbagger seems somewhat distracted in his cartoon this week. I can't imagine why.
We have a new regular contributor who can be found writing his Notes From a Small Planet this week, although, to be fair, he has contributed to the Post before.
Any copy, articles, suggestions should be sent to The Editor. Please use this same address if you are interested in volunteering to become a regular contributor.
View From The Queue




This week: The report on the queue of entries is uncertain.

Fragilis is still confused!

Just For Fun




Fun and Games From Greebo T Cat.

Why don't you have a look and join in!

h2g2 Life




The cartoon series with style!

Wowbagger posts an apology... personally I don't mind!