h2g2 Post 16.10.2000
Created | Updated Jun 22, 2003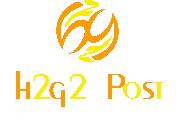 Posted: 16th October 2000

We regret to announce that, due to technical problems, we are unable to bring you this weeks'edition of The Post!
My newly repaired computer, which was basically running fine apart from being unable to persuade it to recognise my scanner, printer and sound card, was accessing the internet perfectly until Saturday, from which time it has stubbornly refused to allow me to log on. The offshoot of this predicament means that a few articles, which I had safely stored in my 'Post Box', are now inaccessible for me to publish on site. To all of you who have sent in features, articles, advertisements etc, a big apology... they will all be run in next week's edition one way or another!
In the mean time, I thought that I would give you the opportunity of catching up on past issues, although I will apologise in advance if some of the graphics don't work... we are currently working on revamping most of these in readiness for a new, improved Post which should look good in both skins, and have deleted some of the older graphics in preparation for this upgrade.
One article which we ARE running for you from this weeks' edition is the View from the Queue, as a lot of work has been put in by Fragilis and it concerns the current state of Guide Entries.
Here are the links for the Past Issues available at this time.
Any copy, articles, suggestions should be sent to The Editor. Please use this same address if you are interested in volunteering to become a regular contributor.