h2g2 Post 18.09.2000
Created | Updated Jun 22, 2003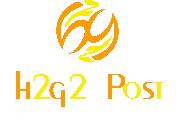 Posted: 18th September 2000

Welcome to this edition of the Post. The Olympic Games have finally started in Sydney, Australia, so we have an unusual amount of articles from 'Down Under'. Why not start at the top with a personal view of Spring from Loonytunes? Then check out the results of other sport in the Antipodes kindly provided by Linus in his article Pre-Olympic Sports Wrap-Up.
Further coverage of this once-every-four-year event can be found under the Olympic Torch!
Talking of fairly rare occurances, the Dutch Meet draws ever closer. There are twelve definates and a further five possibles... why not add yourself to the total?
The article from Pseudemys this week takes us to The Loire Valley... he certainly gets about!
Voting for the Virtual Prez closed tonight, so if you didn't vote, don't blame us if the candidate who wins isn't the one you would have preferred. Look out for the results... and an acceptance speech from the successful candidate, in next weeks' Post.
A big event last weekend was the marriage of two h2g2 researchers. Find out more in the Announcements section.
If any articles from regular contributors are missing this week, may I apologise now. I have been suffering from a tricky problem... my mouse was sick and , although it seems much better now, (Thanks Kheldar!) my modem has decided to also play 'find me if you can'! I wonder if this is a disease contracted from the outbreak of blockades and dissent spreading all over Europe at the moment?
Any copy, articles, suggestions should be sent to The Editor. Please use this same address if you are interested in volunteering to become a regular contributor.
Roving Reporter




This Week: The Church of The True Brownie.

Just what is this all about? It is certainly not

what you may think.

View From The Queue




This week: The report on the diminishing queue of entries
waiting to be approved, plus some tips on how

to keep the scouts and sub-eds happy.

h2g2 Life




The cartoon series with style! Do you have problems

explaining to others what h2g2 is?