Intro: The Celery Responds
Created | Updated Jun 21, 2003

This report is part of the h2g2 Prez Campaign and should only be taken seriously within the context of the campaign.

Recently, a series of articles in the Post implicated Celery staff member Redbeard in the poisoning of Demon Drawer. This week, The Celery, an h2g2 creation running for Virtual Prez, responds.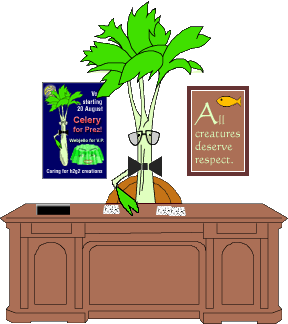 I felt I must come to you in person after this recent special report. In this report, DD&J campaigner Fragilis crafted a series of pages supposedly proving that Redbeard, a member of my staff, had poisoned Prez Candidate Demon Drawer.


The day after that report went to press, Redbeard came to me and offered his resignation as a member of my campaign staff. Knowing that Redbeard was innocent of the charges, I asked him why he was resigning. He said it was to protect me from damage to my campaign, which might result from people believing that he had actually poisoned Demon Drawer.


Well, I don't work that way. Redbeard is my friend, and if I can't stand beside him during this difficult time, then I don't want to be President. I know that he is innocent, and I know that he doesn't have it in him to hurt another creature. I tore up his letter of resignation, and he remains Chief Political Operative for the Celery/Webjello 2000 campaign with my full support.


Of course, that still leaves the matter of the special report and the 'poisoning' of Demon Drawer. These issues needed to be addressed. I conducted an investigation of both issues and I present my findings to you today.


Do I have a conflict of interest here? Of course. Redbeard is my friend and I am running for Virtual Prez. I state that here to make it crystal clear, but I am confident that when you see the facts for yourself, you will agree with the findings.