Kate Bush - Singer-songwriter
Created | Updated Feb 4, 2005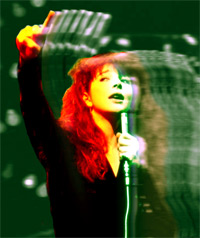 In early 1978, the British music scene was still reeling from the upheavals wrought by the then-recent new wave of punk rock bands. Those who loved the energy and rebellion of bands like The Sex Pistols, Buzzcocks and The Clash were in a state of cultural war with those who remained loyal to established progressive rock acts like Pink Floyd and Yes.
Suddenly, in this acrimonious climate, there appeared a unique single. It was called 'Wuthering Heights', and it simply sounded like nothing else on earth. The voice was unearthly, sweeping through the octaves: piercing and sensual, emotive and startling. The song, loosely based on Emily Bronte's famous novel of the same title, was passionate, dramatic and attractively alien. The nation's music lovers duly sent it to Number One for four weeks.
And so began the career of an artist who managed to appeal to the broader-minded members of both the warring tribes in late 1970s British rock. Kate Bush's exoticism and romanticism appealed to the progressive rock followers, but punks appreciated her defiant individuality. She was discovered by Pink Floyd's David Gilmour, but The Sex Pistols' John Lydon is a long-term Kate fan, as are many current music stars. Those who have sung her praises range from the hugely successful American hip-hop duo Outkast, who have publicly declared their wish to collaborate with Kate, to the acclaimed British alternative-rock quartet The Futureheads, who covered her song 'Hounds Of Love' on their eponymous debut album.
Performing on television, Kate would illustrate the songs with distinctive dance moves that borrowed from mime and modern dance. She'd stare wildly and throw strange shapes. She also happened to be young, beautiful and sexy, which certainly didn't hurt her record sales.
Kate toured only once in her career as a singer-songwriter: a series of British and European dates in 1979. Though ticket sales were brisk, the tour proved expensive and exhausting for Bush. Worse, the venture was touched by tragedy right at its beginning, when lighting engineer Bill Duffield was killed in an accident after the tour's low-key warm-up date at Poole Arts Centre, Dorset, UK on April 2, 19791. Her enduring reputation is built on the seven studio albums she produced between 1978 and 1993. Her fans have now been waiting for the follow-up to 1993's The Red Shoes for well over a decade.
However, those seven albums ensure that she won't be forgotten for some time to come. She had (and presumably still has) a voice with an astounding range, and extraordinary expressive, emotive power. She was an inspiration for many female performers who came after her, urged on by her ability to do what interests herself and remain both commercially successful and innovative.
The Budding Bush
Catherine Bush was born in Bexleyheath, Kent, UK on July 30, 1958 - giving her the same birthday as Emily Bronte. Kate was interested in music from an early age. Her first instrument was the violin, which she began to play at school in 1969; but her passion for music intensified after she took up the piano in 1970 and began to write her own songs. By 1971 she had composed early versions of 'The Man With the Child In His Eyes' and 'The Saxophone Song', both of which would appear on her debut album The Kick Inside.
In 1972 Ricky Hopper, a friend of Kate's family, began to take demo tapes of Kate's songs to record companies. Hopper initially found no takers, so he contacted David Gilmour, who was then actively looking for new acts that he could help to develop. Gilmour was impressed by what he heard, and invited Kate to record a new demo tape in his home studio. Her backing band for the occasion comprised of Gilmour on guitar and two members of a band named Unicorn, drummer Peter Perrier and bassist Pat Martin.
Surprisingly, despite Gilmour's endorsement, there were still no takers at the record companies. Undaunted, in 1975 Gilmour put up the money for a professional-quality, three song demo, recorded in Air Studios, London with Gilmour acting as producer, Andrew Powell as arranger, and Geoff Emerick, who had previously worked with The Beatles, as engineer. 'The Saxophone Song' and 'The Man With The Child In His Eyes' were re-recorded at the Air Studios session.
In July 1975, around the same time that Kate was at school taking her mock A-Level examinations, Pink Floyd were in the London's famous Abbey Road Studios working on their classic album Wish You Were Here. Bob Mercer, then the General Manager of EMI Records' pop division, paid a visit to check on the Floyd's progress, and Gilmour grabbed the opportunity to play him the new Kate Bush demo. Mercer liked what he heard, and lengthy negotiations for a recording and publishing deal for Kate began. After protracted negotiations, Kate signed a four-year deal recording deal with EMI in July 1976, receiving a £3,000 advance on record royalties and £500 for publishing rights.
Over the following year, Kate recorded more demos and studied dancing with famed choreographers Lindsay Kemp and Arlene Phillips.
And then, in March 1977, she wrote 'Wuthering Heights'. She would later recall that she had written the song: '...Sitting at the upright piano one night in March at about midnight. There was a full moon and the curtains were open, and every time I looked up for ideas, I looked at the moon. Actually, it came quite easily. I couldn't seem to get out of the chorus-it had a really circular feel to it, which is why it repeats. I had originally written something more complicated, but I couldn't link it up, so I kept the first bit and repeated it. I was really pleased, because it was the first song I had written for a while, as I'd been busy rehearsing with the KT Band.
'I remember my brother John talking about the story, but I couldn't relate to it enough. So I borrowed the book and read a few pages, picking out a few lines. So I actually wrote the song before I had read the book right through. The name Cathy helped, and made it easier to project my own feelings of want for someone so much that you hate them. I could understand how Cathy felt. It's funny, but I heard a radio programme about a woman who was writing a book in Old English, and she found she was using words she didn't know, but when she looked them up she found they were correct. A similar thing happened with "Wuthering Heights": I put lines in the song that I found in the book when I read it later.'
In April 1977, Kate made her live singing debut at the Rose Of Lee pub in Lewisham, London, fronting The KT Bush Band - a group assembled by her brother Paddy and his friends Del Palmer, Brian Bath and Charlie Morgan. The band mostly played covers of rock and soul standards like The Rolling Stones' 'Honky Tonk Women', Marvin Gaye's 'I Heard It Through The Grapevine' and The Beatles' 'Come Together'. However, Kate's compositions 'The Saxophone Song' and 'James And The Cold Gun' were added to the set as the dates continued in pubs and clubs in and around London over the following three months.
In August 1977, the call came from EMI for Kate to record her debut album, and by the end of September 1977 all the material for The Kick Inside was completed. Initially, EMI executives wanted to release 'James And The Cold Gun' as Kate's debut single, but she argued the case for 'Wuthering Heights' - and, of course, she won. The single was scheduled for release on November 4, 1977, and promotional copies were distributed to radio stations. However, a late decision to change the sleeve design - again at Kate's request - delayed the single's release, and it was decided to hold 'Wuthering Heights' until the New Year so that the single wouldn't be overshadowed by the traditional Christmas rush of novelty singles and new releases by big-name acts.
'Wuthering Heights' finally reached the UK's record shops on January 20, 1978. Thanks to the early distribution of the single to radio stations, it had already picked up a lot of airplay, and quickly entered the charts. On March 7, 1978, it reached Number One, making Kate the first British female singer ever to top the UK singles chart with a self-penned song.
The Albums
The Kick Inside (1978)
Tracks: 'Moving'; 'The Saxophone Song'; 'Strange Phenomena'; 'Kite'; 'The Man With The Child In His Eyes'; 'Wuthering Heights'; 'James And The Cold Gun'; 'Feel It'; 'Oh To Be In Love'; 'L'Amour Looks Something Like You'; 'Them Heavy People'; 'Room For The Life'; 'The Kick Inside'.
The Kick Inside shows a unique talent literally finding its voice. Kate's unique delivery is exciting and evocative, as she pushes her extraordinary voice up to and occasionally beyond its limits. The lyrics map out the interests in matters exotic, erotic, spiritual and literary that would recur throughout her subsequent work, and were also occasionally daring: the album's title track deals with an incestuous brother-sister relationship. The music ranges from the sweet, delicate 'The Man With The Child In His Eyes' to the flat-out rock of 'James And The Cold Gun', but the predominant feeling of the album is an intoxicating mixture of romanticism and strangeness.
The songs for The Kick Inside had been written over a period of three years. Two of its tracks - 'The Man With The Child In His Eyes' and 'The Saxophone Song' - were recorded with David Gilmour on guitar in 1975, and formed part of the demo that won Bush her recording contract with EMI2. The remaining eleven tracks were recorded in August and September 1977 with producer Andrew Powell and a band featuring members of two other bands then signed to EMI, Pilot and Cockney Rebel3.
Though Kate herself admitted to some discomfort over her early recordings in later years, The Kick Inside established her as a highly distinctive new talent. It sold strongly in the UK, peaking at Number Three in the album chart.
Lionheart (1978)
Tracks: 'Lionheart'; 'Symphony In Blue'; 'In Search Of Peter Pan'; 'Wow'; 'Don't Push Your Foot On The Heartbrake'; 'Oh! England, My Lionheart'; 'Fullhouse'; 'In The Warm Room'; 'Kashka From Baghdad'; 'Coffee Homeground'; 'Hammer Horror'.
Kate Bush's second album was recorded in ten weeks of frantic activity in Nice, France during the late summer of 1978, and rushed out less than nine months after the release of The Kick Inside. Andrew Powell was again the producer, but this time came into some conflict with Kate, who wanted a harder sound. To some extent, she got her way, her credit as 'assistant producer' reflecting the extent of her influence on the overall tone of Lionheart. In truth, though, the second Kate Bush album was broadly similar in tone to the first.
Again, there are pretty songs, including 'Oh England, My Lionheart', in which Bush succeeded in the delicate task of writing a love song to her home country without lapsing into jingoism. Again, there's one out-and-out upbeat rocker, this time 'Don't Push Your Foot On The Heartbrake'.
'Hammer Horror', the first single taken from 'Lionheart', failed to reach the UK Top 40, and the album didn't match the chart success of its predecessor. But the album's second single, 'Wow', returned Bush to the Top 20. Its waspish lyric suggested that its author was already acquiring a jaundiced view of show business.
Never For Ever (1980)
Tracks: 'Babooshka'; 'Delius(Song Of Summer)'; 'Blow Away (For Bill)'; 'All We Ever Look For'; 'Egypt'; 'The Wedding List'; 'Violin'; 'The Infant Kiss'; 'Night Scented Stock'; 'Army Dreamers'; 'Breathing'.
Kate Bush's third album showed a greater diversity and maturity than anything she'd produced before, and its quality was matched by its commercial success. Never For Ever went all the way to Number One in the UK, making Kate the first British solo woman to top her homeland's album chart.
The first UK single taken from Never For Ever was surely one of the most idiosyncratic protest songs ever to grace the UK Top 20: 'Breathing', a slow, brooding number sung from the point of view of a foetus whose mother has survived a nuclear explosion. However, the biggest hit from Never For Ever was a true Bush classic: 'Babooshka', the story of a wife putting spice back into a stale marriage by writing her husband love letters under an assumed name. The combination of a madly catchy chorus and a great video made the song an international hit around Europe.
Never For Ever also featured 'Army Dreamers', another sizeable UK hit single. The song's pretty, lilting tune offsets a pointed anti-war lyric delivered by Bush in a reasonable approximation of an Irish accent - an obvious allusion to the seemingly interminable conflict in Northern Ireland.
The gentle, wistful 'Blow Away (For Bill)' is dedicated to Bill Duffield, the lighting engineer killed in an accident in 1979 whilst working on Kate's one and only tour. The lyric pictures Duffield providing celestial lighting for a concert in the afterlife featuring an eclectic line-up of deceased stars. There are references to pioneering 1950s rock'n'roller Buddy Holly, Who drummer Keith Moon, acclaimed folk-rock singer Sandy Denny, Sex Pistols bassist Sid Vicious and soul star Minnie Riperton.
The Dreaming (1982)
Tracks: 'Sat In Your Lap'; 'There Goes A Tenner'; 'Pull Out The Pin'; 'Suspended In Gaffa'; 'Leave It Open'; 'The Dreaming'; 'Night Of The Swallow'; 'All The Love'; 'Houdini'; 'Get Out Of My House'.
The Dreaming is Kate Bush's most extreme, experimental and adventurous record; which, when dealing with such an innovative artist, is saying a lot. The clamorous 'Sat In Your Lap', a galloping, percussive blast of sound featuring Kate's soprano range at its most piercing, had been released as a single in the summer of 1981, to moderate success. 'Sat In Your Lap' revealed Bush sounding tougher than ever before, but it's positively conventional compared to some of The Dreaming's other contents.
The title track, concerning Australian Aboriginal customs and history, is built largely from drums, voices, and the didgeridoo of an improbable guest star: Rolf Harris. There are also sudden sound effects that seemed to jump out of the speakers. When released as a single, it gained little airplay and fell short of the UK Top 40.
'Pull Out The Pin', again featuring some of Kate's most dramatic vocal extremes, courted controversy by taking the point of view of a Vietnamese soldier fighting Americans. 'Night Of The Swallow' introduced an Irish traditional element into Bush's music, with guest appearances from members of two leading Irish folk bands, Planxty and The Chieftains. The chilling 'Get Out Of My House' ends the album on a supernatural note, Kate taking the role of a landlady trying to evict evil spirits from her property.
There are more immediately accessible tracks on the album: the giddy waltz 'Suspended In Gaffa' provided Bush with a hit single in Europe. The catchy 'There Goes A Tenner', in which Kate took the role of a Cockney bank robber, was issued instead in the UK - but became the only Kate Bush single to miss the UK chart completely. Nevertheless, the album was critically acclaimed and a commercial success, peaking at Number Three in the UK. In November 1982, two months after its release in Britain, The Dreaming became the first Kate Bush album since The Kick Inside to be released in the United States4 and caused a sizeable stir, reaching the Billboard Top 200.
Hounds Of Love (1985)
Tracks: 'Running Up That Hill (A Deal With God)'; 'Hounds Of Love'; 'The Big Sky'; 'Mother Stands For Comfort'; 'Cloudbusting'; 'And Dream Of Sheep'; 'Under Ice'; 'Waking The Witch'; 'Watching You Without Me'; 'Jig Of Life'; 'Hello Earth'; 'The Morning Fog'5.
The gorgeous Hounds Of Love is probably Kate Bush's most widely-loved album, and it certainly boosted her popularity enormously. It was preceded by a superb single in 'Running Up That Hill', a percussive, urgent and exhilarating song about loving someone so much, you want to take their place in times of trouble. 'Running Up That Hill' and the Hounds Of Love album provided Kate with her first big breakthrough in the United States; both were Top 40 hits in the US national charts. In Britain, Hounds Of Love became Bush's second chart-topping album. 'Running Up That Hill' was her biggest UK hit since 'Wuthering Heights', peaking at Number Three, and the album spawned three more UK Top 40 singles: 'Cloudbusting', 'Hounds Of Love' and 'The Big Sky'.
'Cloudbusting' is a song with an interesting story behind it. The opening line - 'I still dream of Orgonon' - refers to the Orgonon estate in Maine, USA: the one-time headquarters of the highly controversial psychoanalyst Wilhelm Reich, who believed that all living things contained a form of energy that he called 'orgone energy'. Reich built machines called 'orgone accumulators' with which, he claimed, orgone energy could be harnessed to (among other things) make rain - hence 'cloudbusting'. Reich's work made the American authorities of the 1950s so nervous that a court injunction was obtained under which his books were withdrawn from sale and destroyed. Reich himself was jailed in 1957 for breaking a court injunction forbidding the transportation of orgone accumulators across state lines, and died in a Pennsylvania prison later the same year. Bush wrote 'Cloudbusting' after reading A Book Of Dreams, a memoir by Reich's son Peter. In the video for 'Cloudbusting', Kate plays the young Peter Reich, who is seen being shown an orgone accumulator by his father. Wilhelm Reich is portrayed by the celebrated Canadian film actor Donald Sutherland.
Hounds Of Love is a kind of semi-concept album. The seven tracks that appeared on the second side of the vinyl release - 'And Dream Of Sheep', 'Under Ice', 'Waking The Witch', 'Watching You Without Me', 'Jig Of Life', 'Hello Earth' and 'The Morning Fog' - form a song cycle, with the overall title of 'The Ninth Wave'6. In an interview at the time of the album's release, Bush explained that the song cycle was: '...About someone who comes off a ship and they've been in the water all night by themselves, and it's about that person re-evaluating their life from a point which they've never been before. It's about waking up from things and being reborn - going through something and coming out the other side very different... It ends really positively - as things always should if you have control.'
The Whole Story (1986)
Tracks: 'Wuthering Heights' (New Vocal); 'Cloudbusting'; 'The Man With The Child In His Eyes'; 'Breathing'; 'Wow'; 'Hounds Of Love'; 'Running Up That Hill'; 'Army Dreamers'; 'Sat In Your Lap'; 'Experiment IV'; 'The Dreaming'; 'Babooshka' 7.
Kate's greatest hits, released in time for Christmas 1986, became an instant smash hit. The album topped the UK chart and remained on the chart for more than a year. The Whole Story still sells steadily, even though its title - like that of Douglas Adams' Hitchhiker Trilogy - became less and less accurate in the years following its first appearance.
'Experiment IV' - a sinister tale about the military seeking ways to use sound as a weapon - was issued as a single just before the release of The Whole Story, to moderate success. Its B-side was the only other track on the The Whole Story that hadn't previously seen the light of day: the reworked version of 'Wuthering Heights' that opens the collection. Bush had grown embarrassed by what she saw as the little-girlish quality of her voice on some of her early tracks, and insisted on re-recording the vocals for 'Wuthering Heights'8. The new version certainly illustrates how much Kate's vocal technique had improved between 1977 and 1986: her voice sounds far stronger than on the original, her diction is much improved, and she provides some exhilarating soulful wailing over the closing guitar solo.
The Sensual World (1989)
Tracks: 'The Sensual World'; 'Love And Anger'; 'The Fog'; 'Reaching Out'; 'Heads We're Dancing'; 'Deeper Understanding'; 'Between A Man And A Woman'; 'Never Be Mine'; 'Rocket's Tail'; 'This Woman's Work';
'Walk Straight Down The Middle' 9.
The Sensual World is perhaps the most intimate-sounding Kate Bush album, its romantic tone enhanced by the use of folk instrumentation to add an organic touch to a glossy production. Along with Bush's loyal supporter Dave Gilmour on guitar, the album features Davey Spillane on uillean pipes and whistles, Donal Lunny on bouzouki and The Trio Bulgarka on backing vocals. Populist classical violinist Nigel Kennedy also appears, and there are string and orchestral arrangements came from Michael Nyman and Michael Kamen.
The title track, like 'Wuthering Heights' before it, has Kate taking on the persona of a character from a famous novel: in this case, Molly Bloom from James Joyce's Ulysses. It's one of Bush's most joyously erotic songs - rarely can the word 'Yes!' have been delivered with more delight - but it was only a modest success when released as the first single from the album, peaking at number 12 in the UK chart.
It isn't the only song on the album with a highly imaginative lyric. 'Heads We Dance', set in 1939, tells the story of a woman who goes for an evening out and dances with a charming man - only to see a newspaper later and realise that her dancing partner had been Adolf Hitler. 'Deeper Understanding' is a song that some h2g2 Researchers may understand only too well: it's about becoming obsessed with a computer to the exclusion of all else.
The second British single from the album was 'This Woman's Work' - a powerful, sensitive song written from the point of view of a man watching his partner struggling to give birth to a baby. Originally written for the film She's Having A Baby, it wasn't a big hit single, but remains a strong favourite with Bush's fanbase.
The same could be said about The Sensual World as a whole. The album wasn't Bush's biggest commercial success, being hampered by a lack of smash-hit singles10 and surprisingly limited promotional activity at the time of its release: but The Sensual World's reputation has grown over the years since its release.
The Red Shoes (1993)
Tracks: 'Rubberband Girl'; 'And So Is Love'; 'Eat The Music'; 'Moments Of Pleasure'; 'Song Of Solomon'; 'Lily'; 'Red Shoes'; 'Top Of The City'; 'Constellation Of The Heart'; 'Big Stripey Lie'; 'Why Should I Love You'; 'You're The One'.
A somewhat controversial work among Bush fans, The Red Shoes is probably her most conventional-sounding album, and certainly her most star-studded in terms of famous guests: Eric Clapton, Prince, Jeff Beck and Procol Harum's Gary Brooker all appear, as do old friends Nigel Kennedy and The Trio Bulgarka. The most improbable guest is the British comedian Lenny Henry, who provides backing vocals on 'Why Should I Love You' - the track that also features vocal and multi-instrumental contributions from Prince. The catchy 'Rubberband Girl' was released as the first UK single from The Red Shoes, reaching number 12. Three subsequent UK singles - 'Moments Of Pleasure', 'The Red Shoes' and 'And So Is Love' - all peaked in the bottom ten of the Top 30.
Despite its accessible melodies and glossy production, there is a dark undercurrent running through The Red Shoes. The record is dedicated to the memory of Kate's mother Hannah Bush, who died in 1992, and 'Moments Of Pleasure' mentions several of Kate's deceased friends and relatives. The lyrics are often more direct than those on Bush's earlier albums. 'And So Is Love' is a stark lament for lost innocence: 'We used to say/"Ah Hell, we're young"/But now we see that life is sad/And so is love'.
The Red Shoes was Kate's final album before embarking on a long silence, and it's tempting to examine it for clues as to what prompted her subsequent disappearance from view. The song 'The Red Shoes' is based on the macabre Hans Christian Andersen fable about a little girl who finds some magic shoes that give her the power to dance brilliantly - but then finds that the shoes won't stop dancing, and she can't take them off. Had Kate come to feel that way about her pop career? The shockingly blunt sentiments of 'Song Of Solomon' sound suspiciously like the kind of demands that had been made of Bush throughout her career: 'Don't want your bulls**t, yeah/Just want your sexuality/Don't want excuses, yeah/Write me your poetry in motion'. Perhaps 'Eat The Music' is the clearest complaint of all: 'Split me open/With devotion/You put your hands in/And rip my heart out/At the music'.
Whatever, The Red Shoes sold more than respectably, reaching number two in the UK and also entering the Billboard Top 30 in the United States. The demand for more Kate Bush music was certainly there: but for reasons best known to Kate, that demand would not be met in the years that followed the appearance of The Red Shoes.
The Best Of Bush
So what was Kate Bush's finest moment? Not surprisingly, Kate-loving h2g2 Researchers have differing views. Here are some of their nominations.
'Wuthering Heights'
Some Researchers look back with particular fondness on the thrill of seeing Kate for the first time:
'1978, and across the land a generation's adolescent testosterone was stirred into life by one flimsy white-robed caterwauling wild-haired third of a standard Shakespearean coven. Oh, how we all wished we could be Heathcliffe.
'Ethereal and eccentric, Kate Bush's almost demented wailings of her near-namesake Bronte character provided smooth transition for those stuck on the pop-punk divide, paving the way to The Cocteau Twins and latterly (and probably middle-agedly) Faye Wong.
'As it transpired, the single turned out to be an ABBA-displacing number one hit for Kate, and deservedly so.'
The first flowerings of Bush
Some prefer other songs from Kate's early work:
'I'm most familiar with the first two albums, The Kick Inside and Lionheart, so here's a few favourites: "L'Amour Looks Something Like You", "Moving", "Wow". Yes, the third has been almost satirised by alternative comedians into self-parody, but still the massive production (massive in terms of space as opposed to 1980s overkill) and precocious originality is undeniable...'
'L'Amour...' is also mentioned by this Researcher, who also appreciates the piano power in an early Kate rocker:
"L'Amour Looks Something Like You", "The Man With The Child In His Eyes" - or, some days, "James And The Cold Gun". The latter especially for the fabulous rhythm in the piano playing...
Kate's second UK hit is also appreciated by this Researcher, who first heard it via a Scottish duo's cover version:
'I really love the fragility of "The Man With The Child In His Eyes". A lot of people have interpreted the song as being about child abuse, but Kate has often refuted that. It sounds to me like the 16-year-old Kate was actually singing about her feelings as a precocious and creative child and looking up to the men who were shaping her career. But that's just how I see it. 'Have to admit, I first heard the song when Hue And Cry sang it on Radio 1 on Philip Schofield's Sunday show. It was sung in the third person - "You hear him..." rather than "I hear him...". I think it was subsequently released as a Hue And Cry B-side.'
Another Researcher also loves that particular early track, but prefers Kate's 1980 Christmas hit 'December Will Be Magic Again'. It wasn't a huge hit, peaking at number 29 in the UK chart, but it's a big favourite with this fan:
'"The Man With The Child In His Eyes" is indeed superb, but the winner for me has to be oft-overlooked festive classic "December Will Be Magic Again". I always loved Kate, especially because she used to put messages in the run-off to her vinyl. (I remember the one to the B-Side of "Sat in Your Lap" was 'Thanks Donovan'.) I'll get me coat...'
Great late Kate
Other fans prefer Kate's more mature work, and one particular track from The Sensual World has meant a great deal to this Researcher:
'This Woman's Work'... I first heard that when I watched She's Having A Baby with Kevin Bacon... It played over the scene where Elizabeth McGovern is suffering through a very difficult labour. The rest of the movie was fairly forgettable in my estimation, but that scene... wow.
'I instantly knew who was singing even though I'd never heard the song before... I squeezed my girlfriend's arm and said quietly "That's Kate Bush singing!" As I listened to the lyrics, I couldn't help but get very choked up. I still do whenever I listen to it.
'When my sister died, I put on a brave face for the rest of the family, stoically holding up so that the others could mourn... but when I got home after the funeral I put on that song on repeat and cried for hours... It will always be the saddest, most beautiful song I know.'
The same track also won this Researcher's heart:
'My favourite track, without a shadow of a doubt, is "This Woman's Work" from The Sensual World. I liked it so much that I taught myself to play it on the piano (this was before I ever took piano lessons, and I had to cheat and play it in a different key, because Kate likes the black notes). It's one of the few songs that can make me cry.'
Meanwhile, another Researcher fondly remembers Kate's tale of an uphill struggle:
'It's a really tough choice, but if pushed to name one favourite track I think I'd have to pick her second biggest UK hit, and the song that first got her into the American singles chart: "Running Up That Hill". I can't think of a song that better exemplifies Kate's ability to reconcile apparent opposites. It's one of her most viscerally exciting pieces, with its galloping drums and impassioned vocal, but it's also melancholy and reflective. It's a tender love song about isolation: about the painful fact that however close you get to someone, you can never *really* feel what they feel and experience the world just as they do. It acknowledges that we're all alone, but it's also intensely romantic in the way that it conveys the desperate desire for closeness and communion. It's moving and magnificent'.
And some fans simply can't make their minds up - understandably enough, given the wealth of diverse delights in the Bush back catalogue. This Researcher has different favourites on different days:
'It's not easy to pick a "best track"; it depends what mood I'm in. Today, I'm inclined to "Get Out Of My House" - played very loud indeed. In a more gentle mood, I might go for "The Red Shoes". (Which reminds me - the video is quite odd - Kate and Miranda Richardson struggling in a roomful of fruit. Or maybe I was hallucinating.) "Rocket's Tail" needs a mention too, as does "Sat In Your Lap". I can't pick a best album either, but I usually put on Lionheart or The Dreaming for preference. The second side of Hounds Of Love is rather special. I once put this on, sprawled on the couch, and was lulled to the edge of sleep... and then a voice said 'Wake up!' I was alone in the house, and panicked for a couple of moments. Oh dear! "Suspended In Gaffa" - I once waltzed to this song, with a friend, in the main hall of the Adelaide railway station. Most passers-by pretended not to see us. Can't think why...'


Kate's collaborations
Kate Bush's brilliant career has included some notable contributions to other artists' work, and some other celebrated artists have added their creative input to her recordings. Here are just some of the diverse talents Kate has worked with:
Peter Gabriel
Kate's voice can be heard on three of one-time Genesis singer and WOMAD festival organiser Peter Gabriel's better-known tracks. She provides backing vocals on two tracks from Gabriel's 1980 album Peter Gabriel, the third of his series of self-titled albums11: 'Games Without Frontiers' and 'No Self Control'. Both were released as singles in the UK, 'Games Without Frontiers' reaching number four in the national chart and 'No Self Control' peaking at number 33.
She played a more prominent role on 'Don't Give Up' a track from Gabriel's 1986 album So that also became a top ten UK hit. Bush sings a duet with Gabriel on the track, playing the loyal, supportive partner of a man (portrayed by Gabriel) driven to the brink of despair by unemployment.
David Gilmour
As detailed above, Pink Floyd guitarist and singer Gilmour played a key role in Kate's early career, helping her get a recording contract with EMI and producing the versions of 'The Man With The Child In His Eyes' and 'Saxophone Song' that appeared on her debut album The Kick Inside.
Gilmour supplied backing vocals on 'Pull Out The Pin' from The Dreaming, and played guitar on two tracks from The Sensual World, 'Love And Anger' and 'Rocket's Tail'. He is also one of the few people to have appeared in concert with Kate: at the charity concert 'The Secret Policeman's Third Ball' in 1987, he played guitar as Kate performed 'Running Up That Hill' and The Beatles' 'Let It Be'.
On January 18, 2002, Bush broke her long absence from the public eye to sing the Pink Floyd song 'Comfortably Numb' with Gilmour at his concert at the Royal Festival Hall in London. She sang the first and third verses of the song, taking the role of the doctor who supplies the numbing drugs, and harmonised with Gilmour on the other verses.
The Trio Bulgarka
The Bulgarian vocal group The Trio Bulgarka were among Bush's favourite collaborators on her later work. The three women - Yanka Rupkhina, Eva Georgieva and Stoyanka Boneva - added their distinctive harmonies to 'Deeper Understanding', 'Never Be Mine' and 'Rocket's Tail' on The Sensual World and to 'Song Of Solomon', 'You're The One' and 'Why Should I Love You?' on The Red Shoes.
Talking about the Trio to an interviewer, Kate once enthused: 'They work so hard... we worked from nine in the morning to eleven at night. They'll sing all day and always stand in the same order. You'd think that the soloist would stand in the middle, but she stands at one end. They run Yanka, Eva, Stoyanka - and it spells "yes"...!'
Nigel Kennedy
Famed for his virtuoso violin playing and his passionate devotion to Aston Villa FC, Nigel Kennedy is probably the UK's best-known classical musician. He was a regular contributor to Kate Bush's later recordings. He can be heard playing violin on 'Experiment IV', 'The Fog', and 'Big Stripey Lie', viola on 'Heads We're Dancing' and violin and viola on 'Top Of The City'.
Larry Adler
Renowned as the world's finest harmonica player, Larry Adler was an American forced into exile in the UK by McCarthyism. In 1995, to coincide with his 80th birthday, Adler released an album entitled The Glory Of Gershwin, on which he and several different singers interpreted the works of the great songwriters George and Ira Gershwin, with George Martin of Beatles fame acting as producer. The record included a version of 'The Man I Love' sung by Kate Bush, and the song was released as a single, becoming one of Kate's last hits of the 1990s. Adler died in 2001.
The Comic Strip
The Comic Strip was a loose aggregation of leading UK comedians, responsible for several series of short films and one-off 'specials' between 1982 and 2000, the shows being billed first as The Comic Strip Presents... and then later simply as The Comic Strip. The personnel shifted from show to show, but the most regular contributors included Peter Richardson, Dawn French, Jennifer Saunders, Adrian Edmondson, Nigel Planer, Robbie Coltrane, Rik Mayall and Keith Allen.
Kate made her acting debut in the Comic Strip episode Les Dogs, first transmitted on March 8, 1990, playing young bride Angela Watkins. Bush also contributed the dramatic title song 'Ken' and some incidental music to another 1990 Comic Strip episode GLC, and the song Home For Christmas to the comedy team's 1992 Christmas special Wild Turkey.
Some Comic Strip members have crossed paths with Bush in other contexts. 'The Ninth Wave', the song cycle from Hounds Of Love, features a cameo appearance from Coltrane, who supplies one of the voices trying to rouse the protagonist from sleep. French appears in the video for 'Experiment IV', and Richardson directed the video for the single 'The Sensual World'.
Stuart Elliott
A former member of Cockney Rebel and The Alan Parsons Project, drummer Elliott is the only musician apart from Kate herself and her brother Paddy to have appeared on every Kate Bush album to date.
Paddy Bush
Kate's brother Paddy has enjoyed a long career as a folk musician when not working with his famous sibling. An expert on medieval music and ethnic music, Paddy has personally built some of the unusual instruments he's played on Kate's records.
Paddy has also released an album entitled Skyscraping as one half of the duo Bushtucker. That group's other member was Colin Lloyd-Tucker, who contributed backing vocals to two songs, 'The Red Shoes' and 'Constellation Of The Heart' on Kate's The Red Shoes album.
Rowan Atkinson
Improbable as it might sound, Ms. Bush once made music with Mr. Bean - or at least, with the actor best known for his portrayals of the hapless Bean and the dastardly Blackadder. It happened at a Comic Relief charity show at the Shaftesbury Theatre in London on April 4, 1986. Rowan Atkinson, playing a sleazy cabaret singer, duetted with Kate on the comic song 'Do Bears...' at the show, during which Kate also performed 'Breathing'.
The long-awaited comeback?
In December 2004, a Christmas message from Kate Bush to the members of her official fan club made headline news in the mainstream UK press. In the message, Kate promised: 'The album is nearly finished now and will be out next year - we'll let you know when. It features some beautiful orchestral movements by Michael Kamen - we had a wonderful day together at Abbey Road Studios last winter. I'm so pleased with everyone's work on this record. There are some lovely performances and I hope you will all feel it's been worth the wait.'
Even the most loyal Bush fan could be forgiven for finding it hard to believe that a new album may at last be available soon. The wait for a new Kate Bush record has reached such epic proportions that it has even inspired a novel, John Mendelssohn's Waiting For Kate Bush, about the inhabitants of a boarding house in which a group of obsessive Kate Bush fans while away the time whilst awaiting their heroine's return to public view. Over the years, reports of a new record have surfaced regularly, only for fans' hopes to be dashed again and again.
However, this time there is a direct pledge from the woman herself, and a fair amount of information about the recording sessions that have taken place has emerged. Those known to have participated include bassist Mick Karn, once of the band Japan, drummer Stuart Elliott, jazz percussionist Peter Erskine, accordion player Chris Hall and classical musicians Emma Murphy and Susanna Pell, respectively renowned as players of the recorder and the viol. Two tracks on the album feature string arrangements by Michael Kamen, performed by the London Metropolitan Orchestra and recorded under Kamen's direction at Abbey Road in October 2003. Sadly, Kamen - who also worked with Bush on The Red Shoes, The Sensual World and Hounds Of Love - died of a heart attack a few weeks after completing his contributions to the new album.
Two song titles have also emerged. Karn has said that he played on a song called 'How To Be Invisible' - which seems singularly apt, given Bush's behaviour in recent years. Murphy, meanwhile, has said that she worked on a track entitled 'Bertie', presumably dedicated to Kate's young son of that name.
Whenever Bush's new music finally emerges, it will be difficult for it to live up to the huge sense of anticipation felt by her faithful fans. But Kate Bush has amazed her audience many times before, and she may be about to do so once again.
1One good thing to come out of the ill-starred tour was a hit EP, 'Kate Bush On Stage', on which Kate worked with producer Jon Kelly. The partnership worked well enough for Kelly to be retained as producer on Bush's next album, Never For Ever.
2The third song included on the demo, but not used on the album, was called 'Maybe'.
3 Contrary to widely-held belief, it is in fact Pilot's Ian Bairnson and not Dave Gilmour who provides the memorable guitar solo at the end of 'Wuthering Heights'.
4Lionheart and Never For Ever received a belated US release in January 1984.
5A new CD edition of Hounds Of Love released in 1997 additionally includes six bonus tracks: 'The Big Sky (Meteorological Mix)'; 'Running Up That Hill' (12" Mix)'; 'Be Kind To My Mistakes'; 'Under The Ivy'; 'Burning Bridge' and 'My Lagan Love'.
6The title The Ninth Wave comes from Tennyson's poem The Holy Grail: 'Wave after wave, each mightier than the last/ 'Til last, a ninth one, gathering half the deep/ And full of voices, slowly rose and plunged/ Roaring, and all the wave was in a flame'.
7Some later copies of the CD additionally include 'The Big Sky'.
8She told an interviewer at the time that she'd have liked to have done a similar revamp on some of the other early tracks included on The Whole Story, but hadn't had time to do so.
9'Walk Straight Down The Middle' was not included on the vinyl version of the album.
10 The third single from 'The Sensual World', 'Love And Anger', barely scraped into the UK Top 40, although it did receive considerable airplay in the United States.
11Because of its dramatic cover design, featuring a photo seemingly showing Gabriel's face melting, this particular Peter Gabriel is sometimes referred to as 'Melt'.