The Hitchhikers Hotel
Created | Updated Sep 7, 2004
Welcome to the The Hitchhikers Hotel.
We hold all that a weary hitchhiker could possibly want – first class accommodation, views of the coastline, never ending entertainment, a ghost on an endless search for his true love and some unlikely pets. (The bars open all night too
)
Before you check into the HHH, we would like to point you towards our HitchHikers Hotel Herms and Honditions
History of the HHH
The Castle was built in 1921 by Frederik Dawkins. Dawkins craved for the fame and fortune that movies brought his whole life and worked his way up in small roles. Impressing his peers and cheered on by his beloved fiancée, Henrietta Stunn, Dawkins was given better roles to play and he soon became the toast of Hollywood.
With the fame and fortune he had always craved, Dawkins decided to marry his fiancee. He would hold a huge wedding, not renting a castle for the occasion as other stars may do but building himself one. The wedding itself was of such magnitude never seen before and the cream of Hollywood attended.
Frederik and his wife lived in the castle until sadly in 1932 Henrietta lost her life in a tragic accident. Cleaning the candelabra in one of the dining rooms, she lost her footing on the stairs. Her beautiful pearl necklace got tangled in the candelabra and she was strangled to death.
When Frederik found his wife, he is said to have wailed in such a toe-curling way that all the dogs in the vicinity started to howl with him.
Heartbroken, Dawkins sealed off the room from the rest of the castle and tried to carry on with his life, but he could not go on. He became addicted to tranquillisers and one day he accidentally overdosed, though there are many who say that he committed suicide to finally see his beloved Henrietta again.
To this day, the room remains sealed from all guests. But many a visitor have claimed the the movie star and his fiancée never left the hotel.
The HHH Features
The HHH has one large and one small ballroom, plus eight conference rooms where you can hold your picture perfect wedding or meetings.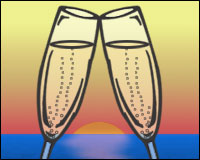 Situated on the beach, you can get a suntan at our private beach or you could dive into our luxurious pool. Furthermore, the HHH is surrounded by a spacious park, complete with pavilions and a labyrinth. The perfect place for a leisurely walk or for your jogging.
In our fitness area you will find a fully equipped gym. Or you could relax in our spa area, complete with a sauna and a massage centre where our Swedish and Thai masseuses will look after your well being.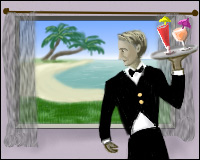 And to get your strength back, you may want to dine in one of the universe's first class restaurant, the "Swell", while overlooking the beach.

But if you wish for something simpler – visit our international diner where you can get spareribs as well as a kebab after that one beer too many.
And you don't have to leave the HHH for those beers either. Our bar is open throughout the night, we serve all drinks imaginable and of course, pan galactic gargle blaster's.
Every night we also have a happy hour and we do host the finest karaoke contest around!


Last but not least we are proud to present our very own cinema with the largest screen in a non-professional theatre.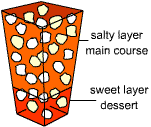 We screen films for all ages and all requests are met. The perfect place if the sun is getting too much for you.
Our Guestrooms
All our guestrooms have a multi-functional bed, telephone, television and an en-suite bathroom. And all of them have a spectacular view of either the park or the beach
You can chose between the following categories:
Single room1
-
Double room2
-
Simple suite 3
-
Large suite 4
-
Master suite 5
-
Wedding suite 6
-
President suite 7
-
Please stop by the the Reception to book a room
We hope you enjoy your stay at the Hitchhiker's Hotel and unless the ghosts scared you away, look forward to seeing you again soon!
For enquiries,complaints and jobs - please contact The HHH Management
1With shower, bathtub or watering can
2With shower, bathtub and lightbulb on request
3a bedroom and a sitting room; bathroom with shower and bathtub - optional frog
4two bedrooms, sitting room and convex mirrored room
5three bedrooms, a study, sitting room and small dog
6one bedroom with a heartshaped bed…
7four bedrooms, a study, a sitting room and a dining room - pretzels on request