The Hootoo sisters
Created | Updated Jan 23, 2011


Welcome to our humble abode.
Neptune


i



________________
i
Pisces 14
Water Mutable -Fizzy, 24th

Moon


a

________________
a
Cancer 23
Water Cardinal -lil, 09th


Saturn


g



________________
g Capricorn 21
Earth Cardinal -Bel, 26th

Our friend pheloxi1 coined the name 'Hootoo sisters', so let me introduce the trio:
That's us
not
In RL, we're much younger, smarter, and more beautiful - and we're notably more

voluptuous.
Just much more of everything, really.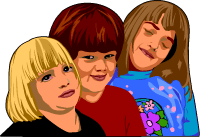 This is the 'much more of everything'- us!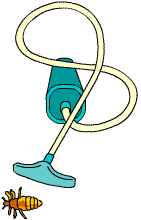 That's our broom - fully motorised as you can see - the more head lice it sucks, the faster it goes

You may have heard of Rob the Carpet

who used to be lil's mascot before he went for a life of glamour. In order to minimise the risk of him getting drunk, Fizzy

and Bel kidnapped him and kept him 'safe' in the Pentagram for a while. On 4 July, 2007 he was set free because the space was needed for The Brotherhood Without Name: ( Know thine Enemy.)
However, relations have recently taken a turn for the better, and we're all good friends now, so the Brotherhood have been set free again - they have the best

after all.

1Sadly, pheloxi died, very unexpected, on 19th April, 2009. I feel that this page is as good a tribute as any of the various other threads and tribute pages here on h2g2.