The Thanet Beer Festival Meet, Easter 2007.
Created | Updated Mar 28, 2007
There is a beer festival (the good stuff) in Thanet (East Kent, England. Margate, Broadstairs and all that). The main thingy is at Margate Winter Gardens on Friday 6th and Saturday 7th April (Easter weekend). It would appear that a mini meet is in the offing so, if you fancy joining a bunch of drunkards in a large room full of beer by the sea, pop your name below.
Oh yeah, here's the official linky: Thanet Beer Festival
We will be meeting at Margate train station at 11.30 on Friday 6th .
Directions
Get to London Victoria, get a train to Ramsgate or Dover Priory, get off at Margate. If you need a fag you can nip off at Faversham while the train splits (the back half goes off to Canterbury, which is much nicer but doesn't have a beach or the beer festival.) Make sure you tell the guard though, else it might go without you and you'll have to wait for an hour. Nobody wants to wait an hour in Faversham. Trust me.
Other things to do in Thanet
Non beer-related Broadstairs stuff.
There's not a lot to do in Margate, but the sunsets are lovely.
Attendees. Go on, you know you'd love to be on this list.
Down to Margate.Roymondo2legsMazinMadFiddlerEvadne Cake
Other Links
Please remember to drink responsibly.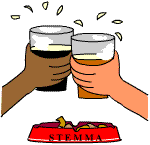 See you there!