On This Day In History
Created | Updated Jun 11, 2003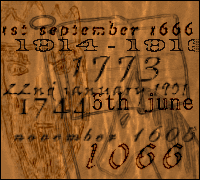 Never one to let a good idea go to waste1, I would like to reintroduce to
h2g2 'On This Day In
History', slightly tweaked into a new,
shiny format. The lovely Italix had the presence of
mind to drop a number of pages where people could
leave their fun-filled facts. Why not pop over and
drop a suggestion. It may well find its way onto the
page!

12th June
1812

Napoleon's invasion of Russia begins, as the Emperor
crosses the Niemen.


1923

Harry Houdini frees himself from a straitjacket while
suspended 12m (40ft) above the ground and upside down,
in New York City.


1929

Birthday of Anne Frank. The young German Jewish
girl's diary was published in 1947. She lived in
hiding from the Nazis with her family in Amsterdam for
two years. She died at age 16 in a concentration camp.

Jimi X
Researcher's Born On This Day
13th June
1934

C Jackson2 discovers asteroid
#1349 Bechuana.


1981

During the Trooping of the Colour, a teenager fired 6
blanks at Queen Elizabeth II.


1986

Birthday of the twins Ashley and Mary Kate Olsen. Hit
the TV screens at 9 months, and since then have
diversified onto the screen and even made records.


1990

The official removal of the Berlin Wall begins.

Researcher's Born On This Day
14th June
1777

The Continental Congress adopts the Stars and Stripes
as the national flag of America. It is remembered as
Flag Day, a patriotic day in which flags should be
displayed across the nation.

Jimi X

1847

Robert Bunsen invents a gas burner. It goes on to be
used in many schools throughout the land, and causes
chaos to teachers everywhere.


1940

German forces occupy Paris during WWII.

NervousRex

1942
Bambi is released by Walt Disney.


1951

Premiere of the TV programme Mr. Ed.

Whohah
Researcher's Born On This Day
15th June
1752

Benjamin Franklin flies a kite during a thunderstorm,
proving that lightning is electricity. He later
invents the lightning rod.

Jimi X

1952

Publication of Anne Frank's diary.

Lisa the Freak
Researcher's Born On This Day
16th June
1567

Mary Queen of Scots locked up in Lochleven Castle
prison, after surrendering to her Protestant Lords at
Carberry Hill, near Edinburgh.


1963

Valentina Tereshkova became the first woman in space.
She orbited the Earth 48 times in the Soviet
spacecraft Vostok 6 during a 70-hour, 50-minute trip.

Jimi X

1985

Birthday of Stan Laurel. One half of the comedy duo
Laurel and Hardy.

Researcher's Born On This Day
17th June
1882

Birthday of Igor Stravinsky. Russian composer, born in
Oranienbaum, near St. Petersburg. Renowned
particularly for the ballet scores The Firebird
(performed 1910), Petrushka (1911), The Rite
of Spring (1913) and Orpheus (1947).


1885

The Statue of Liberty reaches New York City on the
French ship Isere.


1988

MS DOS 4.0 is released by Microsoft.
Researcher's Born On This Day
18th June
1178

5 Canterbury monks report explosion on the moon. It is
believed to be the time of origin of the lunar crater
Giordano Bruno.


1942

Birthday of James Paul McCartney in Liverpool, UK.
Among other things, he was one quarter of The Beatles
and formed the band Wings.

Eeyore

1980

The premiere of the Blues Brothers, starring
Dan Aykroyd and John Belushi.

Researcher's Born On This Day
On This Day
in History Archive
1Or,
at least not to mind too much after being told that I
am merely resurrecting a fabulous idea that Abi and Peta had over three
years ago!
2And I did spend 20 minutes trying
to find his first name!
3Of Robin Hood Fame.