On This Day In History
Created | Updated May 29, 2003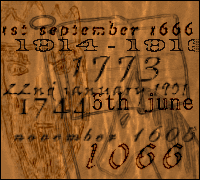 Never one to let a good idea go to waste1, I would like to reintroduce to
h2g2 'On This Day In
History', slightly tweaked into a new,
shiny format. The lovely Italix had the presence of
mind to drop a number of pages where people could
leave their fun-filled facts. Why not pop over and
drop a suggestion. It may well find its way onto the
page!

29th May
1884

The first steam cable trams run in Highgate, London.


1919

Arthur Eddington confirms Albert Einstein's prediction
that light does not always travel in straight lines.


1939

Birthday of Nanette Newman. The lady who's hands could
do dishes in the Fairy Washing Up Liquid ads
was also cast in International Velvet.

1949

Birthday of Francis Rossi, front man of the band
Status Quo. His elder brother Mark was also born on
this day, in 1945. Mark was also an original member of
the band.

1985

39 Juventus fans die at Heysel Stadium, Brussels. This
was a result of a wall collapsing before the European
cup final against Liverpool.
Researcher's Born On This Day
30th May
1431

Joan of Arc is burned by the English at Rouen, after
claims that she is a witch. The only proof? She had
beaten the English in battle. Definite qualification.


1672

Birthday of Peter I 'the Great' of Russia. St.
Petersburg is named after the Tsar.

1889

The demon article of clothing to all females, the
brassiere is invented. It removed the need to wear the
corset.

1975

The formation of the European Space Agency (ESA). ESA
went on to launch payloads from the Ariane series of
rockets.
Researcher's Born On This Day
31st May
Researcher's Born On This Day
1st June
1926

Birthday of Marilyn Monroe. Born Norma Jeane
Mortenson, or Baker, in Los Angeles, California,
USA.
Eeyore

1968

Premier of The Prisoner. The show brought us
Patrick McGoohan's famous portrayal of Number 6, as
well as 'I am not a number; I am a free man!'

Murph

1980

Start date for CNN, the Cable News Network. It
was the first all-news network on television.

Murph
Researcher's Born On This Day
2nd June
1740

Birthday of the Marquis de Sade. The Frenchman
published erotic writings and gave rise to the term
sadism.
Ioreth

1965

Birthday of Stephen Waugh, Australian Cricket Captain.
Of course, being a twin, it's also the birthday of
fellow international cricketer Mark Waugh.

1967
Sgt. Pepper's Lonely Hearts Club Band released
by the Beatles.
Ioreth

1999

Pope John Paul II blesses the official (900 space)
Vatican City parking garage. It is situated on
Janiculum Hill.
Ioreth
Researcher's Born On This Day
3rd June
1916

Birthday of Leo Bernard Gorcey. He became the leader
of the 1940s comedy team The Bowery Boys
Jukes

1965

Gemini IV is launched. It was the second two-man US
flight and lasted 4 days, 1 hour 56 minutes and 12
seconds. The two astronauts were James A. McDivitt and
Edward H. White II. The flight featured the first
extravehicular activity ('space walk') by an
American.


1978

The Guinness Book of Records is recognised as the most
stolen book from British libraries. According to
itself that is.
Delboy
4th June
780 BC

The 1st reliable record of a total solar eclipse.
Captured by Chinese astronomers.


1927

The 1st Ryder Golf Cup. The US managed to beat England
by 9-2.

1940

German forces enter Paris during WWII.

Researcher's Born On This Day
On This Day in History Archive
1Or,
at least not to mind too much after being told that I
am merely resurrecting a fabulous idea that Abi and Peta had over three
years ago!