Welcome to Key West, The Bar at the End of the Universe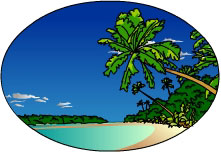 Welcome to Key West, .!
My name is KWDave, and I have lived in Key West, Florida, for sixteen years. During those sixteen years we have experienced Georges, Charlie, Dennis, Katrina, Rita, Wilma, and Ivan, a standing record for both frequency and severity of hurricanes. I have learned some very interesting things about weather.
---
You can find us on the world map at 24° 33' 19" N / 81° 46' 58" W, just above the Tropic of Cancer. We're Tropical. (Almost.)
---
Key West, Florida, is the Southernmost City in the continental United States. We have to say "continental" because the Big Island of Hawaii has us beat by five degrees of latitude - but you can't drive to it.
Celebrations for 2013
Christmas Week
It used to be that Fantasy Fest in October was our big blow out every year. Now we have to deal with the onslaught of yuletide merrymakers who want to enjoy a tropical holiday in Key West. .
From now through New Years, town will be absolutely jammed with visitors from the cold frozen North. It seems they would rather spend the holidays in shorts and a tee shirt than bundled up like Santa Claus. Can't say that I blame them, actually.
Almost Like Being Here
You can discover some of the hidden corners of Key West and the Florida Keys by visiting The Key West Diary blog.
If you are curious, you can see a live cam view of several of our most notable locations on The Key West Cam. Note that there is a start button, which brings up a pull-down menu, and you can pan from location to location.
Ancient History on h2g2
There are still some references to my original UI in edited guide entries. Check out U154077 which was before Dennis, Katrina, Rita and Wilma taught us a few lessons in 2004/2005.
Participating in h2g2
When you contribute, you help to build h2g2. If you participate in the fun projects listed on the Front Page, you get badges! January 2012 featured 42-Word Short Short Short Stories
And Finally...
In Key West, it is our tradition to take time out from whatever we are doing and watch the sunset. It's not that we have the only sun that sets, it's just that it makes us take a minute to pause and reflect on all the good things we enjoy in our lives.
Find out more
about the Florida Keys.
Welcome to Key West! See you at Sunset!
Subscriptions
Title
Status

Created

This user has no Entry subscriptions