Sporting With Egon
Created | Updated Mar 19, 2004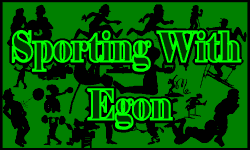 Just what is wrong with Sunderland, further cricketing embarrasment, sports personality of the year and another American football update from Several.
SUNDERLAND 0 MANCHESTER CITY 3
As my regular readers may have noticed, I occasionally report in this column on sporting contests I have recently been to. Well, on Monday I chose to finally visit Sunderland's Stadium of Light as the struggling Wearsiders took on newly-promoted Manchester City.
First, I wish to say a little something about the stadium. I have been to football games at Goodison Park, Anfield and Old Trafford - all fine old grounds. But the Stadium of Light, opened just five years ago is the most breathtaking. It is breathtaking even from elsewhere in Sundeerland. Look towards the river, and the stadium is hard to miss. As you get up close, you realise that the stadium is more impressive in close-up. And inside you begin to realise why clubs like Everton, Liverpool, Man City and Arsenal want to move to new stadia. No awkward-looking corners, no scruffy wooden seating, no pillars. This is an architectural beauty. I was about the only person in the home end by full-time on Monday, but that's besides the point.
So, on to the match, if I must. It was worth the eighteen pound ticket purely for the comedy value. Manchester City were disjointed, inconsistent and defensively frail. And THEY won 3-0.
Something that was obvious to me as I sat watching the game was that both sides had terrible understanding between the players. One player would lay the ball off for a team-mate, and his team-mate wouldn't be there. The only reason City didn't concede three was the man-mountain otherwise known as Peter Schmeichel. He made some very good stops.
Conversely, Sunderland keeper Jurgen Macho served only to show why he is third choice. He flaps, in a manner reminiscent of David James' Liverpool days. The first goal by Marc-Vivien Foe was comical. First, the Cameroon midfielder cut throught the Sunderland defence like a knife through butter, then went for a header against macho (cue flapping) knocking it down behind the keeper. He then ran past Macho and tapped the ball into the net before any defenders had got back. Shaun Goater's strike, City's third, was the only one which could really be attributed to skill on the part of a City player rather than inept defending.
Sunderland Boss Howard Wilkinson's reasons for keeping Macho in the side ahead of loan signing Mart Poom escape me. But Wilkinson has been surprising me ever since he took over.
Wilko wrote in the matchday programme that he was pleased that the team were starting to link defence and attack. Really? I didn't see any of that against City. They were linking defence and midfield but no-one could get a decent ball to Phillips or Flo. And then the silly git takes Phillips AND Flo off- they weren't the problem - it was an unimaginitive midfield and an inept defence who let them down. And an occasionally hilarious goalkeeper.
The midfield would happily string passes together, but they couldn't get them to Phillips, Flo or substitutes Bellion, Stewart and Kyle up front. The fact that they have a left back as left winger is perhaps also a contributory factor.
City are also looking like they may struggle. The only reason they won so convincingly was the nature of the opponents - their midfield also looked unimaginative and couldnt get the ball up front. Sun Jihai is too lightweight, Kevin Horlock and Danny Tiatto too tempramental, Eyal Berkovic reminds me of David Ginola in that he is occasionally brilliant but largely aimless. He did set Anelka through perfectly at one point, but Macho redeemed himself slightly. The sight of Anelka, one of the Premier Leagues more skilful strikers, having to drop back into midfield and fight for the ball, and drift out wide to get crosses in, will have dismayed City fans.
I wouldn't rule out relegation straight back to Division One for City. And unless something changes soon, it's looking a certainty for Sunderland.
SPORTS PERSONALITY OF THE YEAR
The sports personality of the year award was won by Paula Radcliffe -more on that shortly. But first I am going to react to the bemusing reaction of people who criticised young sportsman of the year Wayne Rooney. He was criticised for 'looking scruffy' as he (shock! horror!) had his top button undone. He was wearing a shirt and tie, but had his top button undone! How could he! And also he was criticised for not giving a speech. OK, first the clothes - according to the 'Daily Mail' (admittedly not the most reasonable of newspapers), he looked 'slovenly'. Oh yes, because wearing a suit, that's very scruffy, isn't it. It has been pointed out that the likes of Sir Steve Redgrave and Sam Torrance weren't even wearing suits and ties, yet they are ignored, while a sixteen year old Scouser in a suit and tie is villified for not doing his top button up. Also, the reason he didn't give a speech is that he was told not to.
But onto Paula Radcliffe who, quite deservedly, won Sports Personality of the Year, in a year when the athlete has evolved from the plucky failure everyone loved to feel sorry for into a Commonwealth and European gold medallist, and multiple Marathon winner and the runner of the second fastest 10,000 metres time ever - the holder of the fastest later served a drugs ban. In the European 10,000 metres, she won by around 2 minutes! The race only lasts about half an hour or so! A deserved winner, and thank god the people who think football is the be-all and end-all of sport didn't get their way, as David Beckham came second.
SOCCER ROUND-UP
Man United beat Arsenal, Chelsea beat Everton, Charlton beat Liverpool. The premier league top six is now Arsenal, Chelsea, Man Utd, Liverpool, Everton, Newcastle. In the Champions League, Arsenal got a goal-less draw with Valencia, Man U beat Deportivo La Coruna 2-0 and Newcastle went down 3-1 to Barcelona in a match delayed by twenty-four hours due to the Nou Camp resembling a 100,000 seater lake.
Time for me to welcome back my regular gridiron reporter Several aka Random, which is just as well as my idea of an NFL report is merely to quote stats at people.
I'm trying to make sense of college football's championship bowl schedule and the combination of sportswriters' polls, coaches' polls and a confuser that decides matchups (and WHY is a team from California flying to Florida, when there is a bowl on the Left Coast?) but the top line reads Miami or Florida (which has the bowl California is playing in) playing Ohio State for the mythical national championship in Arizona. College football makes as much sense as repeatedly hitting yourself in the head with a tennis racket. I may have done that while attending Ohio State in the 70's, it's kinda a blur.

On to the National Football League, in which the athletes get paid directly, as opposed to college football where the schools get the money and the athletes get scholarships in basketweaving and physical fitness... oh my, I see this is degenerating rapidly. The San Francisco 49ers clinched the West division title of the National conference, joining Green Bay in the North as playoff teams. The Philadelphia Eagles are a step away from clinching their own berth in the East as they join Tampa Bay as the only ten-win teams in the entire league.

Tampa, meanwhile, at 10-3, has only a game lead on N'Awlins and a game-and-a-half on Atlanta in the South. The Tampa Bay Buccaneers' game against the Atlanta Falcons last weekend (won by Tampa 34-10) featured the Bucs' defense shutting down Falcon QB Michael Vick, who had rushed 173 yards and passed for the same number a week ago to spearhead an eight-game Atlanta unbeaten streak.

There is nothing simple in the American conference's four divisions. Pittsburgh, Cleveland and Baltimore all have a chance in the North; New England, Miami, the Noo Yawk Jets and even Buffalo could win the East, Indianapolis and Tennesee are tied in the South and in the West, like the East, all four teams still have a shot, but the Oakland Raiders hold a one-game advantage following their 27-7 victory over second place San Diego.

In the Raiders' win, 40-year-old receiver (and certain Hall of Famer) Jerry Rice, shook off coverage by the Chargers' first-round draftee Quentin Jammer (I had to get that name in) and scored on a 56-yard pass from 37-year-old QB Rich Gannon, who set an NFL record for his 10th 300-yard game of the season.

The most thrilling finish belonged to the beloved Cleveland Browns, down by six points with some 13 seconds left in the ballgame when the team quickly lined up, the receivers all headed toward the end zone and the QB reared back and heaved a rainbow pass that somehow a Browns' receiver came down with in the end zone, battling and clawing a defender for the ball. The point-after-touchdown kick was good, and the Browns escaped Florida with a 21-20 victory, making them a half-game back of the Pittsburgh Squealers (uh, Steelers) in the American North and a game ahead of the Baltimore Ravens, who used to be the Cleveland Browns.

This is convoluted. In the 50's thru 70's, Baltimore was the Colts, Cleveland was the Browns (the Browns beat the Colts for the championship in 1964, the first year I remember watching.) The Colts moved to Indianapolis, taking the team name, colours and records with them. The Browns' owner tried to move the Browns to Baltimore eight years later, but the Browns' fans would not allow their name, colours or records to leave Cleveland, and the league had to step in and grant Cleveland a new football franchise, with the same name, colours and records.

So this upcoming week, the new Cleveland Browns host the Indianapolis Colts and the following week travel to Baltimore to meet the new Ravins (Ravens, after Edgar Allen Poe) in games that will decide which will qualify for the playoffs.

I told you this is convoluted! I still can't figure out why a college team from California is flying to Florida, and a team from Florida is flying to Arizona to play a team from Ohio for the mythical national championship, since it's decided by the coaches' poll, the sportswriters' poll and a confuser.
Over at the American Football Forum, Gridiron fans from across the world can discuss the sport, take part in Trivia quizzes1, a prediction game and in the thread titled 'Here's An Idea' you'll find the proposals for a very odd collaborative virtual manager Madden NFL Play Station 2 idea.
BAD TO WORSE
OK, that's it. I'm applying for Australian citizenship. In preparation for a triangular series against Australia and Sri Lanka, England have been mauled by new South Wales, Australia A and a Prime Minister's XI. Andrew Flintoff may be injured again, and in two of the games we have been saved from absolute humiliation from Kabir Ali, Gareth Batty and Chris Read, all of whom are only in the squad as cover.
Egon
1Is that how you spell the plural of 'quiz'? It doesn't look right, does it?