The 2014 Manchester Meet: Pastey's Report
Created | Updated Jun 24, 2018
The weather may not have been up to much but the company was great.
There are many traditions for a h2g2 meet, but it's surprising how few of them are actually traditional, or even needed. Some must be there, or it's not a proper meet, the toast to absent friends being the most important. Initially introduced the year that Douglas Adams passed away, and grown into the toast to Douglas and absent friends as we lost more researchers from this planet. But other traditions can be left out, as we found out when 2legs stayed sober, and relatively sane. But I'm getting ahead of myself…
There is no sense travelling to a different part of the county for just one night, so the pre-meet was born to allow researchers in a strange and unusual city (and Manchester certainly is that) to at least know someone to sit and chat with to pass the evening. And there is no sense in travelling to a totally different country for just the two nights, if you can stay longer. So it was that I greeted our house guest for the week, Witty Moniker, from the airport on Wednesday morning, took her to an art gallery and then a pub. The best way to get over jet-lag is to stay awake and it would seem, to imbibe of some rather nice beer. I'm also pretty certain the GargleBlaster I mixed for her back at the house helped.
Witty Moniker wasn't the only international visitor to attend though, and Thursday saw the introduction of a Pre-Pre-Meet, an excuse to sit in Port Street Beer House and get re-acquainted with old and new friends. People you may have known online for several years, but never met in "real life", Witty, Baron Grim, Hapi, Pierce the Pirate and the ever present Paper Amy were joined by the local h2g2 contingent of Phil, Metal Chicken and myself. And later that evening we were graced by the presence of none other than the legendary 2legs himself and the wonderful dragonqueen. The Thursday night alone would have made a good meet, there was much chatting and a lot of relaxing, a sense of "we made it here" was definitely felt.
Friday saw a gentle warm up, a quick visit to the museum for Witty and myself, and then lunch at Font Bar, to be joined by Phil (escaping from work for an hour) and Bald Bloke for a couple of drinks, before we made our way to Common Bar for a spot more food to prepare ourselves on the way to the Crown – Kettle for the pre-meet. We'd arranged to have a side-bar all to ourselves, and as the afternoon turned into evening the previous night's attendees were also joined by Just Bob and Hati, and a phone call led me running back to the city centre to pick up a not-quite-lost Milla and family. We filled the side bar, but that wasn't even the best achievement of the weekend.
Saturday saw the main meet itself, and the arrival of Superfrenchie and TRiG. In previous years there has been a daytime activity, and then an evening activity (a pub), but this year, after getting feedback from previous attendees about what they'd like, the usual museum or park for self-amusement was swapped for a guided tour of Manchester kindly hosted by the County Archaeologist. I didn't go on the tour so I can't comment on it, but quite a lot of people did and reported back that it was good. I stayed in the pub and talked constantly at SashaQ, which I really must apologise for. We were joined later by the_jon_m, so Sasha's ears did get a break!
In the evening there was the traditional quiz, and seeing as I set it it was traditionally difficult. Not as difficult as last time apparently, but still possibly too hard. Nobody got all the answers, but nobody did badly. The toasts were toasted, the chat stepped up a gear, and later that night we achieved the achievement of drinking all five handpumps of ale dry, even though 2legs was staying sober!
As with the pre-meets, there has recently been a tendency for the post-meet. Researchers getting together the following morning over tea and coffee (before the pub is allowed to serve alcohol) or a fry-up and a chat, and then another chance to partake of a beverage or two once the bar is allowed to serve stiffer drinks. For this year we'd arranged a time and place ahead of the meet, and from 11am researchers were gathering in Font Bar for fry-ups and tea, and from 12 noon for a pint or two. One of the great things about Font, is that when you get a cup of tea or coffee they don't serve it with a biscuit, but with a chocolate frog. With a lot of cups being drunk, there were a lot of chocolate frogs being accumulated, and most of these were then donated to 2legs who proceeded to get a sugar high.
The problem with h2g2 meets though, is they have to (eventually) end. The only thing that makes this bearable is that the farewells aren't painful, but joyous. Over the weekend I've caught up with folks I've not seen for two years, and met new friends. And they're not gone, they're still here on site. Only now, when I read their posts, it'll be their voices I hear in my head.
Thank you all who made it what it was, and I shall finish with a paraphrase: To Douglas, Absent Friends and the next meet!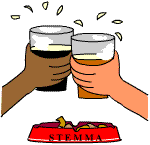 Meet Reports