Apocalypses, Then and Now: Answers
Created | Updated Dec 9, 2012
Are you ready for the End of the World?
Apocalypses, Then and Now: Answers
All of these answers were available in the Edited Guide. Have we got your back, or what?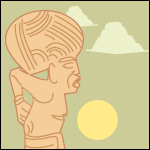 Did you get them all right? If not, be very afraid. Be sure to load up on bottled beer and emergency packs of peanuts, and get your electronic thumbs and towels ready.
See you at Barnard's Star!
Post Quiz and Oddities Archive