Notes on Notes
Created | Updated Nov 29, 2011
The Alternative Writing Workshop is a gas. The way it works may seem a little complicated to those of you who are used to doing nothing more complex than calculating quantum physics wave functions, but here it is: h2g2ers write stories, essays, or poems. They submit them to the AWW. Other h2g2ers read these works of genius, and comment. Often the discussions are wide-ranging and lively. You always learn something, even if it's only the explanation to a bad pun like 'enjambement session'.

Cactuscafe is a writer's writer. Here, she reflects on the purpose of Notes. Read and learn.
Notes on Notes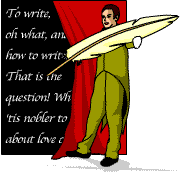 I love writing Notes.
The kind of Notes that I write are different to reminder-notes.
Reminder-notes are fine. I write them too. Without them I forget things. Remember dentist 9.30. + cheese/bread/HB pencil.
These other kind of Notes, though, are inspiration let loose. They are soulmates. They deserve the name Notes, with a capital N.
Usually, these Notes have no particular aspiration, other than to be Notes.
Occasionally, they might appear as fledgling poems. I remember the time when one particular Note suddenly spread its wings and flew majestically towards the light of its poetic potential.
In fact, another Note tried to follow, fluttering its tiny white paper wings, but it mistook the overhead electric light for the light of its poetic potential, and knocked itself out on the ceiling.
However, Notes have no fear of freefall. They are resilient. Notes are explorers, without maps.
I think that Notes and poetry are in love. Their mutual attraction is inevitable.
Perhaps Notes are the sparks in the heart of a poem. Notes are in awe of poems.
Poems are polished, with metre and charm. Notes are raw gems.
Notes run wild, all tangled and spangled. Poems keep their composure. Notes return to pulp, and resurrect as new notes. Poems endure.
Notes turn up in strange places.
Often, I write Notes and reminder-notes on the same scrap of paper. This is potentially confusing.
Remember dentist 9.30. + cheese/bread/ HB pencil. Autumn morning! So crisp and new and washed with dew! Apple-morning, sweet apple-dawning! Ochre, russet, green-gold.
Once I wrote a Note on the back of a letter to the Council, and then sent it by mistake. The letter was about wheelie bins. The Note was about a dreamer who heard music in flowers. Primroses were classical, roses were jazz fusion. Dandelions were the best, because they had lyrics as well.
I had a nice letter back, in fact. Very informative about wheelie bins, but also appreciating my unusual literature, and referring me to a publishing company.
This, of course, is fiction. I am writing Notes. Notes within Notes. I am becoming Notes.
Fortunately, my Notes tend to be brief and concise. Having said that, I once covered four sheets of A4 paper. These Notes were about someone who got lost in a carpet-pattern, and thought they had found paradise, until they ran into a giant dust mite.
This particular work was written at 1.43 am. (I noted the time), but in the clear light of dawn it proved to be illegible, so I folded the A4 sheets into origami swans and returned them to the mindstream.
Of course Notes are not always light and delight. Notes can be wounds in writing. Each word can become a scar. Notes hurt. They get all torn up and twisted.
And now I must conclude these Notes about Notes. I need a clearly defined ending. I fear I cannot achieve this, as there is no end to the potential of Notes.