360 - Changing the World by Degrees
Created | Updated May 22, 2006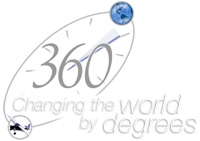 Latest news from 360 -

Changing the World by Degrees.
The shed build recommenced on 360 this week - after a hiatus caused by sickness, holidays and sheer bad weather. Putting up a shed in high winds in the countryside is not easy! However, the microlight plane is still being tested before it can come to its new home in Hertfordshire, so we still have time.
The holistic health site is coming on in leaps and bounds and our new homeopath, Diane McDonald is on line together with our aromatherapist, Bernadette Rae.


There's more news from GT Bacchus who's currently in Nairobi looking at
solutions for street children there . Jonathan Charles is still answering queries about conflict and the Environmental Society goes from strength to
strength.
We're about to get our own video camera at last (we've been borrowing one off and on) so more projects can be filmed - and we'll be able to visit community projects too to make a video or three.
Changing The World By Degrees Archive