Redemption, the Fourth
Created | Updated Jul 11, 2003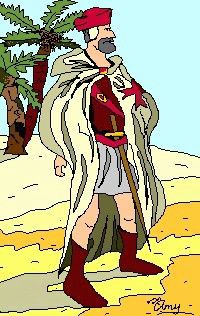 Shed slapped me in the back of the head but, to be honest, he was trying to reach me at a really bad time. I mean, imagine the situation I was in; here I was, Keeper of Hermetic Philosophy and the Hitchhiker Blues, as well as the Incredibly Hoopy Side-burned and Bowler-hatted Pirate Cannoneer on board 'The Blood of the Zaphodistas', AND I was drunk out of my mind.
I woke up the next morning underneath the Maverick Table at the h2g2 Legs wearing nothing but my bowler hat. A familiar position, I might add, but the throbbing pain in my head was a bit more than I could handle. I tried to stand up, but hit my head on the underside of the Table, screamed in annoyance, managed to get out from under the Table and up on my feet, ordered and drank a scotch on the rocks, grabbed my satchel, then headed out the door, shielding the sun from my eyes.
Arriving at my flat only to find two starving cats staring at me with their ever-loving eyes was exactly the guilty moment that I really didn't need. My heart was broken on the spot. I mumbled an apology, rinsed and refilled their bowl of water, refilled their bowl of dry food, and served them a can of tuna each. What can I say? I've always adored those cats.
The phone rang.
It was a DoorBot from The Hotel Gat, demanding I paid up 70,000 Horrints for the First Class Stateroom I had stayed in for a month while I was doing a story for the Blerontin Bugle. I knew I was in deep water, but there was no turning back now...
Previous Episodes:
Redemption The First.
Redemption The Second.
Redemption The Third.