Redemption, the Third
Created | Updated Jul 11, 2003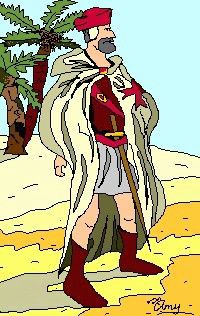 In the name of the holy prophet Zarquon, has anyone been listening to what I've been rambling about? Don't you care to learn all the secrets the Shed and I have obtained through these past months of grueling pain and horror? Reply for Zark's sake! It's not as if I'm just sitting here writing these very short episodes to an incredibly long series because I'm trying to stay in the Post for as long as possible! Well...


Maybe it is! But that's not the point! The point is that I'm lying here, bleeding all over the place from my Templar and Moderation wounds, and still acting courteous enough to write you this God-forsaken series, and I get absolutely no reply! Nothing! I've already gone mad! What else do you want? Do you want to see me naked? Is that it? Fine, then! Visit 'The Blood of the Zaphodistas', or 'The Sweetly Perfumed Café'! I'll be naked there until someone threatens to kill me unless I put some pants back on! Or maybe you just want to take my bowler hat away from me...


Is that it?


It is, isn't it!


You just want to shave off my side-burns, then duct tape them to the side of your face, don't you!


Don't you!


Argh!


*jumps out the window, wearing nothing at all but his bowler hat, and lands on the very, very hard ground three feet later*
[Copyright material removed by moderator]
They're merciless, I tell you! They'll eat your children! They'll spit in your tea! They'll call upon the God of Hermetic Philosophy to make you disappear into a puff of logic! Hide your daughters! Go to the market right now and stock on all the food you'll need for the next seven months! Quick! We're running out of time!
To be continued...
Previous Episodes:
Redemption The First.
Redemption The Second.