h2g2 Post 25.09.2000
Created | Updated Jun 22, 2003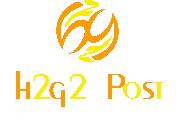 Posted: 25th September 2000

Welcome to this edition of the Post. The Post is proud to announce that the new Virtual Prez of h2g2 has been elected! We are very pleased to tell you that, after a vibrant campaign, the winner was Peregrin. Read all about his triumph and how the other candidates fared in the Results article.
Some more news, which the editor just cannot keep to herself any longer, is that our favourite cartoonist Wowbagger is in the family way! See just how the news affected him in this week's h2g2Life.
The Dutch Meet is happening this coming weekend. The Post will bring you a report as soon as possible as to the success of this venture
Redbeard sends his apologies to all his readers, but there is no Roving Reporter article this week. Real Life conspires to keep him rather quiet around the site for the moment, but he assures me that he will be back soon!
Two fairly new sites are worth a mention. The Lost Poetry Office, run by Kes is well worth a visit, as is Studio iX, where you can find some very good artwork by Kumabear.
What are you waiting for then! Get reading.
Any copy, articles, suggestions should be sent to The Editor. Please use this same address if you are interested in volunteering to become a regular contributor.
View From The Queue




This week: The report on the queue of entries, which seems to be increasing,
and helpful hints for using GuideML.

h2g2 Life




The cartoon series with style! I guess that I have
already let the cat out of the bag!

Just For Fun




Fun and Games From Greebo T Cat.

A new regular feature!