The Concert and Ballot Counting Room
Created | Updated Oct 7, 2005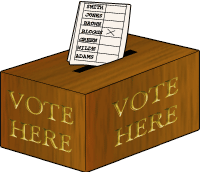 The Voting is Over - The Die is Cast
Hello, good evening and welcome to the Concert and Ballot Counting Room here at the Flat Cap and Muffler Sports and Social Club
Trestle tables line three walls, covered with snowy white tablecloths. Brand new curtains, in a beautiful shade of goo with alabaster edging, hang gracefully from their rivets across the stage.
More trestles are lined up at 90 degrees to the stage ready for...
THE BIG COUNT
Will there be a result tonight? Only time and Croz, the Returning Ossifer and Archivist for the Flat Cap and Muffler Sports and Social Club can tell.
Behind the Bar, the staff await the result armed with corkscrews, doing exercises to strengthen their pint pulling arms. The catering staff are putting the finishing touches to the magnificent spread complete with real Bury Black Puddings, Hollands Meat Pies (Cheese and Onion for the veggies) Eccles cakes and whist pies.