Meet Mr Inquisitor [Redux]
Created | Updated Jun 9, 2004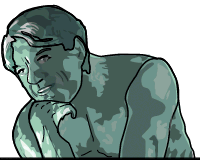 Meet Mr Inquisitor [Redux]
Hello there Inquisitorites, and welcome to this, my sixth1 edition of Meet Mr Inquisitor [Redux], putting me one behind Awix. I would say something humorous and topical, but due to my A-Level exams, I have compiled this interview, and next week's on a lazy Sunday afternoon in May, knowing that Shazz is on her jollies for a fortnight2.
Anyway, that's enough space filling from me so, as promised months ago, let me introduce the sixth H2G2 researcher to jump into the Dentist's Chair™, the aptly named Number Six!
So then, Number Six, if that is your real name, you've volunteered for 'ridicule by Psycorp'. That's very brave of you my friend. First of my questions, each more devilish than the last is this; who would come out on top in a Guinness-fuelled bar brawl between five H2G2 Scouts of your choice, armed with their trusty computer mice, and five Scouts of the Baden Powell variety armed with their neckerchieves and penknives?
It'd have to be the h2g2 Scouts... the computer mouse must surely be a more effective long range weapon than the penknife, particularly if you use it like a kind of bolo (I think this explains the nickname of Mikey the Humming Mouse quite well enough).
So the Baden-Powell mob wouldn't get near us.
Apart from Mikey, surely the most appropriately-named Scout for a bar-room brawl must be Whisky. Then I'd probably opt for Jimi X (known prediliction for the Black Stuff), KerrAvon (can throw blokes over her shoulder, apparently), and GreyDesk (claims to be a tall fat skinhead, so should be quite handy). I'd be superintending operations from a vantage point lying on the floor behind the bar...
Hmm, lying on the floor behind the bar eh? Well as a Scout, you're obviously active in the Edited Guide part of hootoo, but what's your take on the more community-oriented parts of the guide such as the virtual bars, the VSC and the weirder sections such as the Thingites?
Well, as the internet is a very post-modern phenomenon - in that there are no universal meanings or truths any more, nothing really means anything except for the meaning that you interpret from it - h2g2 as part of that is very much all things to all people. The Edited Guide wouldn't exist without the Community to sustain it and the Community wouldn't have grown if the Edited Guide hadn't have been there as a concept to attract the first users to the site.
The Thingites, well... I can't quite see the point of it myself but they do their thing and I do mine. The Guide wouldn't be what it is if people couldn't talk to each other and didn't hang around to be part of this wonderful thing that we are part of. The Virtual (Football) Supporters Club is an excellent example, one of the many reasons that keeps me coming back to this place - you'd be hard pressed to find a more motley assortment of articulate or entertaining or civilised bunch of football fans3 anywhere else in the world. Top bananas.
That said, it does bug me somewhat that more and more people seem to be coming here to use h2g2 as a chatroom without actually contributing anything to the Guide - whether Edited or not. I mean, when you sign up, you're given the title of 'Researcher XXXXXX' and I reckon you ought to try to fulfil that title by contributing your knowledge of the world around you to something (the Guide) that is greater than all of us. That's what makes the Guide so special. For people who only want to go to a chatroom and have inane conversations and speak txtspk and post an endless string of smileys, well, there's countless other places on the internet for that kind of thing.
Actually, I did an A-Level project on 'txtspk' and it gets a lot of bad press, but before I rant, we'll move swiftly on. While we're sort of on the subject of Football, it must be said to the devoted few that read my column 4that England will very soon be playing in Euro 2004, and Everton's Wayne Rooney is set to lead the line. What are your views on the 'Boy Wonder' and the predictions by some that he will suffer a Gazza-like fall from grace? Oh, and can England win it?
Rooney's had a lot heaped on his shoulders for such a young bloke, and hasn't been all that consistent in the Premiership, certainly in terms of scoring regularly. The tabloids scrutinising his every move off the pitch can't help - the lad's got to grow up somewhere, somehow, and in public surely isn't the best place to do it but that's where it's inevitably going to be. So if he does fall from grace, it's not going to be entirely his own fault. But what he has shown is that he's a very special talent, he's capable of providing that little touch of the unexpected that all great players can to turn a game and, although he might not yet be doing it week-in-week-out, he *can* rise to the big occasion.
Can England win it? Hmmm. I reckon we'll need at least five of Ferdinand, Campbell, Beckham, Gerrard, Scholes, Rooney and Owen to be playing and right on top of their game. Now, we've lost Ferdinand due to the drugs thing, so that leaves six at most. Scholes hasn't done the business in an England shirt for far too long, and Owen's been off form for Liverpool but usually comes good for the major championships. So it's going to be a bit of a lottery depending on injuries between now and the end of the season, I reckon. And even then, we'll need David 'Calamity' James to avoid making any serious blunders in goal, and whoever plays alongside Campbell at the back to step up to the plate and put in some big performances.
The England that beat Turkey 2-0 could win it. The England we've seen in friendlies wouldn't make it past the group stage. So we'll see.
Well, I could talk football with you all month, but I don't think our reader(s) would be too impressed with a page of banter. So, that in mind, let me rack my brain for something really thought provoking...
On your PS, you link to the Punk Society. Liking a bit of punk myself I have to ask what your view is on this 'pop-punk' entering our soundwaves from the US of A, with bands such as Green Day and Blink 182 as opposed to 'real' Punk such as the Pistols and The Clash? And of course on Johnny Rotten (aka John Lydon) well and truly selling out by appearing on I'm a Celebrity, Get Me Out Of Here!
Well, John Lydon's been a bit of a pantomime dame for years, but I think he retained a bit of credibility with the way he walked out on the whole thing.
As for punk versus pop-punk, well, it's a bit like trying to compare Stanley Matthews with David Beckham - times have changed so much between one and the other. Myself, I tend to listen to the new wave-y end of punk myself, like the Undertones, Buzzcocks, Blondie and the Jam: and the stuff coming out of America now isn't that different to that, obviously allowing for changes of subject matter and so on. The Strokes, for example, aren't that far away from being Blondie without a girl singer. And none the worse for it either, I reckon - Blondie's drummer Clem Burke is one of the coolest blokes ever.
Although I do prefer the original stuff to the likes of recent Green Day, Blink 182 or Offspring. But having said that, Pretty Fly For A White Guy was one of the most spot-on singles of the last ten years. What I like most about American Alternative stuff recently is the third wave of Ska coming out of California - Real Big Fish's cover of Take On Me by A-Ha has to be heard to be believed. And when I went on holiday to Mexico last year, I was stunned by the popularity of the ska-punk scene there - bands like Inspector, Cafe Tacuba and Los de Abajo somehow manage to get away with sounding like Madness in sombreros having a water-pistol fight with the Pixies.
I've heard the RBF cover, it's one of my favourite covers of all time, excepting Oops I Did It Again by German Music Hall star Max Raabe. Right, my penultimate question of this interview will have to be this; Big Brother 5. Will you be watching?
Hey, is Max any relation to Stefan Raab, who did a brilliant disco German Eurovision entry a couple of years back5?
Will I be watching big brother? Absolutely not - I couldn't give a monkeys! Well, I'll probably see bits of it on at work and will get a vague idea who's who from that and people going on about it endlessly, but to be honest I really don't care. Maybe I'm showing my age here, but I've got a half-memory of Channel Four being a breath of fresh air and a force for cultural good in this country, when they used to show left-field movies and interesting drama. Now it seems they're more interested in serving up niche audiences to their advertisers through Hollyoaks, Big Brother, and endless repeats of Friends.
I first saw three of my favourite movies (Paris, Texas, La Double Vie de Veronique and an obscure Canadian road movie called Roadkill) on Channel Four. If you ask me, we've got Bob Hope of them screening that sort of thing these days...
To be honest, I can't see the point in C4 anymore, but then again I don't like Hollyoaks, Big Brother or Friends. Right, as I'm sure you've guessed, the final question is and always has been what's the most important thing you've learned through being a member of h2g2?
What I've learned is that there's no fixed definition of what h2g2 is or what it means or what it's there for - everyone defines it and uses it in their own individual way, and takes away from it whatever they want to. When I first came here, I originally thought it'd be far more like what Douglas Adams spoke of in his vision of the future of h2g2. By the end of last year, that kind of thing almost seemed to have died out, which is why I set up the Royal h2g2 Geographical Entry Society. Things are looking far more encouraging on that front now.
~~~~~~~~~~~~~~~~~~~~~~~
Many thanks to Number Six, Scout extraordinare, football fanatic, and headbanging punk demon. Next week, you fine readers will be presented with an Interview with the lovely Dr Anthea, one of the Post's fine poets.
As always, drop the lovely Shazz an email should you want to be featured in this hallowed column, as I rely on volunteers to make this work. Unless you want me to get the puppet out again...
What's that Pete?
Ok Pete, I will...
I've been Mr Inquisitor! *Glassy Stare*
Psycorp603

with Number Six
1Well, Seventh if you count the 'Pete Debacle'™.
2
Being birth partner for my daughter and helping look after a newborn doesn't quite equate to 'jollies' in my book!

... ed
3Barring the bitter and twisted Leeds fan.
4Does anyone but Dr Anthea admit to reading this?
5No.