Did I Leave The Iron On?
Created | Updated Mar 21, 2005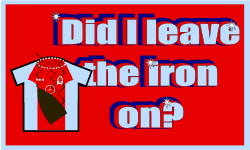 Time and The Post wait for no man - so several holds the fort for Master B who is extremely busy just now.
Several A/K/A Random's 'sporting blues'
Another whirlwind week of AmSports, still fighting the way through the pro basketball and hockey playoffs, with baseball roughly 20% into their season. Starting with hockey, an informal poll in two local watering holes could name just one of the four teams remaining in the quest for Lord Calder's Cup. For the record, the Philadelphia Flyers are that team, in a best-of-seven series with the Tampa Bay Lightning, while the Calgary (Canada) Flames are facing off with the San Jose (Califonia) Sharks this week and next.

In world hockey, Canada rallied to beat Sweden 5-3 in the gold medal game in Prague, Czech Republic. Canada tied Russia for a record 23 world titles. The United States won the bronze 1-0 in a shootout over Slovakia.

Pro basketball features the marquee matchup between the San Antonio (Texas) Spurs and the Los Angeles Lakers in their quarterfinal series, with the Indiana Pacers meeting the Miami Heat, the New Jersey Nets facing the Detroit Pistons. The Sacramento (California) Kings and Minnesota Timberwolves round out the final eight. The Spurs-Lakers series is the marquee, with two recent past champions and the LA media hype.

As for pro baseball, the biggest headlines (and commentary) happened when Chicago Cub star Moises Alou let slip in an interview that he, uhhhhh, urinates on his hands to help toughen the skin up, since he feels 'uncomfortable' wearing batting gloves. As the story turns out, many young Latino players do this on the sandlots of their native lands, where just having a bat, ball and fielders' glove is riches. Workers in the sugar cane fields, swinging heavy machetes to cut the cane also use this method of building callused hands.

And up around this neck of America, it's turkey hunting season, with a ten-year-old from Pennsylvania bagging his first bird, a 21.35-pound gobbler with a nine-and-a-half inch beard and inch-long spurs. The boy and his father were competing in a one-shot-only turkey hunt here in Ashtabula County, Ohio. The boy, Cory Hoone, has already appeared on the Jay Leno latenight teevee show as a national youth champion turkey-caller, but admitted he let his dad because he 'was too nervous' to call in his first Ohio bird and 'very nervous' pulling the trigger on his Mossburg 935, a shotgun he now keeps as a gift from the company.

Upcoming this weekend is the running for the second leg of horse racing's Triple Crown, the Preakness Stakes in Baltimore, Maryland, and there's your AmSports wrap, from the blossoming shores of Lake Erie, this is Several, a/k/a Random, over and out.
Did I Leave The Iron On? Archive
Master B

with Several a.k.a. Random