Sporting With Egon
Created | Updated Mar 19, 2004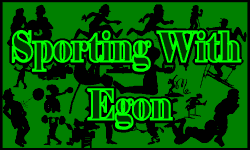 Cricket: India Shock Aussies
The Australian cricket team, almost unbeatable at home, are in the midst of a test series against India, who, before the series, had not won a test on Aussie soil since 1981. Last week, the second test at Adelaide looked to be no different as the all-conquering Antipodeans strolled to a total of 556, spearheaded by a cracking 242 by Ricky
Ponting.
Events began to leave the Australian script however, when the Indians also passed 500, reaching a total of 523, a first innings deficit of just 33. There was a double-centurion in that innings as well; veteran batsman Rahul Dravid plundering 232.
The Australian second innings was where things really began to unravel for the home side. Losing their last five wickets for just 13 runs, they were dismissed for an astonishingly cheap 1961. The main reasons for their downfall were a combination of indisciplined batting and virtuoso bowling from Indian paceman Ajit Agarkar.
So, just a couple of days after Australia's 556 first innings score, the Indians found themselves chasing only 230 for victory. Despite suffering a few wobbles, they were seen home with four wickets to spare by another grand performance by Dravid, this time scoring 72 not out.
Elsewhere in test cricket, England managed to cling on for a draw again in the second test in Sri Lanka, but will be a aiming for victory in the third, which will necessitate an extra bowler (possibly Jimmy Anderson) in place of one of the batsmen (Nasser Hussain and Paul Collingwood believed to be tossing up for the right to play in this game). The third and final test begins on the Thursday this edition of the Post is, well, posted.
Formula 1: Montoya to Join McLaren
Williams BMW's controversial Formula 1 driver Juan Pablo Montoya has agreed to join McLaren Mercedes, starting in the 2005 season. He will continue to partner Ralf Schumacher in the Williams team during 2004.
The move raises two questions:

i) Who will replace Montoya at Williams?

ii) What will become of David Coulthard, who will get the boot from McLaren when Montoya comes aboard?

Well, there is always the possibilty that Coulthard will return to Williams, the team where he began his F1 career by taking over the drive of the late Ayrton Senna after Senna's tragic crash at Imola. However, I think Williams will be more likely to plump for a younger driver - possibly Marc Gene, who stood in when Schumacher missed a race last season, or even Nelsinho Piquet, the son of former Williams driver
Nelson, who has just signed a development contract with the team. Alternatively, they could poach a driver from a smaller team, as McLaren did with their signing of Kimi Raikkonen.
As for Coulthard? well, he could slink of into retirement, change to a different classification of racing or, if he wanted to stay in F1 he could have done what Jacques Villenuve and Damon Hill did when they left Williams - join one of the smaller teams (Villenuve went to BAR, Hill to Arrows). His chances of going to one of the real contenders
are low - the likes of Ferrari and Renault will be happy with the drivers they've got, so a mid-to-low class team would be the most likely destination for the large-jawed Scot.
European Champions' Cup
They still call it the Champion's League, but as it's now knock-out from the last 16 onwards, and they've abolished the second league stage, I'm calling it a Cup, whether you want me to or not.
Anyway, the draw's been done for the Round of Sixteen, and it is as follows:
VFB Stuttgart (Germany) v Chelsea (England)
FC Porto (Portugal) v Manchester United (England)
Real Sociedad (Spain) v Olympique Lyonnais (France)
Celta Vigo (Spain) v Arsenal (England)
FC Bayern Munchen (Germany) v Real Madrid (Spain)
Sparta Praha (Czech Republic)2 v AC Milan (Italy)
Deportivo la Coruna (Spain) v Juventus (Italy)
Lokomotiv Moskow (Russia) v AS Monaco (France)3
Football: Chelsea to Flash the Cash
Chelsea, bolstered by the billions of Russian owner Roman Abramovich, are expected to splash the cash somewhat when the transfer window opens for the duration of January. They have admitted to be looking for a defender or midfielder, are rumoured to have enquired after the availability of Arsenal striker Thierry Henry, and have stated, perfectly innocently of course, that they wouldn't object to paying £60million for Man Utd's Ruud van Nistelrooy.
Awards Season
'Well, obviously I'm delighted to have won 'English-based
Post Sports Reporter of the Year', and this award is very special to me. I'd like to give a big shout out to Shazz, Greebo, Deus and Awix in the Post office - guys, it just wouldn't have been possible without you. I'd like to thank my fellow winner, Several, winner of 'American-based Post Sports Reporter of the Year' - I think we compliment each other so well and, of course, my loyal readers and everyone who voted for me, and, oh, you're all so special.'

Yes, that's right, it's that time of year. You know, where all sorts of people are awarded 'thing of the year' awards. The England rugby star Jonny Wilkinson beat runner Paula Radcliffe and showjumper Pippa Funnel to BBC Sports Personality of the Year, Real Madrid's Zinedine Zidane beat Arsenal's Thierry Henry to World Footballer of the Year, and I beat my mate Tom to the fridge for the last can of Red Stripe.
Anyway, where was I? Oh yes, welcome to the inaugural Annual Sporting With Egon Awards Ceremony. Voted for by an exclusive panel of me, this year's winners are:
Footballer of the Year: Thierry Henry (So skilful it hurts, has a magnificent all-round game)
Cricketer of the Year: Matthew Hayden (broke world test record with 376 against Zimbabwe4)
Tennis player of the year: Justine Henin-Hardenne (the woman who brought grace and skill back into tennis went to world number one in 2003. And oh, that backhand!)
Track and Field Athlete of the Year: Paula Radcliffe (so nice to see her dominating her discipline so completely after years of struggle)
Mistake of the year: Tottenham Hotspur signing Helder Postiga - did it really seem like a good idea, Glenn?
Match of the year: Tied between the Rugby World Cup Final, decided with a drop goal in the dying seconds of extra time, and the C and G Trophy cricket semi-final between Lancashire and Worcestershire. Went right to the death, Worcestershire won having seemed down and out, I got sunburnt, glorious.
Pathetic shambles of the year: Cricket: The Zimbabwean batting line-up at Chester-le-Street the day I went - 66 all out indeed.
Supporters of the year: Scotland cricket fans
Team of the year: the England Rugby Union Team - I don't actually understand the game, but I didn't half enjoy the world cup
Comeback of the year: Arsenal in the Champions League Group Stage. One point from the first three games. On the way out. Batter Inter Milan 5-1 in the San Siro, qualify as group winners.
Newcomer of the year: Eldar Hadzimehmedovic. Young Bosnian footballer, plays for Lyn in Norway. Despite having never scored a League goal, and only scoring one in the Norwiegan cup, 18-year-old Eldar did something rather spectacular against Runavik in the UEFA Cup qualifying round. In the first leg, Eldar was a substitute for the last eight minutes. In the second leg, he started, scoring a hat-trick
in the first half. He then scored another hat-trick in the first 25 minutes of the second half. Having scored his six goals, he was then substituted in the 70th minute.

And finally...

The Sporting With Egon Sports Personality of the Year award goes to: Chelsea football manager Claudio Ranieri. Bear in mind I'm giving the award based purely on personality, and Claudio is a personality, for sure. Just watch his post-match interviews. The man's a comic genius
SEVERAL A/K/A RANDOM's 'sporting blues'
And now over to the award-winning Several (and I pick this award up on his behalf... etc) for his take on sport Yankside of the pond:
Ah, it's Christmas season again, the longest night of the year Saturday and the next weekends of the American sports scene completely littered with upcoming events - playoff possibilites in the last two weekends of the National Football League regular season, free agent signings and trade rumours in Major League Baseball and the much-ballyhooed mythical College National Championship Football Holiday Bowl games. Good thing for this humble correspondent, who just had a week of pretending to be a plumber and still has one more cold water line to reconnect. Trying to make sense of this whole mis-mosh has been driving me into the furthest reaches of the belfry.

Language skills were a point in NFL ovoid football the past weekend, with New Orleans Saints wide receiver Joe Horn making a cellular phone call home from the end zone during the game, thanks to a teammate who had the phone stashed in the padding around the goal post. Cell phone companies across this great land are scrambling to sign Horn for an endorsement contract.

And contract language is a bugger in baseball, too, when pitcher Kevin Brown's contract was moved from Los Angeles' Dodgers to Noo Yawk's Yankers - Brown's agent had it written into the deal that the pitcher be allowed 12 first-class private airplane flights per season. Do I smell another endorsement deal here for private airline charter flights ???

Many other baseball dealings will be conducted, but none is likely to be as big as the Baltimore Orioles' signing of Dominican Republic shortstop Miguel Tejada to a 6-year pact worth a reported $72 million$. Another Dominican native, Vladamir Guererro, is also a free agent and is represented by the same management team and is expected to sign a similar deal with the team of his choosing, and another Dominican native, pitcher Bartolo Colon, also agreed to terms for a paltry $50 million$.

Makes me wonder why the Dominican Republic failed to field an Olympic baseball squad this season. Obviously the talent is in that small nation, but political and social upheaval there cut off funding for all the would-be Tejada, Guererro and Colons of that island nation. It kinda makes my plumbing worries seem insignificant when most homes in the DR lack even indoor plumbling, don't it?

So enough of my rambling... have a joyful holiday season and please do remember our families and countrymen and women in the armed services, and all those in the nursing profession who give care to those under their charge. It is the season of giving, and I'll be making a donation to my own favoured organization, Hospice of Ashtabula County, whose care and caring has helped me and thousands of others in life versus death situations.

They deserve more mention than all the Sam Horns and other athletes put together.
New Column
If one dose of me a week isn't enough, you can find the latest venture from Sporting With Egon Enterprises, Sport on Record in the Post on a regular basis from this week onward. Each week, I'll look at music with a sporting connection - the good, the bad, and the John Barnes rap - starting this week with a look at Mark Butcher's You're Never Gone.
HAVE YOUR SAY
If you would like to report, opine or rant on matters sporting as I and Several do here, then just drop me a line at my personal space, or comment below. Also comment below if you would like any elaboration or further explanation of any of this week's stories. .

Egon

with Several a.k.a. Random 




1Less than either Ponting or Dravid had scored individually earlier in the
match
2The team your correspondent will be rooting for.
3Yes, I know Monaco isn't in France and is, in fact, a country in its own right, but they play in the French League and are therefore, in the eyes of UEFA, French rather than Monagesque.
4
A pity he couldn't do that when playing for Northants!!!... ed.