Small Screen Surfin'
Created | Updated Dec 11, 2003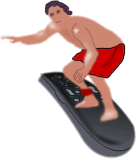 Apologies first...
I honestly could not stand to watch another fifteen minutes of this week's review. So much so that I
turned over to watch Justin Hawkins, lead screamer of 'The Darkness' (glam-rock band) giving
an interview to Frank Skinner about his album and1 Christmas single.
This week's festive review is of Bedsitcom, sort-off. Once again my apologies that this isn't a


fully analysed and balanced column this week.
Bedsitcom is - gasp! shock! - a reality TV show 'with a difference!'. It follows the premise of three
'normal' people sharing a flat, believing the show to be a docu-soap, with three actors who are told
what to say by writers. No surprises in the unknowing contestants who comprise of2:
Gasp! A woman!
Shock! An ethnic minority man!
Gob Smacked! A gay/camp man!
'The difference', I hear you rumble is... drum role... they can go outside!!! A tiny bit of realism in a
reality show for a change! No money! No island! No Davina McCall! Foolishly I let my love of the
sit-com brainwash me into believing that there'd be some... what for it... humour! To balance out my
distaste for the reality TV genre of course. I'm sure the 'difference' was meant to be a combination
with the sit-com but it shows what these creators knew... Nothing!
Be prepared for a mere extension of a candid camera type programme, where stunts are played out
on unsuspecting passers-by extending to thirty minutes. The point of these candid camera shows is that
they are SKETCHES comprising of a gag then move on to the next unsuspecting victim. Not thirty
minutes of the same 'plot'. The reason no one has ever thought of this before is that they thought of it
but new what a lousy concept it was!!
Keep Surfin'