Sporting With Egon
Created | Updated Mar 19, 2004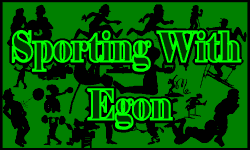 I'm having a busy week this week, without much spare time, so I'll restrict myself to some Wimbledon babble, a spot of cricket, Several aka Random's baseball news and the h2g2 community's views of England beating Australia at Rugby Union.
Wimbledon Tennis
That time of year again. The time when normally sensible people back Tim Henman to win a grand slam tournament. Henman did muddle through his first round match in four sets which could have turned out differently if he hadn't won the epic second set tiebreak 13-11. He was playing the world number 157, Tomas Zib of the Czech Republic, a lucky loser who only entered the tournament due to Richard Krajicek, Alex Corretja and others withdrawing.
Henman's fellow Briton Lee Childs managed to beat seeded Russian Nikolai Davidenko in the first round before being beaten by 17 year old Spaniard Rafael Nadal (nephew of footballer Miguel Angel Nadal) in round two.
The big story of the opening day was top seed and defending champion Lleyton Hewitt being beaten in four sets by 6ft 10in Croatian qualifier Ivo Karlovic, a man making his grand slam debut and who had never played on grass before this years Wimbledon qualifying.
There were no such big casualties in the women's singles, although I am intrigued at Martina Navratilova returning for doubles once more. The Wiliams sisters, the Belgian pair of Kim Clijsters and Justine Henin-Hardenne, and Eastbourne champion Chanda Rubin are the main contenders for the women's singles title.
The main male contenders seem to be Andre Agassi, Roger Federer and and Andy Roddick, who beat British Number two Greg Rusedski in three sets on Wednesday. Tim Henman will not, I repeat NOT win, or even reach the final for that matter, despite the absurd amount of coverage and hype which surrounds him at Wimbledon every year.
Cricket
Spot of cricket news for you all:
Twenty20 Cup: The four teams going to finals day at Trent Bridge will be Surrey, Gloucestershire, Warwicksire and Leicestershire.
England v Pakistan, Natwest Challenge: England emerged victorious from this series by two games to one thanks to good performances by Marcus Trescothick, Vikram Solanki, Andy Flintoff and Jimmy Anderson. Rikki Clarke looked at home on the international stage in his first three one day internationals,and wicketkeeper Chris Read performed quite well on his comeback, acting as though he'd never been away. A good performance by England in their first games with Michael Vaughan as captain. Some Pakistan players obviously quite liked England, as Shoaib Akhtar and Mohmmad Sami promptly joined Durham and Kent respectively.
Rugby Union
In Rugby Union last weekend England beat Australia in a test match in Australia for, I believe, the first time ever. Not being a rugby fan, I asked the h2g2 community what they thought. And this is what they said:
So, here is, in a phrase suggested by Master B, 'Compiled Anti-antipodean (or is that just podean) abuse from h2g2'
Master B:

'Ha-ha! We won! Three tries to England; only one to Australia. Stick that in your pipe and smoke it Mr. Campese! Come on lads, let's beat those lager-swigging gits in the World Cup next.'
Blues Shark:

'Dear Australia, Dear Australia, You can stick your ashes up your a**e'.

And something a little more substantial from Intern :

'England was awesome in the first half, Australia was awesome in the second half. The last England try was needed because I think if they didn't get it Australia could have come back to win it
First time in 10 years woooooo woooooo we won over there it was good to see fans over there. And to think the Australians didn't think we deserved to be called the best in the world - shows how much they know don't it! Roll on the world cup.'
Baseball Blues
Our regular yankside sports report from Several a.k.a. Random
'Hi folks. I was gonna talk about interleague play, where teams from the National League play American League teams, as in the Noo Yawk-NooYawk matchup (Yankers- Metz), or the Anaheim-Los Angeles (Anaheim in basically a suburb) and the Cleveland-Pittsburgh series, but it has been pointed out to me that the most important baseball story of the past week is the passing of Hall of Famer Larry Doby. Doby was the second Negro player in the Major Leagues, eleven weeks behind Jackie Robinson, and endured all the racial taunting of the late 40's and early 50's, from not being able to stay at the same hotels as the rest of the team, abuse from the fans, not getting served in restaurants and just basic ignorance and segregation.

There is a photo in the Baseball Hall of Fame from the 1948 World Series, game four of seven, won 2-1 by the Cleveland Indians that was published across the nation. Doby had hit a home run to win the game and his teammate, Steve Gromek, hugged him afterwards in the clubhouse. The national photogs got it on film and it is a part of baseball lore. Here's the moment, in Larry Doby's own words: 'As they say, God works in mysterious ways. Here was a white guy and an African-American guy who are put together and win a game, and when it's over they don't wonder, "Should I do this because I'm white and he's black?" Or because "I'm black and he's white?" No, they just do it, they just hug each other because they're happy, which made up for everything I went through. I would always relate back to that whenever I was insulted or rejected by hotels. I'd always think back to that picture of Gromek and me. It would take away all the negatives.'

With deepest respect to Larry Doby, NO, IT DOESN'T TAKE AWAY from all the abuse and ignorance he went through, and I must add this quote from the then-owner of the Indians, one Bill Veeck: 'Some of the players who had not seemed overjoyed at having Larry on the team became increasingly fond of him as it became apparent that he was going the help them slice a cut of that World Series money. The economics of prejudice, as I have discovered many times, cuts both ways.'

Veeck goes on to add: 'And when Doby hit a tremendous home run to put us ahead in the fourth game of the World Series, it could be observed that none of the 81,000 people who were on their feet cheering seemed at all concerned about - or even conscious of - his color.'

Larry Doby passed away at age 79 of cancer. Tributes to he and Jackie Robinson, the first to integrate the majors, can be seen on www.mlb.com or thru www.indians.com both on their site and in their Fan Forum and also thru www.baseballlibrary.com which has links to the Hall of Fame and the Negro League Hall of Fame in Kansas City. Larry was also baseball's second black manager, following another Robinson named Frank, who broke the color barrier with yes, indeed, the Cleveland Indians in '75, just as Larry and Jackie had broken it in 1947 as players.

Anybody who has ever suffered prejudice because of the length of their hair, the color of their skin, their accent, their nationality or any other screwy reason like the way they dress, has people like Larry Doby to thank. He carried himself with class and dignity in all his days, and truly made his way where no other man has gone before.

The Cleveland Indian Nation mourns.

Nothing exciting happened in baseball this week, anyway... so this is several a/ka/ random, from the shores of Lake Erie, over and out... and thanks Egon!
Additional
Congratulations to Barry Bonds, lately playing for the San Francisco Giants. He has hit 631 home runs in his career, fourth best all-time, and Monday night stole his 500th base and scored the winning run as his Giants defeated the LA Dodgers. Bonds is the only man to have stolen 400 bases and hit 400 homers, now he is the only man to have hit over 500 homers and to have stolen 500 bases. He is going to the Hall of Fame when he retires, no doubt. Mr. Bonds is an African-American, and his path to greatness was paved by Jackie Robinson and Cleveland's own Larry Doby, back in 1947, who integrated The Game.

Because that is what baseball is, over here across the pond. David Beckham, yeah, we read about him and we play a game called football that hardly uses the feet... I guess it's an American thing, baseball... and it fascinates the hell out of me.