Sporting with Egon
Created | Updated Mar 19, 2004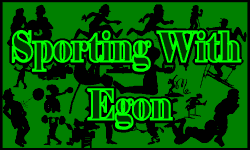 The brave new world of Twenty20 Cricket, the warm-up to Wimbledon and three sports reporters for the price of one.
Twenty20 Cricket
The first of two cricket sections this week, this little section is going to deal with a corking new tournament which has replaced the Benson and Hedges Cup in the English cricketing calendar. The Twenty20 Cup still follows the three-groups-of-six system, split along regional lines and having to cope with the small number of northern cricket teams by moving Leicestershire and Nottinghamshire into the North.
On the first day of this new tournament I moved myself down to Chester-le-Street to watch Durham beat Nottinghamshire, and the big-hitting, high-falutin', twenty-overs-each show is a sight to behold. It can only improve the performance of English players in at the death in one day games, and the fact that they are played in the evening only adds to the enjoyment. In the southern division, Surrey have made a fantastic start, and Kent had a noticeable performance from Australian all-rounder Andrew Symonds, who hammered 96 from only 32 balls on Monday. My favourite team Worcestershire do not look in good shape, going down to Gloucestershire on Friday after edging an opening day victory. The absence of Kabir Ali and Vikram Solanki on England duty and the catastrophic injury crisis don't help, but best not to complain.
The final of Twenty20 and both the semi-finals will take place on the same day, Saturday the 19th of July, at Trent Bridge in Nottingham.
The current state of play in the Twenty20 Cup as of Tuesday 17th June was like this:
NORTHERN SECTION: Leicestershire and Durham have both won their only games; Notts and Yorkshire have each won one of two and Lancashire and Derbyshire have both played one, lost one.
MIDLANDS/WEST/WALES SECTION: Northants and Worcestershire have both won one from two; Warwickshire and Gloucestershire have won their only games and Somerset and Glamorgan have each played one, lost one.
SOUTHERN SECTION: Surrey have played three and won the lot, kent have won their only game, Hampshire have won one from two, Kent have won their only game, Middlesex and Essex have each played one, lost one; Sussex have played two, lost two.
Elsewhere in County Cricket
Due to my two month absence I haven't given much of a county round-up this season, so here's the story so far:
COUNTY CHAMPIONSHIP DIVISION ONE: Surrey and Lancashire look like the main contenders for the title, with Sussex trailing in third. Notts, Kent and Leicestershire must improve if they are going to stay up.
COUNTY CHAMPIONSHIP DIVISION TWO: Worcestershire top the table1 with 86 points, an 8 point lead over Somerset. Gloucestershire and Glamorgan come in a further point back, but have both played a game more than Worcs and Somerset.
NATIONAL LEAGUE DIVISION ONE: Surrey and Glamorgan are the early pace-setters with Glamorgan slightly behind. The once mighty Yorkshire fight for breath at the bottom of the table along with Warwickshire. My boys, Worcestershire, are in the mid-table huddle which sees places four through seven seperated by only four points.
NATIONAL LEAGUE DIVISION TWO: Northants have a ten point lead over Hampshire and Lancashire in the race for promotion. First time entrants Scotland are doing well in fifth place, and have certainly got a chance of promotion now Indian batsman Rahul Dravid has arrived as overseas player.
CHELTENHAM AND GLOUCESTER TROPHY: Semi-Finals will be in early August, with Worcestershire playing Lancashire and Gloucestershire playing Derbyshire.
One Day International Cricket
England lost their first one day international of the season to Pakistan, although the performance, on his return to the team, of Worcestershire's Vikram Solanki, who opened with Marcus Trescothick, is promising. There were debuts for Jim Troughton, Anthony McGrath and Rikki Clarke,and it was Michael Vaughan's first match as captain.
Tennis
Andy Roddick fired a warning to the favourites for Wimbledon as he won the Stella Artois tournament at Queens Club. He also beat world No. 1 and Wimbledon No. 2 seed Andre Agassi. Lleyton Hewitt was disposed of by Sebastian Grosjean, who also beat Tim Henman2 before going down to Roddick in the final.
I shall now proceed to bitch about Wimbledon's seedings system. Wimbledon is the only of the four grand slam tournaments which seeds not according to world ranking, but according to performances on grass and at Wimbledon and even according to the 'personal judgement of the seeding committee' with the 32 seedings still going to the top 32 ranked entrants, but shuffled around.
The thing I would like to bitch about is that this only applies to the men. The women are seeded according to ranking. Now why do you think this might be? Could it merely be an elaborate attempt by the All England club to boost Tim Henman's seeding - he is seeded 10th while he is ranked 29th in the world. The only reason I can see for this system not being applied to the women is that it's too time consuming when British tennis has nothing to gain from it.
Tim Henman wouldn't win Wimbledon if he had a bye to the final. He doesn't have the big match temperament - he will always reach a good round but has never reached the final, or indeed the final of any grand slam tournament, and yet the critics in Britain still come out every year and say 'he is a real contender for the title this year' - all I can say is they've been saying that for the last, what, five or six years and he still loses the first real challenge he gets every year. And now he's getting his excuses in in advance, complaining of a shoulder injury in the run up - well, Goran Ivanesivic was virtually falling apart when he won Wimbledon two years ago - beating Henman on the way!
Henman has the ability but not the temperament or mentality. He'll reach the quarter finals and go down in five sets.
My predictions for Wimbledon winners are Justin Henin-Hardenne in the women's singles and I can't see beyond Lleyton Hewitt for the mens, although Roddick shouldn't be ruled out. Henin-Hardenne's only contenders in the women's should be Kim Clijsters and the Williams sisters. I will be truly shocked if anyone other than those four wins
Who gives a toss who David Beckham plays for?
I know I don't, but in case anyone's interested, the England captain has joined Real Madrid from Manchester United for £17.5 million rising to £24.5 million pounds over five years. And I'm paralysed with not caring very much.
News in Brief
RUGBY UNION - Not a sport that interests me, but apparently England beat New Zealand by not very many and were very happy. So jolly good show chaps, or some such nonsense.
FORMULA 1 - It looked like it would be different, but Michael Schumacher is now top of the Drivers' Championship again. Shame.
HUMOROUS FOOTBALL INJURY - Many footballers have been injured in humorous ways over the years - Liverpool goalkeeper Michael Stensgaard had to retire after injuring himself doing the ironing. Chelsea 'keeper Dave Beasant3 dropped a bottle of salad cream on his foot, Rio Ferdinand strained his ligaments while watching TV with his foot on the coffee table and Lucas Radebe injured his back putting the garbage out. All this is mentioned merely to set the scene for Everton goalkeeper Richard Wright's seperated shoulder, which an initial statement said had been sustained 'in a domestic accident at his family home in Ipswich' which conjured up images of our Wrighty getting a bit sloshed at the family barbecue. In actual fact, it was later revealed that he sustained the injury by falling out of his loft, having entered the loft to put his suitcases away after going on holiday. If he wasn't the goalkeeper for the team I support, and likely to miss the start of the season, I'd be pissing myself laughing.
AUDLEY HARRISON GIVES UP ALL PRETENCE OF BEING A SERIOUS BOXER - Frank Bruno, a boxer who hasn't fought in years due to a detached retina and being battered by Tyson, has been granted a renewed boxing licence to fight Audley Harrison. Harrison claims he can be world champion, although his list of pro fights to date is a bunch of duffers, and the 41-year-old Bruno hardly escapes that classification.
Baseball Blues
Several a.k.a. Randomis here again to offer some views on the world of Major League Baseball:
Hi folks, I was prepared to spend a day researching the past week in baseball, but Real Life intrudes, as is its wont. You know about mlb.com already for daily info, and I get a newsletter through baseballlibrary.com with past history of the game and links to current stories in newspapers across the States - and I've even seen the Japanese newspapers linked on coverage of their ballplayers who have come over (for big money) to play Major League Baseball (MLB) like Hideki Matsui and Ichiro Suzuki for the Noo Yawk Yankers and Seattle Mariners, respectively, and Hideo Nono of the Los Angeles Dodgers.

But the main news (and controversy, of course) is Roger Clemens winning his 300th career game and striking out his 4000th batter last Friday. Clemens started out as a Boston Red Sox (BoSox) pitcher, then signed a very lucrative contract with the Toronto (yes, that's Canada) Blue Jays and now pitches for the Yankers on another very lucrative contract, and became only the 21st pitcher in MLB history to win 300 games, and only the 3rd to have over 4000 strikeouts in the 100-plus-year history of MLB. Quite an impressive achivement, to say the least, and Roger (the Rocket Man) will be a first-ballot enshrinee in baseball's pantheon, the Hall of Fame in Cooperstown, New York. The 40-year-old Clemens will move ahead of the HoFamer Early Wynn (the greatest name for a baseball pitcher there will EVER be!) with his next victory in this, what could be his last season.


He can retire as the greatest pitcher from the eighties to date, that much is certain. What is uncertain is which hat he will be wearing at the HoF enshrinement ceremony. See, a few years ago, a player elected to the Hall wanted to 'sell' which team he would be depicted as playing for (Dave Winfield, who started with the San Diego Padres, moved to Noo Yawk, Toronto, Minnesota and Cleveland (again for lucrative contracts) who tried to sell his name and fame) and the HoF has decreed that it is the sole arbitor over which uni and cap a player wears upon enshrinement... and Roger the Rocket wants to go in as a Yanker, although most of his victories and strikeouts came as a Red Sox or Blue Jay and last I saw, he was going to boycott the Baseball Hall of Fame if he didn't get his way. This is an ongoing story, and I have to go deal with Real Life, which is always a difficult concept... good thing I have baseball.


So this is Several a/k/a Random from the shores of the Great Lake named Erie, over and out. Thanks, Egon!
The World Bowl
NFL Europe's final, the World Bowl, took place this weekend and a number of members of h2g2's Amfoot forum attended the game at Hampden Park in Glasgow, one of whom was Ku'Reshtin4 who has this to say about the whole experience:
For me, it started on Friday night when we (a couple of friends and myself) headed into Glasgow for the pre-pre-game party for the Fans at George Square. Unfortunately, it was a bit of a bust as the by-laws of Glagow prevents anyone from drinking alcohol in a public place, and because of that, they couldn't sell beer to the fans that had gathered there. There were performances from The McCluskey Brothers, the Claymores Cheeries, the Galaxy Cheeeries and to top it all off, Fish was there as well

The Cheeries and Fish were good, although something broke during the Fish set and the power went out leaving the Square in silence and the stage in relative darkness.
The McCluskey Brothers, on the other hand, were PISH! They thought they'd get the crowd going with their first song, a ballad called 'Don't fall asleep' or something to that effect, which promptly had the effect that everyone did fall asleep. Then, trying to get the crowd back on their side, they tried some banter in between songs, which only proved to everyone that they were crude, ignorant of the game of football and not very bright in general.
My friends and I went to the nearby Subway for some grub during that set.

Saturday, game day, we got to Hampden at about 1:45pm, the party already being well started. Lots of people walking around, queueing for the beer tent (queues of 45 minutes to 1 hour have been reported) in the sweltering heat to get a beer. On stage, they had a couple of live acts, including Mis*Teeq and then, after loitering about, buying stuff from the Merchandise outlets and speaking to a bunch of other fans, we headed into the stadium for more pre-game stuff, including another good set by Fish.
Just before the game, the Red Arrows flew over the stadium in formation, even though most people didn't see them because of the roof of the stadium (there was a picture in the Evening Times, though).


The game itself was actually not really good. Frankfurt got off to a good start with a 50+ FG for 4 points, and never looked back after that. Rhein had some really bad luck, including a fumbled snap when they had a third and goal on the half-inch line, that Frankfurt recovered and promptly drove 99 and a half yards for a TD.


After the game, lots of fireworks and confetti in the air as Doug Graber and the Galaxy lifted the World Bowl Trophy for a record third time. A rather enjoyable day was had by most, though, and the weather was great. I only wish the Claymores had made it to the big game.

1At this point your correspondant lept up from his computer emitting a howl of delight at being able to type that.
2Who will NOT win Wimbledon, whatever anyone might say.
3Now playing for Brighton at the age of 97 or something.
4The artist previously known as the Vociferously Ruminating Harbinger of Grass.