The Hootoo Home of Today
Created | Updated Jan 9, 2011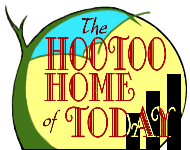 I was looking for some fun distracting things to do and wondered what The Home of Today1 had to say about the matter:

'The woman who plays as well as works will be better balanced and easier to live with than the woman who drudges from morning till night and is consequently 'all in' and irritable when the rest of the family are ready for relaxation and entertainment.'
It goes on to say that hobbies and such are essential for all, not only the woman:
'There will be a diversity of interests... such varied tastes are good for the whole household, as they prevent any 'grooviness' and narrowed outlook and engender a tolerance and respect for other people's viewpoints. However different the outlook, the bond of mutual love and appreciation of the home will hold the family together in unity.'
*ahhh*
*flees away dewy-eyed into the blissful world of mutual love which
apparently prevailed in the 1930's*
I attempted to find some statistics about the realities of this time by looking on some Government websites, but gave up on Her Majesty's Stationery Office; definitely drudgery and not my idea of the right sort of 'grooviness'! However it did lead me to the Gazettes, which is:
'The oldest, continuously published newspaper in the UK and probably the world... this famous newspaper of record has fully entered the digital age.'
And so it has, which is really quite remarkable, when you consider it started in 1665! Our own

seems quite a newbie in comparison, the first issue appearing in 1999.
Let's see what's on the front page of the London Gazette for the first week of June in 1933, which is around the time The Home of Today was written:
'The king has been graciously pleased , on the occasion of His Majesty's Birthday, to signify his intention of conferring Baronetcies of the United Kingdom on...

Sir Martin John Melvin, JP For political and public services in
Birmingham.

Brigadier-General Frederic Herbert Williamson, CB, CBE, Director of
Postal Services, General Post Office'.
Since I do originate from Birmingham, I had a quick look at the City
Council's website, but all in all, I tend to think the Birmingham User's Society might know more about Sir Melvin.
As for the good Brigadier, I wonder if he'd like to advise La Poste; I don't quite know how he would view the fact that this week once more, they have managed to combine a strike with a public holiday! C'est la vie, as they say rather a lot around here; and it's definitely in a good cause, but... A1050571.
Back to those Government Publications. The Foreign Office came up with a goodie today:
'In response to allegations made by the Sunday Express newspaper, British Intelligence Services today made it clear that neither Sir Richard Dearlove, the Chief of the Secret Intelligence Service, nor Ms. Eliza Manningham Buller, the Director General of the Security Services, ever threatened to resign over the intelligence content of Government publications regarding Iraqi Weapons of mass destruction.'
Well of course they didn't; with names like that, they only had two
choices really, didn't they? Go into the Secret Service or appear (thinly veiled) in a Eustace cartoon!! At least
they can be grateful that the Administration of Justice (Miscellaneous
Provisions) Act of 1933 has been repealed according to HMSO, so nobody could ever accuse anybody of being:
'a habitual criminal or a habitual drunkard.'
Mind you, without the second category, The Honourable Wm (Cocktail)
Boothby might be out of a job as Premier Mixologist2
Personally, since I know there's a rather pleasant Irish pub here, I might feel tempted to explore my roots and see if Claude would serve me up a:
Velvet Gaff
'Half champagne and half Dublin Stout mixed together in any quantity or served in any style is all there is to this famous British beverage. Be sure to have the wine and porter both very cold before opening.'
Tee hee! Visions of walk-in fridges and carefully filed porters chilling out; hall, hospital, station...
Just what I needed to divert me!
The Hootoo Home of Today Archive