Anniversaries - An Excuse to Celebrate
Created | Updated Nov 6, 2006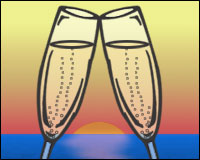 Calendars are often full of those national celebrations when citizens come together to commemorate a certain date/occurrence in history. There are, however, those dates that are more personal, more private and therefore deserve a little more pride and preparation in order to celebrate them. Let's have a look then, at your collective wisdom and insight on how to celebrate anniversaries.
Celebrate as Many as Humanly Possible!
That's right, celebrate as many as humanly possible - the 'day-we-met-anniversary', the 'day-I-asked-her-out-anniversary', the 'day-I-proposed-anniversary', the 'day-I-officially-emigrated-anniversary', birthdays, marriages, and so on. The trick is to find any damn excuse to celebrate an anniversary and go for it!
My husband and I went out for seven years before we finally got round to getting married. It seemed a shame to go from celebrating seven years together to zero so now we have two anniversaries - and two lots of celebrations! We are now heading for our 11th year together and our fourth wedding anniversary.
We have passed this suggestion on to many of our friends (who also took their time to hitched) and it seems to be popular option.
Somebody also suggested a 'day you first cut your toenails in front of each other' anniversary. Who are these people? The Addams Family?
No Excuse for Forgetting
There is no excuse for forgetting an anniversary (or any other important annual date) these days. If you're reading this site, then you must have access to a computer and probably a mobile phone. Calendar software - that's the answer. Astonish your friends and loved ones with your sudden ability to remember things.
I know it may seem a bit clinical but it's better than tears and plate smashing. Some things demand spontaneity, but not anniversaries.
A List of Anniversaries
Here's a list of anniversaries so you know what's what when you celebrate a landmark:
| | | |
| --- | --- | --- |
| 1st |   | Paper |
| 2nd |   | Cotton |
| 3rd |   | Leather (wahey!) |
| 4th |   | Linen |
| 5th |   | Wood |
| 6th |   | Iron |
| 7th |   | Copper |
| 8th |   | Bronze |
| 9th |   | Pottery |
| 10th |   | Tin or Aluminium |
| 11th |   | Steel |
| 12th |   | Silk |
| 13th |   | Lace |
| 14th |   | Ivory |
| 15th |   | Crystal |
| 20th |   | China |
| 25th |   | Silver |
| 30th |   | Pearls |
| 35th |   | Coral or Jade |
| 40th |   | Rubies |
| 45th |   | Sapphires |
| 50th |   | Gold |
| 55th |   | Emeralds |
| 60th |   | Diamonds |
Paper Anniversary
I got married last October, so our paper anniversary is this year - we already decided we'd just buy each other books.
A paper anniversary is a good excuse to exercise your origami skills. There are many, many books available on the subject, for standards from beginner to expert. And there is a variety of heart based-folds to choose from:
The simplest I know of involves only a few folds. The most complex looks like a heart with an arrow through it (if you use paper that's red on one side, white on the other). It's the thought that counts really - let your imagination run wild!
Alternatively, get some thick paper, cut out a gingerbread man-shaped animal, colour in both sides then fold the legs up and the arms over and you've made a hug! To find out more about how to celebrate a paper anniversary creatively, check out the h2g2 entry on origami.
Celebrate Your Love!
This is a bit of advice from one male Researcher who has definitely got a romantic, Barry White style about him:
Give her a nice gift - something special that will last forever - like a ring or bracelet. It needs to be something special, and it should be given at an expensive restaurant. And going to this restaurant should be kept a surprise; say that you'll be going out for a meal, but keep the name of the restaurant a secret.
In the morning (on the day of the meal) you should give her a nice card and have some flowers delivered. After this, you should announce you have a special evening planned. And for a really special night, book a room at a five-star hotel, and get ready for a five-star night.
And this is another male with the most romantic touch...
For our tenth anniversary, we're going back to the place where we spent our honeymoon - a nice quiet bed and breakfast in Newport, Rhode Island, USA. I made the reservations two years in advance... Just don't tell the lovely wife.
Wedding Anniversary
Not quite Barry White (more Chris Bonnington), nevertheless this celebration is still romantic in a sturdy-calves-hill-walking sort of way:
Up to last year, my previous wedding anniversaries were spent walking up the Great Orme, Llandudno (Wales). Over the years I have managed to lose a good amount of weight, so each year we made it a little further. Last year, however, once I had finally achieved a decent weight and size, I spent my eighth anniversary riding the Nemesis and AIR roller coasters at Alton Towers. Excellent!
Surprise Party
For big celebrations, a surprise party where loads of friends come is a great idea, especially if it's been a while since the person you are surprising has seen some of them.
Something to remember though, is that you need to find a good way to get the person dressed up in nice clothes, in preparation for a party, yet not let them suspect a thing.
Flower Warnings
If you are going to give flowers as an anniversary present (or as a Valentine's or birthday, or any other kind of present intended to be romantic), it is especially important to check and make sure that the flowers truly are fresh. Getting a dozen roses for your first anniversary is lovely, but it can be a bit of a bad omen if they're all dead and withered by the next morning...
Flowers are a lovely gift at any time and perfect for anniversaries, but for hay fever sufferers they can be a nightmare... You want to keep the flowers that our loved one has given you by your side but depending on the flowers they can end up making you feel truly horrible! If your partner gets chronic hay fever ask the florist for flowers with a low pollen count and whatever you do don't give them lilies!
My advice is to skip the flower thing altogether and send a balloon bouquet instead, but if you wish to stay with the flower theme get some fantasy flowers made and have them sent instead. Fantasy flowers are made from uninflated latex balloons and can come in a wide range of sizes, colours, and designs. They will last a long time - and no hay fever.
1000 Days
Is this how Anne of a Thousand Days got her moniker? Well, is it?
In addition to celebrating our first and second anniversaries, I got creative and took my partner to a fancy restaurant for our 1000th days. It is an anniversary that is much less expected, and makes the occasion even more special. I did not tell him what the occasion was, thinking I would wait for the dessert and a glass of champagne.
I was particularly pleased when, five minutes into the entrées, he looked at me and asked 'Is this for our 1000th day together ?'
On a more practical note, this is how you calculate your 1000th day anniversary:
Open your favourite spreadsheet program.

Type the date you want to commemorate (first kiss, dinner, wedding, whatever) in an A1 cell.

In the next cell, type something like "=A1 + 1000".
If the spreadsheet is clever enough, you'll get a date as a result. If not, change for a better program! And why stop at 1000 days? After all, the very next day you can go for '1001 Nights' anniversary.
Surprises
Now, the following Researcher has employed a rather risky plan in order to eventually make himself look good in the eyes of his beloved. Call it long-term thinking...
Ah, anniversaries. A few of them around. Just thought that I would share my method (or my madness) on how to keep preparations secret. The trick is to forget most anniversaries. 'Oh no, today's your birthday, isn't it? Well you know I didn't forget really but the gift I ordered hasn't arrived yet and I have mislaid the card it seems...' Do that a few times, then prepare in secret for the big one. Of course it means that you are extremely unpopular for a few years, but in the end it all comes out alright! Well, usually. After all, I have been married for, oh I guess some 13 years now, continuously, with the same person.
Of course, I was 'had' by my spouse recently1, who would not tell me what she was planning for my birthday, which was on a Saturday. So, to make the surprise total she organised the whole thing three days before, and told me that my parents had invited us to dinner. At the last minute, she even threatened 'not to come to this stupid dinner of your parents.' So there, that's two tricks that have been researched.
And Finally...
Let's leave the final word to the following Researcher who seems to capture the real spirit of celebrating an anniversary.
I tend to believe making a big splash at the big milestones (usually multiples of five) is important to show how much you appreciate your partner. I mean, I've got a beautiful wife and two lovely children - can a guy like me be any luckier? But just as important as having marking these milestones is showing you appreciate your partner on 'non-special' days. Random flowers or a sappy card help keep the spark alive to reach the bigger milestones...
Ahhh, how romantic! And they say romance died some time ago. Well done for keeping the spirit alive!2