Planning and Preparing a Christmas Meal
Created | Updated Sep 22, 2005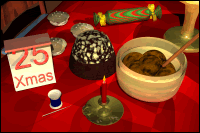 If you're an organised sort, you might already be preparing for Christmas: buying presents, feeding your Christmas cake with whisky, and stocking your freezer with good things. If you're not, it's probably only just dawned on you that, yes, it's that time of year already.
Buying and preparing for your Christmas feast can be a huge task, and a daunting one for some when you consider that at just the time when you're going to be eating the most enormous quantity of food, the shops are going to be closed for a couple of days. Crikey.
Well, to make things that bit easier, this entry will focus on the preparation you can get out of the way to take the work out of Christmas. Which is nice.
A Student's Christmas Education
Cooking for loads of people? Well, take heed from the following Researcher's tale. It seems that the bigger the meal you're going to cook, the more you have to prepare well in advance:
For two of my three years at uni, I organised/cooked a Christmas dinner for 16 people. In the first year, this was everyone from my floor in halls. One of the other guys had done the shopping (it was his 'brainchild') - but got a frozen turkey on the day it was going to be cooked! It spent quite a while in the microwave (we had a big microwave), and at least an hour in a sink of lukewarm water... We were slightly hampered by our facilities. Even though there were 16 of us, in a non-catered hall, the kitchen was small. One cooker - one oven, four hobs. So we had to 'borrow' a few other ovens - two on the floor upstairs (including that of our resident tutor!) and one in the next block. Everything turned out fine in the end - and the tutor even gave us a bottle of something alcoholic to help us celebrate!
In the second year, we were all living off campus. 14 of us were living in three houses, within second of each other. After the previous year, I made sure I was organising everything - especially the shopping. The turkey was bought a few days early, to let it defrost properly, the rest was bought on the morning of the feast. Everything seemed to happen much smoother than the year before, but I guess that's down to having done it the year before - the extra experience makes it so much easier. Even though we still had to use three ovens (meaning various people had to carry hot dishes of food down the street!), it was so smooth. I'm sure it's safe to say that everyone thoroughly enjoyed themselves.
So the lessons: If you are planning the meal, make sure you are prepared - having to defrost a turkey at the last minute (à la Adrian Mole) is not fun! Know when and how to delegate. If it's a big meal, you can't do everything. It's physically impossible. You'll wear yourself out, and won't enjoy it at all. Why not let someone else sort out the pudding, for example? Be organised. If it's to go smoothly, you need to know when things have to be done - it's pointless making the gravy as soon as you've put the turkey in the oven, for example. Enjoy yourself!
Keep a Yearly Record!
And here we quote again verbatim another Researcher who has some sage1 advice. Write it down. Keep a yearly record! (If you can be bothered...)
There tend to be around ten people of four generations at my parents for Xmas lunch, each with their own foibles - some don't like Xmas pud, some don't like stuffing, and so on. For years, Mum would worry, worry, worry every Christmas Eve and Christmas morning - had she done enough potatoes? were there enough alternative desserts? Should she do another batch of stuffing? Should she do another choice of starter? She worried so much she didn't enjoy it, which meant neither did we.
So one Christmas a few years ago, I made myself a complete pain. I weighed and measured everything on Christmas Eve - how much stuffing, how many potatoes for roasting, which desserts we did and so on. On Christmas day itself I made a note of what each person had for a starter, what they dished onto their plate and what they ate. I made a note of what wasn't eaten. I listed which desserts people had, and on Boxing Day I typed it all up onto Dad's PC, and put it into an obvious folder on the desktop. I printed a copy out and stuck it in the Christmas section of Mum's cookbook, where it would stay safe until next December.
Mum thought it was a waste of time, but the next year when she started the questions, I had chapter and verse on the answers. We saved ourselves a load of work, as we didn't make the things that hadn't been eaten the year before (except for a small margin of error) and we saved a lot of worry. Of course, I made a note that year as well, to take account of kids growing up and so on, but it was a lot easier from then on, and we've done it every year since - what a difference!
Your Freezer, Your Friend
As long as you remember that you need time to thaw it all out, most Christmas food items can be made in advance and frozen. A list is helpful when running out into the world of groceries, so list out all the dishes you want to prepare and all the ingredients you need to buy. Start cooking early (like by a few days early) and get the stuff that takes the longest to make out of the way (soups, cookies, pies, etc). Then freeze it all. When you are ready to start cooking, all you will really have to worry about is the ham or turkey or whatever main course you decide on and perhaps some bread. Everything else can be reheated in the microwave oven or set out cold. And of course, if all else fails, call your relatives and tell them it is pot luck.
I can't think of a better way to save your time than by making someone else do all the work!
If you are a meat eater-cook your Turkey/Chicken and Carve (thickish slices are best-then it's up to each diner to knife and fork to their hearts content) and freeze on a large serving dish-when the day comes-either defrost or defrost and carefully reheat-piping hot mind! Get your vegetables cooked and then freeze separately in freezer bags-on the day, tip into a pot with a splash of water and butter-and get 'em red hot!
Gravy-ditto. either freeze in a bag that is supported in a bowl-or freeze in an ice cube tray-so portions can be popped out (bread sauce and all the other hot sauces work this way).
A word of warning: make sure everything is heated through thoroughly before you tuck in - or else you risk spending Christmas in casualty. Not nice.
Assorted Notes
Don't be fooled into thinking that 24-hour-opening means you can shop at the last minute - the shelves will be empty by then. Buy non-perishables as early as possible and avoid too many perishables; there's nearly always far more food than people will eat. If you do a supermarket shop within two or three days of Christmas, take a cool bag to put cold items in straight off the shelves and take a book to read while waiting in the checkout queue.
Write a list of what you think needs doing (food preparation, present wrapping, cleaning, tidying, bedmaking etc) to make sure you don't miss anything vital. Draw up a timetable of what to do which day, prioritise and delegate where possible. Make sure that if anything is likely not to get done, it will be something you won't worry about.
Do a more detailed timetable for the big day, to start things cooking at the right time etc. If something gets left out, so what - improvise or do without. If you cooked, leave the washing up for someone else.
Remember that eventually everyone will go away again!
A Very Small But Perfectly-formed Christmas Observation
What Christmas Dinner is complete without the hostess piping up with 'ooh I forgot to take the chipolata sausages out of the oven' just as everyone is mopping up the last of the gravy?
Stuffing
Supermarket-bought stuffings, as a rule, suck. Make your own; it can be made a day in advance, kept in the fridge, and then shoved in the turkey (if you like your stuffing cooked separately, place in the oven for 15 minutes to brown on top).
One Researcher has had the job of stuffing the Christmas turkey for the last 'however-many years'. This is their own recipe:
Ingredients
Bread crumbs - made from 4-5 slices of bread
Onion - diced finely
Garlic - 2-3 cloves diced finely or crushed
Fresh herbs - a good handful of each of sage and oregano, and a little basil and parsley (if you haven't got fresh, dried will suffice - but reduce the quantities to about a third)
Spices - crushed coriander seed and black peppercorns, a few crushed cumin seeds, a little paprika, a pinch of chilli powder, 10-20 crushed cardamom pods (discard the green outer husk)
Giblets - pre-cooked, and finely diced
Mushrooms - 5-6 medium sized mushrooms, diced
Sausage meat - approx 500g (1.1lb)
Worcestershire sauce - just a dash
Lemon - juice and grated rind of 1-2 lemons
Egg - 1-2, enough to bind the mixture together
Method
Mix the bread crumbs, onion, garlic, herbs, spices, giblets and mushrooms together in a large bowl. Mix these ingredients together well.

Then add the sausage meat, Worcestershire sauce, lemon juice and egg. You should have a mixture with a texture not dis-similar to dough. It should hold into balls without falling apart.
To Stuff the Bird
Wash the bird thoroughly, inside and out. Pat dry with kitchen towel, and turn the bird upside-down. Gently spoon some of the mixture into the neck end (the end nearest the wings). Firm the mixture down, making sure there are no pockets of air. Check that the flaps of skin will still cover the neck, so you can seal it. If there is a lot of room, add some more of the stuffing mixture. Be careful not to overfill the bird though - the stuffing will expand slightly as it cooks, so if the skin is tight it may burst.

To seal up the neck, pull the flap skin towards the centre of the bird. You may need to fold and tuck it in slightly, to ensure there are no gaps. Secure the skin using skewers or cocktail sticks.

Any remaining stuffing mixture can be put into the body cavity, or pressed into a suitable sized dish (or rolled into balls) and cooked separately.
Another Stuffing Method!
Similar to the above but slightly simpler. Serves 4:
Method
Finely chop a large onion, and sautée in half butter/half olive oil until it softens, but doesn't brown.

Add a clove of crushed garlic, and a handful of finely chopped sage (dried is fine). Fry for another 30 seconds.

Add 6oz of bread crumbs (approximately 8 slices without crusts). Stir rapidly until the crumbs have soaked up the juices. Add more butter or oil if needed.

Beat two medium eggs, add them to the mixture. Stir over a heat briefly, and then compact the stuffing into a flat dish until needed.
This recipe is of course hugely flexible, and can be varied according to how ambitious you are. Dried apricots are a good addition to stuffing, as are fresh grapes, halved and de-seeded. Sun dried tomato and basil is an excellent combination, although probably too delicate for stuffing your bird (turkey, not wife/girlfriend) with.
And, if you must use packet stuffing, don't just make it up with water, but use a good knob of butter as well.
Turkeys (or Geese)
Fresh is better, but also more expensive. Buy a bird that you can afford, that is big enough to feed everyone. If you can afford a fresh bird, so much the better. If you get a frozen bird, remember to check when you'll have to get it out of the freezer. A big turkey can take 48 hours to defrost completely! Here's a slightly Mediterranean method of preparing your meal. Using the tin you'll use for roasting the bird, gently fry a large handful of fresh sage leaves, a couple of lemons (cut into thin 'wedges') and a handful of garlic cloves (still in the skin) in a few tablespoons of olive oil.
When the garlic has softened, and the aroma from the sage is released, remove the pan from the heat. Carefully roll the turkey (or goose!) in the flavoured oil, covering as much as possible. Place the bird (right way up!) in the roasting tin, and spoon a little of the mixture into the body cavity. Then roast your turkey/goose as normal.
All of the flavourings can be eaten - the roasted garlic will have lost its harsh flavour, and become much sweeter, and the lemon (including the skin) will have softened.
Oh, and don't forget to take the giblets out before you cook the bird!
When I roast a turkey (usually for Thanksgiving) I place a whole apple or onion (depends on what I've forgotten at the market) in the neck cavity. I've never wound up with a dry bird since I started using this method. I also 'tent' my bird loosely with aluminum foil for the first half of the cooking time.
My mum always served turkey with roast pork. There is always a clove covered roast ham too, but not served with the main meal It does sound, with all this meat roasting, that woman cooked so much so as to eat cold cuts during the holiday and have a rest after all that organisation and efficiency! Mum would also put her lemon and garlic inside the body cavity during the cooking.
A de-boned bird anyone? No, seriously...
Another tradition my family has which I haven't come across anywhere else is de-boning the turkey. The idea is to remove all the bones in the turkey before doing anything else with it- this way, it stays more moist, you can get more stuffing in and, as a bonus, it is much easier to carve. It looks a little strange, admittedly, because there are no bones to support it, but it is an interesting alternative to the usual way of preparing a turkey.
Weird.
Vegetarians
Be imaginative - don't always produce a nut loaf for any vegetarians in your party; there are plenty of other options that you can use. An nice individual cranberry and chestnut pie with various winter spices like cinnamon, ginger etc is very seasonal for example. (OK, so it's got nuts in, but it's still not a bloody nut loaf.)
Christmas is a special day so create a special vegetarian feast, just as you would for meat lovers. Most of the trimmings will go well with whatever you are creating. You could do no worse than asking the vegetarian guest if they have any ideas for side dishes that may well enhance the traditional turkey-based Christmas fayre.
Also be careful with deserts. If you're making trifle, then don't use gelatine. Strict Vegetarian will not eat this as it is a meat by-product. Also check out their status on milk and eggs as there are different degrees even of vegetarians towards veganism. So be careful to check thoroughly what they can eat. So custard topping on the trifle may be a problem as will be pouring cream on the plum pudding.
I have done two vegetarian Christmas lunches in my time. The first was a chestnut mould with loads of sherry in it (probably bread crumbs, onions, garlic and herbs as well but I can't remember now!). It was delicious and went on for quite as long as a turkey would have. Incidentally are chestnuts really nuts? Not sure, technically that they are but even if I'm wrong about that they're very different from other nuts.
The other was a pie with lots of pasta in it. Also peppers and other vegetables. Both offerings were well received but the chestnut thing was the winner!
Christmas Puddings
The best ones are home-made. And at least three years old. Like a fine wine, Christmas puddings need to mature. The science behind it is not quite yet known, but the older puddings definitely have a darker, richer flavour to them.
When my Mum makes them, she always makes them in the summer. It's a big batch, so they usually last a few years...
Oh - they're best served with rum butter. Start off by mixing equal quantities of butter (unsalted if possible) and icing sugar. This is much easier if you use a food processor - if you're doing it by hand, make sure the butter is nice and soft before you start. Otherwise you're going to need an awful lot of elbow grease. You should have a creamy textured (and coloured) mixture.
Pour in a little rum - not too much, otherwise the taste will be overpowering. Mix thoroughly. If the mixture is too sloppy, add more butter and icing sugar. You should be able to taste the rum, but not be knocked back by it...
We always have a traditional Christmas pudding - I don't actually like it, but it's worth it if only to see it burn. Always turn the lights off for this, by the way; the blue flames look so gorgeous in the dark.
Yes this is very spectacular... except when your curtains go on fire.
Oh dear.
Christmas Cookies
Many, many cookies can be prepared in advance and frozen - in fact most do quite well, including chocolate chip, oatmeal raisin, gingersnaps, etc. But if you're looking for that freshly baked approach, especially if you want the house to smell like freshly baked cookies, try making up the cookie dough in advance and freezing it in little dough balls instead. Then when company comes over, you can simply take some dough balls out of the freezer, slap them on a baking sheet and into a hot oven and in 15 minutes - fresh, hot cookies!
Mince Pies
Mince pies are an essential part of Christmas. The wonderful thing about them is that you don't need to have only on Christmas day. If you can be bothered to make enough you can have all the way through advent. Check out the h2g2 entry on mince pies to find out just how good home-made ones can really be.
I live in Thailand, of all places, and every Christmas our guests are forced to bring some out with them. A mince pie here is a precious object.
Christmas Crackers
There should be a Christmas cracker next to everyone eating at the table. These should be opened before the meal is eaten so that people can enjoy telling each other the (terrible) jokes and can wear the paper hats throughout the meal.
Christmas crackers are one of those special things that you only get at Christmas, and add something special to the meal.
And Finally
Run out of hob-space? Why, you can always cook your peas in the electric kettle! If you're a weirdo, that is.
Further Reading
1Pardon the subtle herb/stuffing pun, there.