Building an Ego One Useless Self-Important Fact at a Time
"Wise men learn more from fools than fools from the wise."- Fortune Cookie
"We are the music makers and we are the dreamers of dreams."- Willy Wonka (Charlie and the Chocolate Factory)
Detour sign in Kyushu, Japan: Stop: Drive Sideways.
Hitchhiker's Guide to the Internet
Actually sort of I'm sort of an internet drifter... err hitchhiker. Ever since I read the book Ender's Game by Orson Scott Card, I've been moving from board to board dependent on what I'm interested for however many months. I was spending my time at a The Matrix Community Message Board before finding H2G2 after reading Hitchhiker's Guide to the Galaxy.
Before that I spent my time at Virtual Battle School. It's a board in which people write for characters based on the book Ender's Game. Soldiers, commanders, launchies, Janitors, you name it. Of course a decent command of the English language is prerequisite considers as though there is a lot of planning involved in character interactions. Plotlines, events, and the like... This is also the board where I caught the writing bug and met my ex-girlfriend/best-friend.
I shall now go about building my ego, by saying that I am an aspiring dictator, arm-chair philospher, writer1 (of sorts). I will also mention that I'm an employed (chicken cutter) college freshman. English major. I'm thinking I'm gonna minor in random stuff, cause everybody needs a minor in Underwater Basket Weaving. Finally in concluding the stroking of my ego, I shall say I'm actually quite humble.
Another "Best of"
I decided that I am the only 18 year old, who likes the idea of coasters. Drink coasters, not roller coasters, though I enjoy the latter as well as the former.
Along with coasters (both kinds), I read copious amounts of scifi. I have passing interest in fantasy, mostly have read the works of Neil Gaiman and Terry Pratchett. I highly suggest American Gods and Good Omens if you haven't read them. They are choice. I've read more Star Wars books than anybody should, then I realized they're a bit like harlyquinn romances.
Favorite Scifi Books
Orson Scott Card
Ender's Game
Speaker for the Dead
Ender's Shadow
Pastwatch: The Redemption of Christopher Columbus
Other Scifi Books
Left Hand of Darkness by Ursula K. LeGuin
Dune by Frank Herbert
Do Androids Dream of Electric Sheep? by Philip K. Dick
Starship Troops by Heinlein 2
I don't only just read scifi,though. I've also read some really good non-scifi books as well. Keeps a person well-rounded...

Favorite Books (Regular Ones without Spacemen)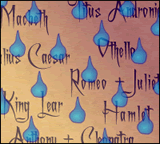 Beowulf
Halmet by Shakespeare
Grendel by John Gardener
The Princess Bride by William Goldmen
In Cold Blood by Truman Capote
The Lord of the Flies
A Tale of Two Cities by Charles Dickens
Now if you thought the lists were going to end, you're sorely mistaken. I also spend my time in front of the tube a lot. My second favorite thing to do, besides getting online and reading. Well I can't really list which I like the most. I also listen to music too!
Movies, Music, and TV (No silly Wizard of Oz puns included)
Movies
Blade Runner
The Original Star Wars Trilogy
Lord of the Rings
The Indiana Jones Trilogy
Fight Club 3
The Princess Bride
The Godfather
Some Like it Hot! 4
MASH
The Bill and Ted movies
The Matrix Trilogy
Almost Famous
Ferris Beuller's Day Off
The Vacation movies 5
The Austin Powers Trilogy
Undercover Brother
Pulp Fiction
Kill Bill
Any Adam Sandler movie 6
There's Something About Mary
American Pie
Music
Dave Matthew's Band
The Beatles
Green Day
The Pillows 7
Foo Fighters
REM
Blink 182 8
Aerosmith
Clem Snide
Flogging Molly
TV
The Daily Show
South Park
The Graham Norton Effect
Chappelle's Show
MASH
Keen Eddie 9
Seinfeld
Mythbusters
Farscape
Trigun
FLCL 10
Cowboy Bebop 11
The Simpsons
Futurama
Various documentaries on the paranormal, myths, and ancient history
This Personal Space Brought to You By...



Peace

SupremeEarthworm
1Did I mention I have a DeviantArt site where I dump my writing? Nobody goes to it often, or even replies, but check out (if only for the nifty wallpaper they have there.)
2Better than the movie by leaps and bounds!
3Need to read the book.
4Funniest old movie ever!
5Except European Vaction.
6Except Little Nicky and Anger Management.
7J-rock from FLCL.
8Early stuff,which reminds me of middle school really.
9When it was on, so hard to find these days.
10See the The Pillows.
11What I've seen of it...
Subscriptions
Title
Status

Created

This user has no Entry subscriptions