Life...
Hello. I am Alienfromearth; I am 14 and female and I live in England. I am an avid reader and have read all the Hitchhiker's Guide to the Galaxy books. I am hoping to try and write some entries once I've got some inspiration.
Alienfromearth
I am also a Doctor Who fan.
My 42ism: 10x(9/3)+(8+(1-4))+7=42
Bored? See where the Forces of Chance takes you!
Go on a journey through the Infinite Improbability Drive
Travel to an Unlikely Unedited Entry
Take a trip to a Random Recommended Entry
----BEGIN H2G2 CODE BLOCK----
Version: 1.1
RGB Y-- N++ SG+ A+ P:-- L M s V E->E+ PR p a- B++ TV? r D T+ nh? C+ m t>t+++
-----END H2G2 CODE BLOCK-----
Societies I Am In
The Thingites
The Thingites are on a campaign to get Thursday renamed Thing.
Scorchuary 2008
  Sodit  
 Wimpy 
 Wibble 
 Thing 
  Poets  
 Doobry 
Dontbry
 
1
2
3
4
5
6
7
8
9
10
11
12
13
14
15
16
17
18
19
20
21
22
23
24
25
26
27
28
29
30
31
The Campaign For New Smileys
This group simply wants more smileys.
The H2G2 Astronomical Society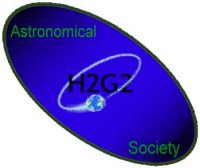 Entries I Am Currently Writing Or Thinking Of Writing
All entries in progress will be linked to.
Entries In A Review Forum
Writing Workshop
Subscriptions
Title
Status

Created

This user has no Entry subscriptions
Alienfromearth,The Thingite Who Reads Stuff, Keeper Of The Daft Bananas
Researcher U10938147

Entries
Most Recent Edited Entries
Entries
Disclaimer
h2g2 is created by h2g2's users, who are members of the public. The views expressed are theirs and unless specifically stated are not those of Not Panicking Ltd. If you consider any Entry to be in breach of the site's House Rules, please register a complaint. For any other comments, please visit the Feedback page.
"The Hitchhiker's Guide to the Galaxy is a wholly remarkable book. It has been compiled and recompiled many times and under many different editorships. It contains contributions from countless numbers of travellers and researchers."
Friends
Alienfromearth,The Thingite Who Reads Stuff, Keeper Of The Daft Bananas has no Friends
Followers
Alienfromearth,The Thingite Who Reads Stuff, Keeper Of The Daft Bananas has no Followers
Bookmarks