The Post Quiz: UK Geography
Created | Updated Jul 12, 2015
How much do you know about…
The Post Quiz: UK Geography

Whether you pronounce it 'gee-o-graph-y' or 'jog-graph-y', it's a pretty interesting subject. Thanks to some teachers, scientists, and schoolkids, we've collected a few factoids and pseudofactoids about everybody's favourite island group. Just decide if it's true – the world is stranger than you think – or false – the Post Editor has a weird sense of humour.
True or false?
Milton Keynes is listed on the Gough Map.
There are three villages in the UK named Cackle Street.
A hamlet is a village without a church.
Devon is the only county in Great Britain to have two coasts.
London's population reached the 1 million mark in 1905.
The Humber Bridge is the world's longest single-span suspension bridge.
Ben Nevis is the highest mountain in the UK.
Ogof Ffynnon Ddu ia Welsh for 'hiding place of stolen sheep.'
Altnaharra, Scotland, has the coldest temperatures in the UK.
If you live in the UK, you are no more than 75 miles from the sea.
Some h2g2ers live in Doggerland.
Got 'em all, Brits and Brit-lovers? Click the pic below to see.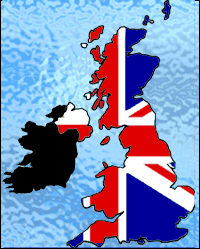 Post Quiz and Oddities Archive