42 Words: Today We Feast
Created | Updated Jul 12, 2015
Pierce prepares a feast in 42 words
A few weeks ago paulh started a journal asking for 42 word stories and poems. There have been a few submissions, and we thought you might like to read them. If you want to try your hand at it, we suggest you pop over to paulh's journal and add your own.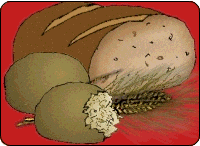 "A loaf of bread," the Walrus said,
"Is what we chiefly need:
Pepper and vinegar besides
Are very good indeed-
Now if you're ready, Oysters dear,
We can begin to feed."
"But not on us!" the Oysters cried,
Turning a little blue.