Christmas Memories: Santa
Created | Updated Dec 16, 2012
Santa Claus – a kid's-eye view.
The Trouble with Santa.

When my son, Geoffrey, was three, I took him to Brighton for Christmas shopping, and promised a visit to Santa. We went to Hanningtons, which has since vanished, but was then a traditional department store, with clothes, cosmetics and household furnishings. We found Santa's grotto in the basement.
We walked through a makeshift cave, between child-sized models of mice, dressed in 19th-century costumes. I thought the mice an odd choice, but Geoffrey didn't mind. After waiting for a while, we were ushered into the grotto by a young woman in a green tunic and tights. Santa was comfortably round, with a white beard, a red hat, and a bag of presents at his side. He asked Geoffrey his name and invited him to choose a toy. Geoffrey rummaged in the bag, and fetched out a small toy car.
The next day the toddlers' group held their Christmas party. The group met in a church hall, which had been transformed by a Christmas tree and paper chains. The little girls were wearing pretty dresses, and some of the boys wore smart shirts and trousers. Geoffrey was his usual scruffy self. We persuaded the children to stand round in a circle and sing action songs. They jumped up and down, waved their arms and sang.
"The wheels on the bus go round and round

All day long."
Afterwards, the children sat round tables and ate sandwiches, followed by iced cakes and jelly. The mothers hurried round, keeping order, wiping up spills and filling plastic cups with orange juice. We were rewarded with mince pies.
At last Santa appeared, striding through a side door with a sack over his shoulder, waving to everyone. He sat on a chair near the Christmas tree and the children formed a long queue to meet him. This Santa was slimmer than the one in Hanningtons, although he still had a long white beard.
"It's not the same Santa," said Geoffrey, and gave the cotton-wool beard a tweak.
The assembled mothers laughed. I hurried Geoffrey away, clutching a goodies bag full of sweets. I wondered how to explain to a three-year-old that there are lots of Santas.
"You see, Santa can't do all the work himself. So he has to get other Santas to help him out."
Despite Geoffrey's doubts about the credibility of Santa, the toddlers' group Christmas party was a great success.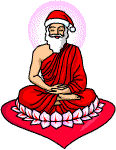 The First-Person Stories Archive