The Post Quiz: Pop Hits of the 1960s
Created | Updated Aug 27, 2012
We hope you're still in the musical mood. This time, cast your mind back to. . .
Pop Hits of the 1960s
This test has TWO versions – one for Brits, one for North Americans. Choose your pop poison, or try for the double prize of proving yourself truly transatlantic.
British and Commonwealth Version: Complete the lyric.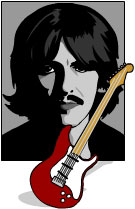 'there is a barber with a photograph of every. . . he's had the pleasure to know.'

'but how do you thank someone who has taken you. . . ?'


from ignorance to bliss
from rags to riches
from here to the sky
from crayons to perfume

'Just listen to the rhythm of the traffic in the city,

linger on the sidewalk where. . .


the go-go girls are pretty
the neon lights are pretty
the traffic warden's witty
the pavement is so gritty

'Electrical. . . is gonna be a sudden craze.'

'I'm leaning on . . . at the corner of the street in case a certain little lady comes by.'


my buddy
a lamppost
a police box
a bus stop

'And so before they come. . . , forgive me, Delilah, I just couldn't take any more.'


to even the score
to break down the door
to sing it once more
for Pussy Galore

'Mrs Brown, you've got a lovely. . . '


castle
husband
miniskirt
daughter

'Bus stop, bus goes, she stays, love grows. . . '


I'm a lucky fella
under my umbrella
on the Portobello
happy Punchinello

'You don't have to say you love me, just. . . '


pay my bar bill
forget I asked
stay out of town
be close at hand

'Why do all the boys just pass you by?

Could it be you just don't try, or is it. . .


the clothes you wear?
the way you just don't care?
the loneliness there?
the way you wear your hair?
And now for the North Americans:
'I went to a dance the other night, I saw a girl there, she was. . . '


Drunk and disorderly.
A bit of all right.
Wearing Arpège.
Out of sight.

'Who's reaching out to capture a moment? Everyone knows it's. . . '


Georgy Girl.
My gal Sal.
Sweet Pea.
Windy.

'Up, up, and away, in. . . .'


the fifth dimension.
my beautiful, my beautiful balloon.
my yellow submarine.
the windmills of your mind.

'And the streets are paved with passersby

Pigeons fly. . .


up in the sky all day.
and from the sky they carry you away.
and papers lie waiting to blow away.
and lovers sigh and wish they could fly away.

'Don't ask me, I don't give a damn,

Next stop is. . . '


Vietnam.
thank you, ma'am.
the rusty clam.
green eggs and ham.

'Fighting soldiers from the sky,

Fearless men who.. .


don't ask why.
cheat and lie.
hold heads high.
jump and die.

Like a poem poorly written

We are verses out of rhythm,

. . . . . .


Couplets out of rhyme
Syncopated time
Superficial mimes
Vodkas without lime

'And I'll be happy to see those nice young men in. . . '


Chippendale's.
their clean white coats.
Madison Avenue penthouses.
the Green Berets.

'Jesus was a sailor when. . . . '


He lived in Tama Harbour.
He walked upon the water.
He met Buddha by the Bo Tree.
He fished with Simon Peter.

'You can't jump a. . . '


rollerskate in a buffalo herd.
country road to West Virginia.
jet plane like you can a freight train.
mountain high enough.
How did you do, flower children? Click on the image to find the answers.
Post Quiz and Oddities Archive